California Creamed Kale and Chickpeas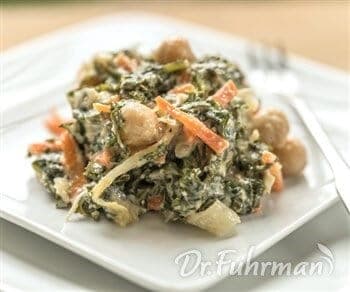 Serves: 4
Category: Main Dishes – Vegan
Author: www.drfuhrman.com
For an easy and delicious entrée, combine sautéed kale, onions and chickpeas with a creamy garlic cashew sauce.
INGREDIENTS:
1/2 cup raw cashews
1 cup unsweetened soy, almond or hemp milk
1 clove garlic
1 large onion, thinly sliced
2 carrots, finely chopped
1 1/2 cups cooked chickpeas or 1 (15 ounce) can no-salt-added or low sodium chickpeas, drained
1 bunch kale, tough stems removed, leaves thinly sliced
1/4 teaspoon crushed red pepper or to taste
INSTRUCTIONS:
Place cashews, non-dairy milk and garlic in a high-powered blender and blend until smooth. Set aside.
Heat 2-3 tablespoons water in a large skillet or dutch oven and water saute the onion and carrots for 5 minutes, or until softened. Stir in the chickpeas. Gradually add the kale and saute until kale starts to wilt, adding additional water as needed to prevent sticking. Cover and cook until kale is tender, about 10 minutes.
Stir in cashew sauce and crushed red pepper. Cook, uncovered for 2-3 minutes until heated through.
Calories 335; Protein 16 g; Carbohydrates 46 g; Total Fat 11.6 g; Saturated Fat 1.8 g; Cholesterol 0 mg; Sodium 70 mg; Fiber 11.2 g; Beta-Carotene 5838 ug; Vitamin C 49 mg; Calcium 203 mg; Iron 5.3 mg; Folate 210 ug; Magnesium 130 mg; Zinc 3.2 mg; Selenium 8 ug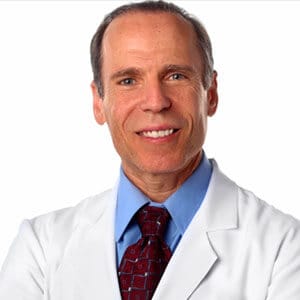 Joel Fuhrman, M.D., is a board-certified family physician, nutritional researcher and six-time New York Times best-selling author. He serves as the President of the Nutritional Research Foundation. Dr. Fuhrman has authored numerous research articles published in medical journals and is on the faculty of Northern Arizona University, Health Science Division. His two most recent books are Eat to Live Quick and Easy Cookbook and Fast Food Genocide.