Overview
Discover the Missing Pieces Keeping You from Optimal Health, Weight and Happiness
After a decade of chronic health issues, Amie Valpone healed herself by going beyond medicine to heal her body on a level she didn't even know existed until she discovered it herself. Now, for the first time, she's sharing her plan, The Experience, with you to help you improve the quality of your life and empower you to learn how to take your health into your own hands. In this fun, interactive and relaxing three day retreat for women of all ages, Amie's focus will be on nourishment, embodiment and empowerment, not deprivation.
You will leave this retreat empowered to take your health into your own hands with the tools Amie shares and you will realize that you, and only you, have the power to heal yourself.
This retreat will unlock what's holding you back from feeling your best while addressing the missing pieces that are affecting all of us on a cellular level such as:
How to balance your hormones naturally without using synthetic hormone products.
How to eat for hormone balance and inflammation, especially focusing on removing "healthy" foods that many people don't realize cause inflammation.
How to address your nervous system and limbic system and gently move your body into a new emotional state that's healthier for your entire body.
How to use neuroscience to create new neural pathways in your brain to help you move through negative thought patterns, limiting beliefs and more.
How to open your heart to life after being closed down from past experiences by shifting your perception and the energetics of your body.
Learning techniques that you can use to support yourself for self-doubt, self-esteem, confidence and feeling stuck by your emotions.
Understanding the unconscious mind, trauma and past experience that are silently and negatively affecting our health.
EMF's and how to protect yourself from cell phones and other frequencies that affect your endocrine system.
How to move through anxiety, feeling overwhelmed and stress caused by hormonal fluctuations as well as past experiences that we often carry with us for years.
Understanding the energetics of the body and how to protect your energy on a daily basis. You will Learn:
How to create flavor without using gluten, dairy, soy, sugar and other inflammatory foods.
How to cook for yourself at home with Amie's cooking demonstrations and her step-by-step strategy for creating delicious and simple recipes with minimal ingredients.
How to connect to your intuition and learn how to trust yourself, especially when working with a doctor or getting advice from others.
How to get your body out of the fight/flight mode, where the majority of us are living these days with our fast-paced lifestyles.
Solutions for the adrenal-thyroid connection, which is impacting women with their mood, weight, cravings, fatigue and more.
Strategies to improve your mindset and how you handle stress when you're in fight/flight mode.
How to increase your energy and learn the missing pieces that are keeping you feeling stuck despite working with the best medical care.
Step-by-step whole body detoxification (ex: showing you how to support your liver on a daily basis without pills for PMS, weight gain and hormone imbalances).
How to start detoxing the chemicals from your home, personal care products, food and more that silently affect our health.
This retreat is designed for anyone who wants to transform their life beyond medical care. The entire retreat will be a very safe space for women to open up and heal the deeper issues that are going on inside their bodies that medicine does not address.
About the Teacher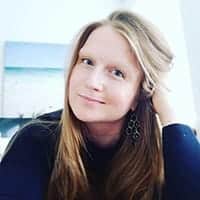 Amie Valpone, HHC, AAP is chef, nutritionist and the author of the best-selling cookbook Eating Clean: The 21-Day Plan to Detox, Fight Inflammation & Reset Your Body.
She is the founder of TheHealthyApple.com, where she discusses how she healed herself after 10 years of chronic illness from lyme disease, polycystic ovarian syndrome (PCOS) and hypothyroidism. At one point, Amie was told she had only 24-hours to live, after contracting C-diff colitis.
Amie lives in New York City where she cooks healthy, organic, whole food meals for her clients. Her work has been featured on Martha Stewart, ABC News, Fox News Health, WebMD, The Huffington Post, The Food Network, Glamour Magazine, Clean Eating Magazine, SELF Magazine, Prevention Magazine, and PBS.
Schedule
Friday, October 12th
3:00 pm – Check-in
6:00 pm – 7:00 pm – Dinner
7:00 pm – 7:20 pm – AOLRC Orientation – MANDATORY FOR ALL GROUPS
7:30 pm – 9:00 pm – Program Session
Saturday, October 13th
7:00 am – 8:00 am – Morning Meditation/Yoga/Fitness
8:00 am – 9:30 am – Breakfast
9:30 am – 12:30 pm– Program Session
12:30 pm – 2:00 pm – Lunch
2:30 pm – 4:00 pm– Program Session
4:00 pm – 7:30 pm – Free Time*
6:00 pm – 7:30 pm – Dinner
7:30 pm – 8:15pm – Meditative Chant — Kirtan (optional)
Sunday, October 14th
7:00 am – 8:00 am – Morning Meditation/Yoga/Fitness
8:00 am – 9:30 am – Breakfast
9:30 am -11:30 am– Program Session
11:00 am – Check-out (luggage may be stored at reception)
12:00 pm – Lunch is included in your stay this day!