Are you ready to let your yoga practice guide you in all areas of your life? Join master teacher Aadil Palkhivala, a disciple of B.K.S. Iyengar, for an immersive study and intimate practice of Purna Yoga.
You will discover firsthand Aadil's signature style of practice and teaching, which he co-created with his wife Savitri. This holistic synthesis of yogic traditions comes in a warm combination of instruction, philosophical insights, poetry and humor.
Through lectures, demonstration and lots of hands-on practice in a loving and safe environment, you will learn:
How to teach the basics of alignment-based standing poses, inversions, twists, backbends and forward bends
Purna Yoga's Opening Series; Morning Series; Hip Series; and classical Surya Namaskar
The proper posture and instruction for pranayama
How to use props, adjustments and safety points
Timeless spiritual truths and ways to integrate them into your everyday life
You will take home a solid understanding of how to incorporate yoga into your own life as well as the skills and confidence to teach classes for beginners.
Open to all. One year of alignment-based yoga practice is strongly recommended.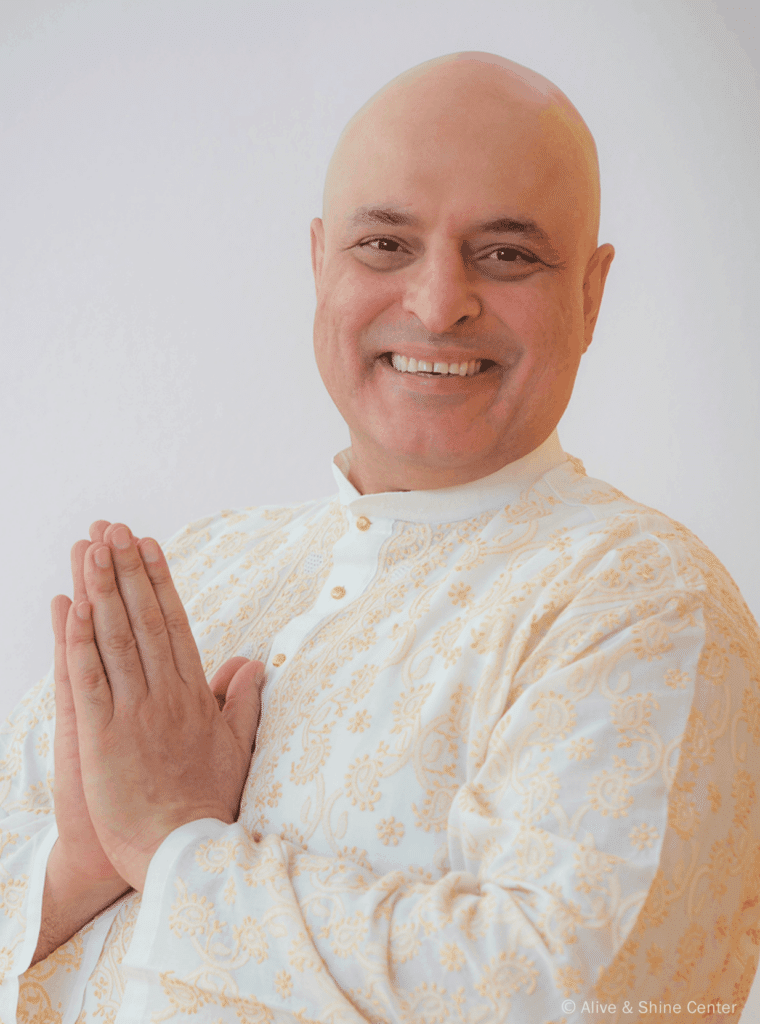 Aadil Palkhivala (E-RYT 500) is a Certified Yoga Therapist and co-founder of Purna Yoga College, as well as the co-director of Alive and Shine Center. With degrees in law, physics and mathematics, and having begun his own yoga studies with B.K.S. Iyengar at the age of 7, he is among the world's leading yoga teachers. Aadil trains yoga teachers in India, Asia, Europe and the US, and is an international keynote speaker and a writer for Yoga Journal. He is passionate about creating health, wealth and happiness in the lives of his students.
Find out more at: www.aadil.com and www.purnayoga.com
All options include daily vegetarian meals from dinner on the night of check-in through lunch on the day of check-out.
The private retreat room has twin beds, a private bath and complimentary wifi.
Shared Retreat Room (2 People)
The shared retreat room has twin beds, a private bath and complimentary wifi. One other person of the same gender will share the room with you. 
Shared Retreat Room (3 People)
The shared retreat room has twin beds, a private bath and complimentary wifi. Up to two more people of the same gender will share the room with you.
All Life is Yoga – Special 5-Day Teacher Training w/ Aadil Palkhivala
April 21st-26th, 2019
Your Program Session Times (subject to change)
Arrival Day 7:30-9:00 pm
Daily 9:30 am-12:30 pm;  3:00-5:00 pm
Departure Day 9:30 am-12:30 pm (Room check-out is 11 am; Luggage can be held at reception)
General Guest Information
We hope you enjoy your stay with us at the Art of Living Retreat Center. While here, we invite you to immerse in the quiet peace of the Blue Ridge Mountains and connect with yourself. Apart from the activities in your program schedule, there are also opportunities to join daily yoga and meditation classes, restorative Ayurvedic spa treatments, guided hiking trails, pottery classes, evening Kirtans, the outdoor labyrinth or the weekly Bonfire. Here are more details for your stay:
Arrival Day
3:00 pm Check-in begins; Rooms are ready by 3:00pm, but if you arrive early we will hold luggage at Reception.
6:00-7:00 pm Dinner
7:00-7:20 pm Guest Orientation Session (Venue: Dining Hall)
Mealtimes
7:30-9:30 am Breakfast
12:00-2:00 pm Lunch (included on your departure day)
6:00-7:30 pm Dinner
Optional Complimentary Activities (Please join only if above mentioned Program schedule permits)
7:30-8:30 am Hatha Yoga Class (Venue: Geeta Hall) During Program Dates only
9:45-10:45 am/4:15-5:15 pm Hatha Yoga Class (Venue: Geeta Hall)
11:00 am-12:00 pm Mind and Meditation Session (Venue: Geeta Hall)
1:30-2:00 pm Yoga Nidra (Venue: Geeta Hall) Saturdays and Sundays only
2:00-3:15 pm Property Tour (Starts at Reception) Saturdays only
5:30-6:00 pm Guided Meditation Session (Venue: Geeta Hall)
7:30-8:15 pm Meditative Chant/Kirtan (Venue: Geeta Hall)
8:30-10:00 pm Bonfire (Below Veda 2; Weather permitting) Saturdays Only
Ayurveda Spa Appointments
We invite you to also make reservations at our award-winning Shankara Ayurveda Spa before arrival, in order to ensure availability. Please call (828) 264-8382 for details.
Our Clay Studio is open Thu-Sun; Hand-building classes and Throwing classes are available by appt. Clay pieces can be glazed and shipped back as well. Please contact our front desk to make an appointment.
Actual schedules and venues may vary; Please confirm with Front Desk upon check-in
Optional Saturday Activities
639 Whispering Hills Rd, Boone, NC 28607
Discover deep rest and rejuvenation in a pristine natural setting in the Blue Ridge Mountains of Boone, North Carolina. Set amidst 380 acres of pristine forest high up in the Blue Ridge Mountains is a tranquil sanctuary. The perfect place to begin your journey to wellness. *NOTE* Please avoid using GPS…It will take you up a private road to a locked gate.  Use directions provided on this site.
Distance from Nearest Airport
2 Hours by car without traffic
For room reservations & spa retreats, we have a 24 hour cancellation policy.
For all other retreats, please be sure to check the registration page specific to that retreat.
To encourage a healthy environment we ask that guest to not consume alcohol or meat in our public spaces, however guests may enjoy these items in their rooms. That being said our property is always smoke-free.
Yes, we ask that guests with food allergies simply inform us so we can communicate those needs to our chef. Typically we label potential allergens such as gluten, dairy and nuts.