Overview
Become your own wellness alchemist with renowned Ayurvedic cooking instructor Nalini Mehta. During this program, we will explore the different dosha body types and how best to nourish them throughout each season. The Vata dosha, easily aggravated by cold, windy, and dry conditions, is susceptible to imbalance during the winter months. In summer, the Pitta dosha benefits from extra dietary care and attention, and the Kapha dosha can become unstable in the transitional seasons of autumn and spring. Lean how to best nourish your body type and thrive in every season, through Nalini's masterful demonstrations of authentic ayurvedic food preparation. This program will walk you through theory, recipes, and dietary strategies to keep you healthy, happy, and whole all year!
• Learn to cook delicious meals with fresh, seasonal ingredients
• Deepen your understanding of your dosha
• Reconnect with yourself and your body's unique dietary needs
• Feel vital and nourished year-round
Experiences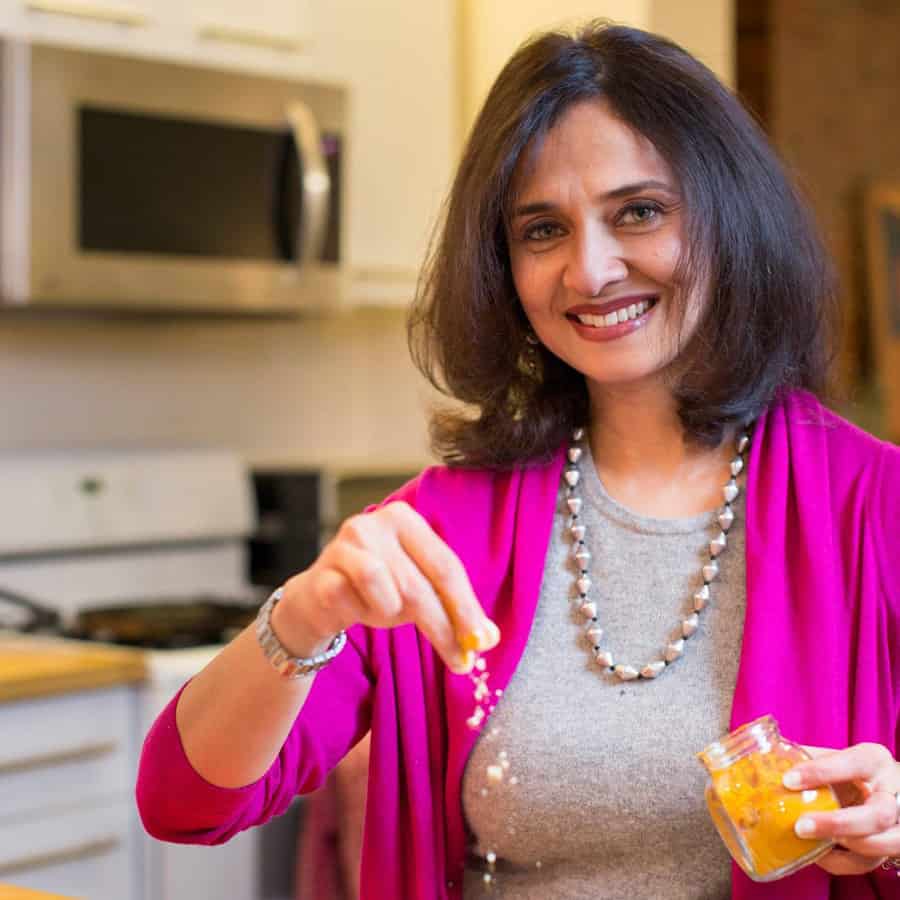 Nalini started teaching Ayurveda cooking classes 12 in NYC years ago . She began her career in the food industry as a culinary instructor at the Natural Gourmet Institute for Food and Health followed by Whole Foods Culinary Center, Institute of Culinary Education and NY Open Center teaching vegetarian cooking classes. She has also worked at Candle Café restaurant and Hampton Chutney in New York City.
She has been a speaker at several institutes like Baruch College, Rubin Museum of Art and Princeton University, United Nations Spice Club. Her classes seemed to fan people's passion, curiosity and interest in a unique experience of India through its holistic food.
Through RTI she offers an array of vegetarian cooking classes options all rooted in the science and philosophy of Ayurveda along with annual Ayurveda Culinary trips to India.Today RTI has shared this rich culinary experience with over 1500 people by offering public and online classes as well as corporate team building courses
All options include daily vegetarian meals from dinner on the night of check-in through lunch on the day of check-out. (Rates below are Per Person)
The private retreat room has twin beds, a private bath and complimentary wifi.
Shared Retreat Room (2 People)
The shared retreat room has twin beds, a private bath and complimentary wifi. One other person of the same gender will share the room with you. 
Shared Retreat Room (3 People)
The shared retreat room has twin beds, a private bath and complimentary wifi. Up to two more people of the same gender will share the room with you.
To be determined. 
Call for more details:
Meals are served during the following times – 7:30-9:30am for Breakfast, 12:00-2:00pm for Lunch, and 6:00-7:30pm for Dinner. Food will be put away at the ending times, but the dining hall will remain open.
Optional Saturday Activities
Guided Nature Walk:      
 1:30-2:30pm or 3-4pm
Pottery Class:
2-3pm, 3-4pm or 4-5
639 Whispering Hills Rd, Boone, NC 28607
Discover deep rest and rejuvenation in a pristine natural setting in the Blue Ridge Mountains of Boone, North Carolina. Set amidst 380 acres of pristine forest high up in the Blue Ridge Mountains is a tranquil sanctuary. The perfect place to begin your journey to wellness. *NOTE* Please avoid using GPS…It will take you up a private road to a locked gate.  Use directions provided on this site.
For room reservations & spa retreats, we have a 24 hour cancellation policy.
For all other retreats, please be sure to check the registration page specific to that retreat.
To encourage a healthy environment we ask that guest to not consume alcohol or meat in our public spaces, however guests may enjoy these items in their rooms. That being said our property is always smoke-free.
Yes, we ask that guests with food allergies simply inform us so we can communicate those needs to our chef. Typically we label potential allergens such as gluten, dairy and nuts.