Dive deep into the various aspects of the body-mind and its relation to food in the Holistic Cooking Course. Holistic cooking principles place great importance on retaining the nutritional value of fruits and vegetables. Through virtual cooking sessions and pre-recorded recipe videos, you'll learn the basic characteristics of the six tastes and the ancient process of consuming meals, as well as effective food combinations one needs to know when cooking or creating recipes.
In this unique combination of theory and demonstration of recipes, you'll also explore
Seasonal foods to keep your vata, pitta and kapha balanced

Food options that increase prana and immunity
Eating right food—right time—right way
Food as medicine
How to prepare wholesome and tasty meals with available resources. 
Join Kaushani Desai, renowned holistic cooking instructor and the author of the Sattva: Ayurvedic Cookbook, in this experiential program suitable for anyone who aspires to stay healthy and happy.
The instructor, Kaushani, has such a depth of Ayurveda Knowledge that she not only taught us how to make the food healthy and delicious, but she also spoke about how different diseases and ailments can be managed and controlled with Ayurveda and Holistic ways. I'd highly recommend anytime spent in class with Kaushani—she is simply so much fun and lots of amazing knowledge.
I loved the food that was cooked, and such amazing insights into different types of foods—what to eat, when and how for a perfectly balanced health. Alternatives to oil and so many other other unhealthy ingredients, that it was just such an eye opening program. I also found out that Kaushani is also the author of this highly recommended Ayurveda cookbook! I got so much more than I ever imagined.
The Holistic Cooking Course was really wonderful! I learnt so much about what is a balanced and healthy diet, nutritious cooking methods, what to eat and what to avoid depending on your body type - basically how to stay happy, healthy, mega energized and balanced (body & mind) through food. In this course I also learnt how to keep my body toxin free, the body PH balanced and free from inflammation, pull the most nutrients out of food, eat for a balanced mind/emotions and so much more. It was also wonderful to connect with others interested in this type of healthy eating.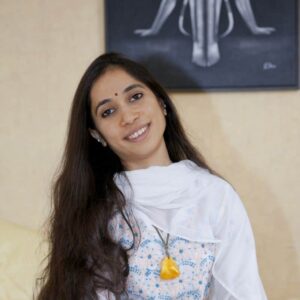 Kaushani Desai is a renowned holistic cooking instructor and the author of Sattva: The Ayurvedic Cook Book. She has taught more than 500 holistic cooking courses in 40 countries—mastering several different cuisines such as Thai, Lebanese, Italian, Mexican, and Indian—and trained cooking instructors all over the world. Kaushani loves sharing her cooking techniques for tasty and healthy cooking is passionate about helping people transform their lives through food.
The Holistic Cooking Course
Your Program Session Times (subject to change)
Friday 6:30–8:30 pm (EDT)
Saturday 11:00 am–1:00 pm (EDT)
Sunday 11:00 am–1:00 pm (EDT)
Retreat Cancellation Policy
Refunds are available (less a $50 processing fee) up to eight days before your program. 
Nonrefundable credit toward a future AOLRC program or stay (less a $50 processing fee) is available if you give notice between seven and one day(s) before your program or stay. Credit may be applied to any AOLRC program or stay for one year following the date of issue.


No credit or refund will be given if you cancel on the program start date, if you do not show up, or if you do not complete the program. No refund will be given if you attend a program and are dissatisfied with its presentation or content.
AOLRC reserves the right to cancel a program at any time. If AOLRC cancels a program, you will receive a full refund. Some programs may have special cancellation policies; see individual workshop descriptions.
Your program is hosted on Zoom. In order to participate, you will need one of the following:
Computer: Windows or Mac computer with speakers and a microphone. (Note: Webcams are recommended but not required.)

Mobile Device: iOS or Android 

Phone: mobile, desk or landline.
You can find out more about using Zoom here. 
Once you register and reserve your spot, you will receive a confirmation email with detailed instructions on how to access the online sessions. If you have any problems or questions, please feel free to reach us at 800-392-6870.