Overview
The Answer To A Healthier Life Is Closer Than You Imagined

Did you know that chronic inflammation can often be an underlying factor for numerous health conditions, including: heart disease, atherosclerosis, and autoimmune conditions? Through the right diet and lifestyle, combined with proven mindfulness and breathing techniques, you can greatly reduce inflammation within your body. During this workshop you will learn how Ayurveda practices can help you to promote positive changes within your body, including reducing chronic inflammation.
What To Expect During Your Inflammation Management Workshop

Throughout the workshop you will receive numerous tools and applicable techniques to help you reduce your body's inflammation, so that you can lead a happier and healthier life.
Complete a dosha quiz to gain valuable insights into your emotional and bodily needs.
Learn what superfoods can help to heal and manage inflammation within your body.
Discover what breathing, yoga, mindfulness, and meditation techniques can benefit you on a daily basis.
Complete exercises that are designed to heal your mind, body, and spirit by releasing negative emotional energy.
Enjoy learning a new daily routine that is designed to reduce inflammation, while simultaneously promoting improved liver strength, digestion, and assimilation.
For an additional cost, receive a pulse assessment to more intimately know your body's constitution and what food choices are right for you. Please contact the spa reception at 828-264-8382 to reserve this additional service.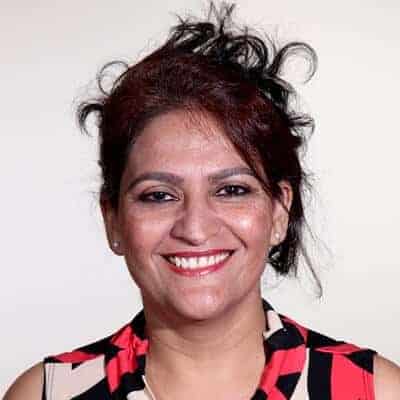 Dr. Poornima is a certified yoga instructor and Health Coach with a Ph.D. in Foods & Nutrition and a special focus on obesity, diabetes, and iron deficiency. As a Health Coach, Poornima has had the pleasure of helping individuals from all walks of life take part in empowerment programs that leverage breathing techniques, yoga, and meditation to reduce stress and promote healthier lifestyles. She is also a RYT-200 certified yoga and meditation teacher with the Art of Living and looks forward to helping people focus on eating well, living well, and embracing mindful living to enjoy both positive inner transformations and outer dynamism.
"It gives me immense joy to share the gifts of meditation, breathing practices, yoga, wholesome living and timeless wisdom I have been fortunate to receive; it is extremely rewarding to see how the practices and processes bring such inner transformation & outer dynamism in everyone's life in such a short time."
All options include daily vegetarian meals from dinner on the night of check-in through lunch on the day of checkout. (Rates below are per person.)
The private retreat room has twin beds, a private bath and complimentary wifi.
Shared Retreat Room (2 People)
The shared retreat room has twin beds, a private bath and complimentary wifi. One other person of the same gender will share the room with you. 
Shared Retreat Room (3 People)
The shared retreat room has twin beds, a private bath and complimentary wifi. Up to two more people of the same gender will share the room with you.
Friday, 7:00 pm – 8:30 pm 
Session 1: Introduction; Orientation; What is Inflammation? Causes, Symptoms and Effects of Inflammation; Group share
Saturday, 9:30 am – 12:30 pm
Session 2: Managing Inflammation: A Western and Eastern Perspective. Understanding Inflammation for different body types (Vata, Pitta Kapha); Anti-inflammatory Foods & Super Foods; Experimenting with foods- hands-on experience; Recipes
Sunday, 9:30 am – 11:30 am
Session 3: Exploring and learning some tools and techniques to manage/reduce inflammation with Diet, Exercise, Yoga, Stretching, Pranayama (Breathing techniques)- Meditation
Optional Saturday Activities:
Guided Nature Walk: 1:30-2:30pm or 3-4pm
Pottery Class: 2-3pm, 3-4pm or 4-5pm
*If a spa appointment is made during a Breakfast, Lunch, or Dinner, guests may request a meal to be boxed for pickup by asking spa reception.
**Meals are served during the following times – 7:30-9:30am for Breakfast, 12:00-2:00pm for Lunch, and 6:00-7:30pm for Dinner. Food will be put away at the ending times, but the dining hall will remain open.
***Please call the spa in advance to book spa treatments during your free time if you are interested. The phone number is (828) 264-8382.
639 Whispering Hills Rd, Boone, North Carolina 28607
Discover deep rest and rejuvenation in our tranquil sanctuary set amidst 380 pristine acres high up in the Blue Ridge Mountains of Boone, North Carolina—the perfect place to begin your journey to wellness.
NOTE Avoid using GPS—it will take you up a private road to a locked gate.  Please use the directions provided on this site.
For room reservations, spa retreats, and Art of Living Retreat Center (AOLRC) signature retreats, we have the following cancellation policy:
Refunds are available (less a $50 processing fee) up to eight days before your program or stay.
Nonrefundable credit toward a future AOLRC program or stay (less a $50 processing fee) is available if you give notice between seven and one day(s) before your program or stay. Credit may be applied to any AOLRC program or stay for one year following date of issue.
No credit or refund is available if you cancel on the arrival day, if you do not show up, or if you leave an event early for any reason. No refund will be available if you attend a program and are dissatisfied with its presentation or content.  AOLRC reserves the right to cancel a program at any time. If AOLRC cancels a program, you will receive a full refund.  Some programs may have special cancellation policies; see individual workshop descriptions.  For all other retreats, please be sure to check the registration page specific to that retreat.
To encourage a healthy environment we ask that guest to not consume alcohol or meat in our public spaces, however, guests may enjoy these items in their rooms.
Our property is always smoke-free.
Yes, we ask that guests with food allergies simply inform us so we can communicate those needs to our chef. Typically, we label potential allergens such as gluten, dairy, and nuts.