Overview
Are you ready for an exuberant, deeply restorative, and life-changing experience? Dance Your Bliss™ is a powerful psychotherapeutic healing system that connects us to our best selves.
Untreated emotional pain is carried in our bodies and can manifest as problems at work and in relationships, or even as life-threatening disease. Using experiential techniques to unlock the link between emotions and movement, psychotherapist and master teacher Rachel Fleischman teaches us how to bring more awareness into our physical experience so we can be seen, felt, and healed.
Through a combination of movement, guided imagery, mindfulness meditation, journaling, expressive arts, storytelling, poetry, and play, you begin a healing process that guides you to release childhood and relationship pain, transform emotions, unleash power and passion, create abundance, and live with more presence, creativity and joy.
Join others in laughter and learning, and begin to dance your bliss – while also gaining effective tools to transform your life.
Return home deeply energized, more confident and full of hope, excitement and self-compassion.
This program is for all ages, all levels of physical condition, and all size. Absolutely no dance experience is necessary. 
CE credits available for psychotherapists, counselors and nurses. Those in the helping profession will learn skills they can use in their work with clients.
About the Teacher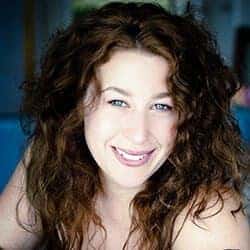 Rachel Fleischman, LCSW, REAT helps people move out of their heads and into their bodies to heal. A seasoned psychotherapist, educator, speaker and writer, she is the founder of the Dance Your Bliss™ healing system and the Being Bliss meditation CDs. Rachel has pioneered the combination of psychology with movement, neuroscience, expressive-arts and spirituality.
Over the past decade, Rachel has helped countless people deepen their creativity, live their full expression and love themselves fiercely. Dance Your Bliss™ has been featured at Omega's Being Yoga Conference, Women & Courage Conference, Naropa's Hakomi Conference, Hollyhock, UCSF Women's Health, Rancho La Puerta Spa, and the International Dance Therapy Conference.
Rachel writes for Elephant Journal and Psychology Today and travels frequently, teaching Dance Your Bliss throughout the US and abroad. She currently maintains a private practice in San Francisco.
For more information, you can visit Rachel at:
dancingyourbliss.com and blisscounseling.com

Schedule
Friday 10/19
3 pm – Check-in
4 pm – 5:30 pm – Program Session
6 pm – 7 pm- Dinner
7:05 pm – 7:20 pm – AOLRC Orientation (Dining Hall) – MANDATORY FOR ALL GROUPS
7:30 pm – 8:30 pm- Satsang (optional)
8:00pm – 9:45pm  – Program Session
Saturday 10/20
7:30 am – 8:30 am – Breakfast
9:00 am – 12pm – Program Session
12 pm – 1:30 pm – Lunch
2pm – 4pm – Program Session
4 pm – 6 pm – Free Time
6 pm – 7:30 pm – Dinner
7:30 pm – 8:30pm – Satsang (optional)
8:00 pm – 9:30pm – Program Session
Sunday 10/21
7:30 am – 9 am – Breakfast
9 am – 11:30 am – Program Session
11 am – Check-out (luggage may be stored at reception)
12 pm – Lunch is included in your stay this day!