Retreat Type
Meditation & Mindfulness
Self-Discovery
Spiritual
Retreat Goals
Calm & Clear Mind
Personal Development

Self-Care
Harness the Healing Power of Forrest Yoga
Yoga Alliance CE hours available.
Join Ana Forrest and Jose Calarco on a heart-opening journey of healing and growth. This is a powerful opportunity to practice directly with Ana, creator of Forrest Yoga—a renowned and transformative system of yoga—and her partner, Musical Shaman Jose Calarco. 
Learn to move and breathe in ways that open your core and give the heart the support and counsel of the other primary chakras. As barriers drop away, you'll feel the intuitive honesty of your heart and develop the flexibility needed to surf emotional waves.
Building heart strength can free us from past pains and grievances—and help us keep our hearts open no matter what comes our way. Speaking Truth with a Warrior's Heart can thaw the heart we've closed down because of great pain.
—Ana Forrest, Fierce Medicine
What You Will Experience
Each session begins with a very special ceremony of song, invocation, and a smoke blessing. Then, through Forrest Yoga asana practice, walking in nature with ceremony, and music healing, you'll
Build skills in accessing, cleansing, and resolving emotional issues and moving them out of the cell tissue
Celebrate the beauty of life and the power of spirit and make room to absorb the beauty and sweetness in our world
Honor the ancestors and custodians of our sacred land
Develop physical strength and focused breath work
Be challenged to heal, grow, and nourish the heart.
You'll make a quantum leap in your yoga practice, create a path to connect with your spirit, and take home aliveness in each cell of your body.
Items to Bring Yoga mat, yoga roll, yoga block, rolled up mat or beach towel, and a water bottle.
Yoga Alliance CE hours available.
Harness the power of Forrest Yoga
Evolve the self and establish a connection with spirit and nature through conscious movement and breath.
Read More
Forrest Yoga is renowned globally as a powerfully physical, internally focused ceremonial yoga practice. Its unique style combines intelligent pose sequencing with a spiritual intent. Ana and Jose blend music, song, invocation, smoke blessing , storytelling, prayer, philosophy, and primordial and shamanic healing practices into each event.
Clear emotional obstacles
Go on a vision quest to access and transform your energy blocks and emotional wounds.
Read More
Access aberrant energy and bring it to a healthy patterning. The energy could be scar tissue, injury, emotional pain, or driving yourself crazy in your brain.
Experience personal healing
Honor the ancestors and custodians of our sacred land through ceremonial blessings.
Read More
Various healing and therapeutic tools are weaved into ceremonies, which include Sun Dance, Vision Quest, and Pipe Ceremony. Through these practices, you will learn to begin your personal journey of healing and evolution.
Learn to stay balanced & grounded
Learn self-care tips for developing physical strength and focused breath work.
Read More
Understand the importance of prioritizing your personal self-care needs. Take good care of your precious self, eat clean, breathe deeply, clean your thoughts, no longer indulge in poisonous thinking, do yoga daily…then everything else you do will have the essence of that beauty pervading your actions.
Cultivate Deeper Inner Connection
Celebrate the beauty of life, the power of spirit and the beauty of nature.
Read More
Nature restores us in a way we desperately need. When we connect to the truth of being part of nature we can align our actions to this greater wisdom. Feel the living Earth beneath your feet, sit with a tree, or sing and connect to nature.
Unearth & Express Your Truth
Attune to the intuitive honesty of your heart and develop the flexibility needed to surf emotional waves.
Read More
The first step to Truth Speaking is opening our hearts. An open heart that is responsive and reflexive, meaning that when something comes in and touches it, the heart responds and bounces right back.
A Retreat in the Mountains
During your stay, you have time for personal R & R also. Whether you want to explore forest trails and bask in the fresh mountain air, enjoy a pottery or watercolor painting class, release stress with a therapeutic spa treatment, the choice is yours. (Additional fees may apply.)
Make Your Retreat Extra Special
Combine your retreat with authentic Ayurveda for rejuvenation on all levels, body, mind and spirit. The recommended Ayurveda treatment for this retreat is an Abhyanga massage ("Abby" for short), followed by a relaxing steam to further release stress. Pre-requisite: 18 years of age or older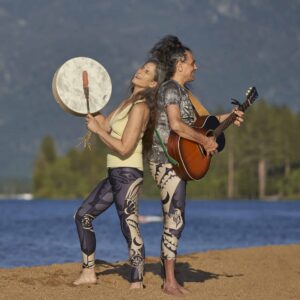 Ana Forrest and Jose Calarco are at the forefront of the yoga world, creating profound experiences and a vision quest for a sacred life.
Their unique style weaves together intelligent pose sequencing with spiritual intent; integrating music, song, invocation, smoke blessing, storytelling, prayer and shamanic healing practices into each event. Ana, founder of Forrest Yoga, is known around the world for her particular brand of fierce medicine to the yoga community. As her co-director, Jose comes from a long history of shamanism, art, music and healing. He is also the director of the legendary Australian indigenous dance company Descendance Aboriginal. Together Ana and Jose teach the art of learning to love again, and give students the tools to create their own sense of hope and direction in life.
Find out more at www.forrestyoga.com
"Ana's clear & direct teaching and mentoring style leaves no space for one to hide behind their own shields & this is magical! Ana really showed me the power of believing in myself, trusting my internal voice & truth & letting go of everything else that doesn't serve me.."
The Greatest Gift
Annastasia K.
"Forrest Yoga gave me the gift to be me. To see the world through my lens and to help others cherish that too. FY showed me authenticity in self and how to give that gift to others. Howl at the moon, dance when you like. Dream your dreams, and live your life. FY gave me the greatest gift, the gift of acceptance of others and the gift of acceptance of me."
Big Personal Shifts
Allahna C.
Thank you Jose for the wonderful gift of your musical magic. Your stories, dances and poetry and energy was wonderful as always. I found your contributions very powerful and I made some big personal shifts for which I am very grateful."
All options include daily vegetarian meals from dinner on the night of check-in through lunch on the day of check-out. (Rates below are Per Person)
All options include daily vegetarian meals from dinner on the night of check-in through lunch on the day of checkout. (Rates below are per person.)
Two Twin Beds
Private Bath
Complimentary Wi-Fi
Delicious Vegetarian Meals
Complimentary Tea/Coffee & Fresh Fruit
Daily Yoga & Meditation Classes
Access to Grounds and Facilities, including Gym & Steam Rooms
BUILDING THE WARRIOR HEART
Forrest Yoga with Ana Forrest & Jose Calarco
August 6–8, 2021
Your Program Session Times (subject to change)
Friday 4:00–6:00 pm
Saturday 9:30 am–12:30 pm and 2:00–4:30 pm
Sunday 9:00–11:30 am (Room check-out is 11 am; luggage can be held at Reception.)
All times are Eastern Standard Times (EST) unless otherwise noted.
Arrival Day 4:00 pm Check-in begins; Rooms are ready by 4:00 pm, but if you arrive early we will hold your luggage at Reception. 6:00–7:00 pm Dinner 7:00–7:20 pm Guest Orientation Session (Venue: Dining Hall)
Mealtimes 7:30–9:30 am Breakfast 12:00–2:00 pm Lunch (included on your departure day) 6:00–7:30 pm Dinner
Optional Activities
Apart from the activities in your program schedule, we offer the following optional complementary activities. (Please join only if your program schedule permits.)
7:30–8:30 am Hatha Yoga Class | Gita Hall; during program dates only.
9:45–10:45 am and 4:15–5:15 pm Hatha Yoga Class | Sattva Studio
11:00 am–12:00 pm Mind and Meditation Session | Sattva Studio
1:30–2:00 pm Yoga Nidra | Sattva Studio; Saturdays and Sundays only.
2:00–3:15 pm Property Tour | Starts at Reception; Saturdays only.
1:30–2:30 pm and 3:00–4:00 pm Guided Nature Walk | Starts at Reception; Saturdays only.
5:30–6:00 pm Guided Meditation Session | Sattva Studio
7:30–8:15 pm Meditative Chant/Kirtan | Gita Hall
8:30–10:00 pm Bonfire | Below Veda 2 Weather permitting; Saturdays only.
Optional Activities with Additional Fees
To ensure availability, please register for these activities by calling 800-392-6870 prior to your arrival.
Ayurveda Cooking Class $35 (1 hour) Thursday and Saturday Only Learn how to best nourish your specific body type and thrive in every season.
Pottery Class $30 (1 hour) Thursday to Sunday Explore your creativity. Get hands-on experience in throwing on the wheel, hand-building and decorating handmade pots.
Shankara Ayurveda Wellness Appointments (Additional Cost)
Hours: 9:00 am–6:30 pm daily We invite you to make reservations for consultations, treatments, and therapies at the award-winning Shankara Ayurveda Wellness prior to arrival in order to ensure availability. Please call 828-264-8382 for details.
Actual schedules and venues may vary; please confirm with Front Desk upon check-in.
For room reservations, Ayurveda Wellness Retreats, and Art of Living Retreat Center (AOLRC) signature retreats, we have the following cancellation policy:
Refunds are available (less a $50 processing fee) up to eight days before your program or stay.
Nonrefundable credit toward a future AOLRC program or stay (less a $50 processing fee) is available if you give notice between seven and one day(s) before your program or stay. Credit may be applied to any AOLRC program or stay for one year following date of issue.
No credit or refund is available if you cancel on the arrival day, if you do not show up, or if you leave an event early for any reason. No refund will be available if you attend a program and are dissatisfied with its presentation or content.  AOLRC reserves the right to cancel a program at any time. If AOLRC cancels a program, you will receive a full refund.  Some programs may have special cancellation policies; see individual workshop descriptions.  For all other retreats, please be sure to check the registration page specific to that retreat.
To encourage a healthy environment we ask that guest to not consume alcohol or meat in our public spaces, however, guests may enjoy these items in their rooms.
Our property is always smoke-free.
Yes, we ask that guests with food allergies simply inform us so we can communicate those needs to our chef. Typically, we label potential allergens such as gluten, dairy, and nuts.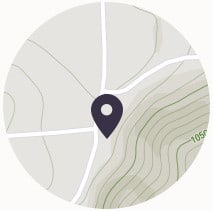 639 Whispering Hills Rd, Boone, North Carolina 28607
Discover deep rest and rejuvenation in a pristine natural setting in the Blue Ridge Mountains of Boone, North Carolina. Set amidst 380 acres of pristine forest high up in the Blue Ridge Mountains is a tranquil sanctuary.