Overview
UNITING ANCIENT VEDIC PRACTICES: AYURVEDA, YOGA AND ASTROLOGY
At one time, Hatha Yoga, Vedic Astrology and Ayurveda were all connected. Unite them again in a powerful experiential weekend to move astrology and healing into the body for deep emotional and psychological and spiritual rejuvenation. Barry Rosen, author, yoga and meditation teacher and Vedic astrologer of 31 years unites with yoga and Ayurveda practitioner, writer and Vedic astrologer Gary O'Toole, to manifest a unique and practical course experience.  Jeff Poole will be available for readings and consultations also.

No knowledge of astrology is necessary to attend this weekend. 
In ancient times, Vedic Astrology, Hatha Yoga and Ayurveda were intimately connected. This workshop will teach you how to reintegrate them as a holistic practice, inspired by the rich tradition of the Vedas.
Through active yoga classes, workshops, lectures and discussion sessions, you will:
Learn a yoga practice, tailor-made for your spiritual and physical needs based on your chart.
Get an overview of planets, signs and how Vedic astrology works.
Put these discoveries into practice as you gaze at the night sky and connect the constellations to your personal experiences
Understand the relationship between Vedic astrology and yoga therapy for healing psychological and emotional challenges.
Realize your Mind-Body type, and learn how it affects the kind of physical exercise that suits you
Learn about karmic lessons and your deepest karmic blocks that block spiritual practices.
You'll go home with a copy of your birth chart to keep you on track as you draw your newfound wisdom into your daily life and spiritual development.
This workshop is suitable for anyone interested in learning more about themselves.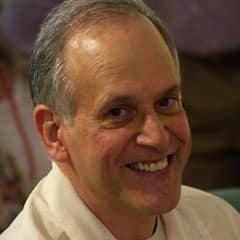 Barry Rosen has been a Vedic astrology since 1987. Much sought after as an author, meditation; yoga teacher with the Art of Living Foundation, and astrological consultant, he regularly presents at Astrology conferences both in the US and abroad. His participation includes the American Council of Vedic Astrology Conferences, Sedona, AZ and the British Association of Vedic Astrologers, London. His published books include Finding Your Blind Spots Using Vedic Astrology and the Vedic Astrology Transit Guide for 2018-19 and 2019-20.
Barry is well known for the depth of his research into a variety of astrological arenas including Vedic Astro-locality (the effects your current physical location has on your chart), connecting astrology to hatha yoga for therapeutic purposes and developing transformational healing to move one through karma.  Always actively involved in assimilation and integration of more Vedic knowledge, his current passions include Jaimni astrology and the soul's purposeful, karmic journey through the physical world.  Barry Rosen has been a student of many of the great Vedic Astrology masters of our time: Sanjay Rath, Marc Boney, and Komilla Sutton.  Barry feels that Vedic astrology should be used for spiritual upliftment. "A good reading and a progression should help you witness the play of karma so that you are not gripped by it; you can transcend it and realize your own Divinity, becoming the commander  of the planets and not the victim."  See Barry's Facebook blogs: Financial Astrology by Barry Rosen and Astro-Yoga as well has his professional financial forecasting website at www.fortucast.com. Further information on his astrological services and workshops can be found at www.appliedvedicastrology.com.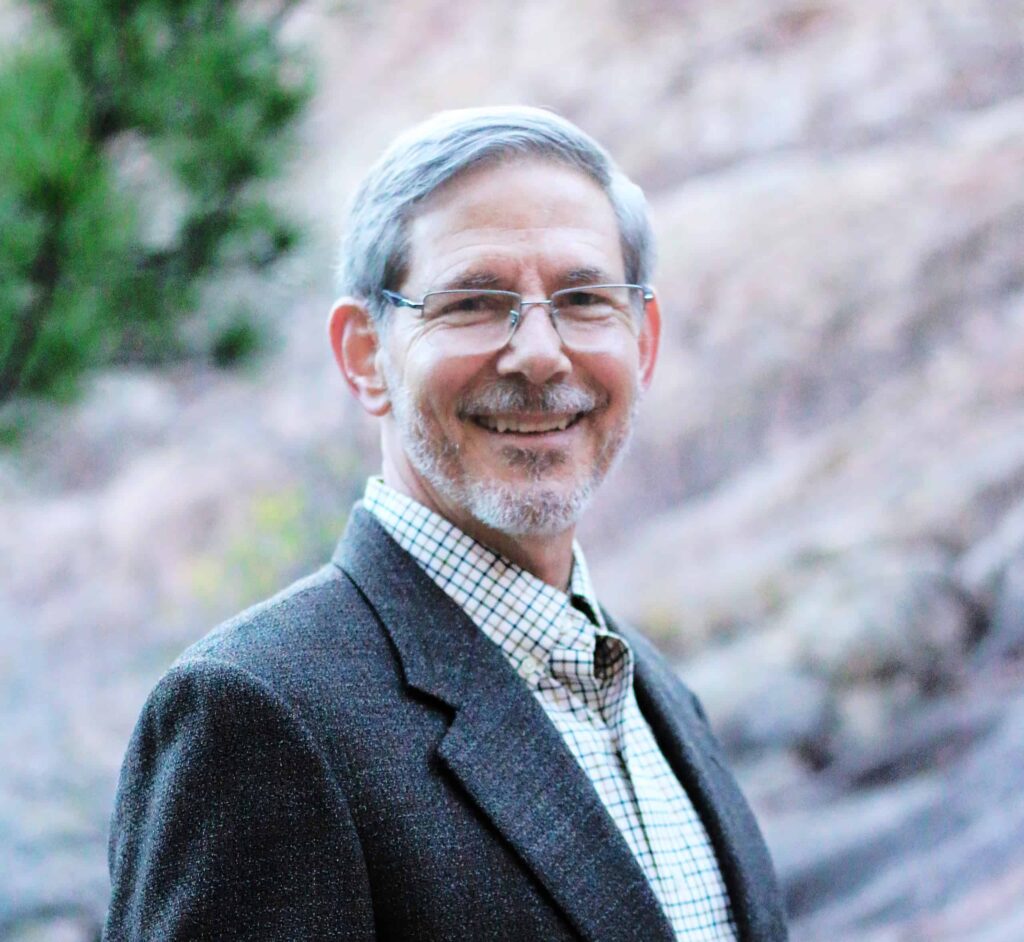 Jeff V. Poole has spent over 40 years of study in Vedic science. He is proficient in Vedic Astrology, Vedic Meditation, Sanskrit, Vedic Breathing techniques, and more. He is currently the founder, and CEO of Vedic Counsel Inc., a Vedic counseling firm headquartered in the Denver, Colorado area, with a team of skilled Vedic Astrologer partners from around the world. Vedic Counsel's team of partners serve a growing client base of individuals, small to midsize businesses, and business owners seeking in-depth counseling for major life issues, career directional changes, business ventures, strategic planning, strategy formation, business leadership, life purpose transition, spiritual transformation, stage of life transitions, and relationships. Vedic Counsel provides the highest quality accuracy, insight and expertise to assist its clients in meeting their any of their Jyotisha needs. Prior to founding Vedic Counsel, Jeff celebrated a successful 27-year career in High Technology Computers and Networking, in Silicon Valley, CA, with Grid Systems, Informix, and 3Com Corporation. And in Portland, OR and Seattle, WA with Intel Corp, and MSI Consulting Group. His specialties are Partnership & Strategic Alliances, Marketing Channel Partners, Routes to Market Strategy, Internet Marketing, and Sales.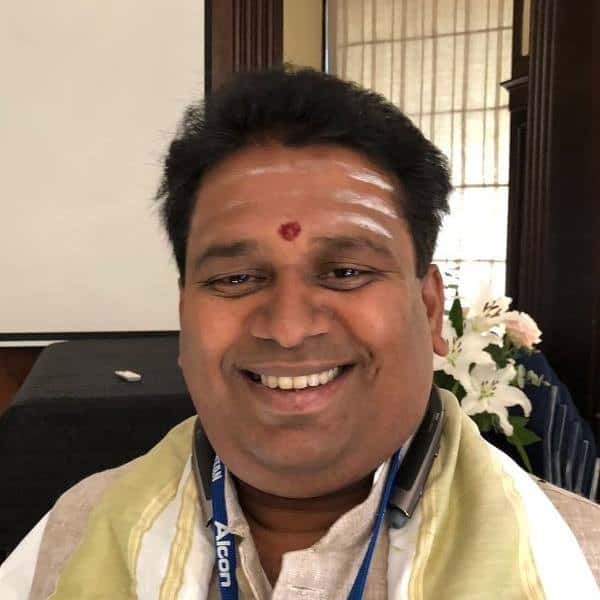 Pandit Sharma is a 6th generation Sama Veda pandit and a Shri Vidya Upasaka. In 1990, after 12 years of study, Pandit Sharma received his Master's Degree in Vedic Studies (Ganapati Pandit). During this time, he learnt the grammar and other aspects of Sanskrit and the performance of different kinds of pujas and yagyas.
In 2002, he founded the Vedic Yagya Center located in Vijayawada, Andhra Pradesh, India and Fairfield, Iowa. His Center offers to individuals, organizations and businesses Vedic yagyas (sacred ceremonies), homams (ancient fire ceremonies), and pujas as prescribed in the Vedas and Shastras, the holy Indian scriptures. By utilizing the sound vibrations of specific Sanskrit mantras, these performances can help alleviate many problems of our modern times.
All options include daily vegetarian meals from dinner on the night of check-in through lunch on the day of check-out. (Rates below are Per Person)
The private retreat room has twin beds, a private bath and complimentary wifi.
Shared Retreat Room (2 People)
The shared retreat room has twin beds, a private bath and complimentary wifi. One other person of the same gender will share the room with you. 
Shared Retreat Room (3 People)
The shared retreat room has twin beds, a private bath and complimentary wifi. Up to two more people of the same gender will share the room with you.
October 11th-14th, 2019
Please arrive, register and settle in before 3 pm for a 3-5 pm gathering and overview Friday, Oct. 11th.
The last session ends noon Monday. Please allow about 4-4.5 hours to get to the airport, check-in and get to your gate.  Suggest flights be booked after 4:30 or 5 pm on getaway day.  Charlotte airport is about a 2.5 hours drive from the ashram.  
RETREAT SCHEDULE  
FRIDAY, OCT 11
3:00-4:30
Welcome.  
Retreat Overview
Guided Meditation
7:30-9:30
A Guide to the Planets and
Zodiacal Signs and Your Body
SATURDAY, OCT. 12TH
9:30-12:30
Astro-Yoga Workshop: Barry Rosen and Gary O'Toole
Connecting Planets, Chakras to Poses for Healing and Well-Being
2:00-4:30
Cosmic Bodies:  Exercise Patterns, Ayurveda and Your Body Type
Gary O'Toole
7:30-9:30
Celestial Sky Show (weather permitting)
Understanding Planetary Constellations and Their Mythology
SUNDAY, OCT 13TH
9:30-12:30
Pundit Samavedula
Sun Salutations with Mantras.
Sun Puja for Health
2:00-4:30
Soul Lessons and Your Charts:
Keys to Unlocking this Incarnation through Jaimini Astrology
7:30-9:00
Moon Salutations for Quieting and Cooling the Body
Evening Puja with Pundit Samavedula
Mantra Chanting and Evening Meditation

MONDAY, OCT. 14TH
9:00-12:00
Ayurvedic Astrology:  
Connecting Body Types to Your Chart

Departure Day 9:00-11:00 am (Room check-out is 11 am; Luggage can be held at reception)
General Guest Information
We hope you enjoy your stay with us at the Art of Living Retreat Center. While here, we invite you to immerse in the quiet peace of the Blue Ridge Mountains and connect with yourself. Apart from the activities in your program schedule, there are also opportunities to join daily yoga and meditation classes, restorative Ayurvedic spa treatments, guided hiking trails, pottery classes, evening Kirtans, the outdoor labyrinth or the weekly Bonfire. Here are more details for your stay:
Arrival Day
3:00 pm Check-in begins; Rooms are ready by 3:00pm, but if you arrive early we will hold luggage at Reception.
6:00-7:00 pm Dinner
7:00-7:20 pm Guest Orientation Session (Venue: Dining Hall)
Optional Complimentary Activities (Please join only if above mentioned Program schedule permits)
7:30-8:30 am Hatha Yoga Class (Venue: Geeta Hall) During Program Dates only
9:45-10:45 am/4:15-5:15 pm Hatha Yoga Class (Venue: Geeta Hall)
11:00 am-12:00 pm Mind and Meditation Session (Venue: Geeta Hall)
1:30-2:00 pm Yoga Nidra (Venue: Geeta Hall) Saturdays and Sundays only
2:00-3:15 pm Property Tour (Starts at Reception) Saturdays only
1:30-2:30 pm/3:00-4:00 pm Guided Nature Walk (Starts at Reception) Saturdays only
5:30-6:00 pm Guided Meditation Session (Venue: Geeta Hall)
7:30-8:15 pm Meditative Chant/Kirtan (Venue: Geeta Hall)
8:30-10:00 pm Bonfire (Below Veda 2; Weather permitting) Saturdays Only
Mealtimes
7:30-9:30 am Breakfast
12:00-2:00 pm Lunch (included on your departure day)
6:00-7:30 pm Dinner
Ayurveda Spa Appointments
We invite you to also make reservations at our award-winning Shankara Ayurveda Spa before arrival, in order to ensure availability. Please call (828) 264-8382 for details.
Our Clay Studio is open Thu-Sun; Hand-building classes and Throwing classes are available by appt. Clay pieces can be glazed and shipped back as well. Please contact our front desk to make an appointment.
Actual schedules and venues may vary; Please confirm with Front Desk upon check-in
639 Whispering Hills Rd, Boone, NC 28607
Discover deep rest and rejuvenation in a pristine natural setting in the Blue Ridge Mountains of Boone, North Carolina. Set amidst 380 acres of pristine forest high up in the Blue Ridge Mountains is a tranquil sanctuary. The perfect place to begin your journey to wellness. *NOTE* Please avoid using GPS…It will take you up a private road to a locked gate.  Use directions provided on this site.
For room reservations & spa retreats, we have a 24 hour cancellation policy.
For all other retreats, please be sure to check the registration page specific to that retreat.
Happiness Retreat Cancellation Policy:
Refunds are available (less a $50 processing fee) up to eight days before your program or stay.
Nonrefundable credit toward a future AOLRC program or stay (less a $50 processing fee) is available if you give notice between seven and one day(s) before your program or stay. Credit may be applied to any AOLRC program or stay for one year following the date of issue.
No credit or refund is available if you cancel on the arrival day; if you do not show up; or if you leave an event early for any reason. No refund will be available if you attend a program and are dissatisfied with its presentation or content.
AOLRC reserves the right to cancel a program at any time. If AOLRC cancels a program, you will receive a full refund. Some programs may have special cancellation policies; see individual workshop descriptions.
If a participant attends no sessions of the course, the course registration and full course fee can be transferred to another course of the same course type within 60 days after the end of the course originally registered for. If a participant is unable to finish the course s/he can take another course of the same course type for no additional fee.
To encourage a healthy environment we ask that guest to not consume alcohol or meat in our public spaces, however guests may enjoy these items in their rooms. That being said our property is always smoke-free.
Yes, we ask that guests with food allergies simply inform us so we can communicate those needs to our chef. Typically we label potential allergens such as gluten, dairy and nuts.