The 9th limb of yoga is whole and complete communication. How we think becomes how we walk, how we talk, how we sound, and how we carry ourselves. And by changing all of these we can change how we think and ultimately how we observe the mind which is a path to yoga. Come to this event for more self-control, confidence, and energy, and to be-come more response-able (responsible) in life and yoga practice.
You'll transform your negative thoughts and feelings into positive ones to attract the people, opportunities, and outcomes that inspire you to pursue your greatest dreams. As you become more connected to your thoughts and emotions, you'll discover how being true to yourself and taking ownership of your feelings and beliefs leads to living your best life. You then begin to make the world a better place—inner peace creates outer peace.
Get to know yourself, love yourself, let go of fear, and become more conscious through
Pranayama (breathwork) to reconnect with your energetic core

Yoga postures and movement to address physical and emotional pain

Mantras and mindful meditation for tranquility and insight

Group discussions and one-on-one sharing

Walking in nature

Light journaling
This weekend retreat has been designed to open up your systems so that you can clearly see your mental narration and how to begin to influence the body and emotions. You'll return home more calm, with more internal control, and feeling much more comfortable in your ability to influence your environment and your life.
Items to Bring:  A journal and comfortable clothing for indoor yoga and movement. Warm clothes for outside movement.
Note You'll receive a short pre-arrival writing assignment via email after registering.
CE credits available for registered Yoga Alliance yoga teachers.
Open to everyone; yoga teachers, beginner to advanced yoga practitioners, bodyworkers, health care professionals, and anyone in sales will benefit by these emotion control technologies.
"Chris is one of the few who has perfected many of the yoga asana- with seemingly effortless – poise and grace. Blessings young Jedi :)"
"The best thing about learning with you is that I try things I never would before, or are exposed to poses and variations I've never seen. Very thankful."… "I think I forgot to tell you this. My osteopath said my body is the best functionally that he's ever seen it, and said that whatever I've been doing over the last couple months…keep doing it! For the first time in a year and a half, we stretched my recheck to 6-8 weeks instead of 4. Pretty exciting stuff <3".
"Not many words to say! My heart is full. Thank you for all the love, the beautiful energy and the wonderful class Chris De Vilbiss <3."
"I have a whole new peace today, some attachments are gone, I have a direction and moving forward. Thank you Chris."
"...I feel stronger, more confident and eager to learn more."
"I just wanted to say thank you for an amazing class. It was such a wonderful way to relax during this hectic time in school. The end of your class really stuck with me. Thank you for accepting me as I am. I am so grateful…"
"...he flew me in high whale – after two minutes the tension was gone and everything was open and renewed. I wish I could have that kind of opst surf therapy every time!"
"Yoga Sunday was amazing!! Somehow it always tends to match what I need, without talking to you for you to know what that is. Sometimes I want I want it hard and leave me energized which this one did, sometimes I am tired and want it to calm and recharge me. I am learning the magic of yoga through you."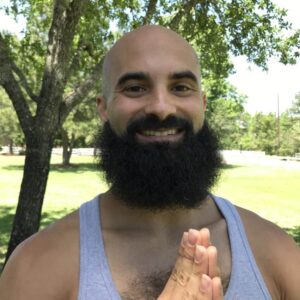 Chris De Vilbiss has trained with renowned yogis including Doug Swenson, David Garrigues, BNS Iyengar, and Simon Borg-Olivier. Yogi Chris discovered yoga as a wrestler at the University of Oklahoma, using his practice to get a grip on his self-esteem, emotions, and social habits. He has taught all over the US and created more than 700 YouTube videos. Yogi Chris hopes to inspire people and arm them with a yogic awareness of communication and mindset that they can use to create harmony in their personal realities as they grow on their path of evolution. 9thlimb.com
All options include daily vegetarian meals from dinner on the night of check-in through lunch on the day of check-out. (Rates below are per person.)
The private retreat room has twin beds, a private bath and complimentary wifi.
Shared Retreat Room (2 People)
The shared retreat room has twin beds, a private bath and complimentary wifi. One other person of the same gender will share the room with you. 
Shared Retreat Room (3 People)
The shared retreat room has twin beds, a private bath and complimentary wifi. Up to two more people of the same gender will share the room with you.
9th Limb Yoga Weekend: As Within, So Without
April 17th-19th, 2020
Your Program Session Times (subject to change)
Friday 7:30-9:00 pm
Saturday 9:30 am-12:30 pm;  2:00-4:00 pm
Sunday 9:30-11:30 am (Room check-out is 11 am; Luggage can be held at reception)
Arrival Day
3:00 pm Check-in begins; Rooms are ready by 3:00pm, but if you arrive early we will hold luggage at Reception.
6:00-7:00 pm Dinner
7:00-7:20 pm Guest Orientation Session (Venue: Dining Hall)
Optional Onsite Activities
We hope you enjoy your stay with us at the Art of Living Retreat Center. While here, we invite you to immerse in the quiet peace of the Blue Ridge Mountains and connect with yourself. Apart from the activities in your program schedule, there are also opportunities to join daily yoga and meditation classes, restorative Ayurvedic spa treatments, guided hiking trails, pottery classes, evening Kirtans, the outdoor labyrinth or the weekly Bonfire. Here are more details for your stay:
Optional Complimentary Activities (Please join only if above mentioned Program schedule permits)
7:30-8:30 am Hatha Yoga Class (Venue: Geeta Hall) During Program Dates only 
9:45-10:45 am/4:15-5:15 pm Hatha Yoga Class (Venue: Geeta Hall)
11:00 am-12:00 pm Mind and Meditation Session (Venue: Geeta Hall)
1:30-2:00 pm Yoga Nidra (Venue: Geeta Hall) Saturdays and Sundays only
2:00-3:15 pm Property Tour (Starts at Reception) Saturdays only
1:30-2:30 pm/3:00-4:00 pm Guided Nature Walk (Starts at Reception) Saturdays only
5:30-6:00 pm Guided Meditation Session (Venue: Geeta Hall)
7:30-8:15 pm Meditative Chant/Kirtan (Venue: Geeta Hall)
8:30-10:00 pm Bonfire (Below Veda 2; Weather permitting) Saturdays Only
Mealtimes
7:30-9:30 am Breakfast
12:00-2:00 pm Lunch (included on your departure day)
6:00-7:30 pm Dinner
Ayurveda Spa Appointments
We invite you to also make reservations at our award-winning Shankara Ayurveda Spa before arrival, in order to ensure availability. Please call (828) 264-8382 for details.
Our Clay Studio is open Thu-Sun; Hand-building classes and Throwing classes are available by appt. Clay pieces can be glazed and shipped back as well. Please contact our front desk to make an appointment.
Actual schedules and venues may vary; Please confirm with Front Desk upon check-in
639 Whispering Hills Rd, Boone, North Carolina 28607
Discover deep rest and rejuvenation in our tranquil sanctuary set amidst 380 pristine acres high up in the Blue Ridge Mountains of Boone, North Carolina—the perfect place to begin your journey to wellness.
NOTE Avoid using GPS—it will take you up a private road to a locked gate.  Please use the directions provided on this site.
For room reservations, spa retreats, and Art of Living Retreat Center (AOLRC) signature retreats, we have the following cancellation policy:
Refunds are available (less a $50 processing fee) up to eight days before your program or stay.
Nonrefundable credit toward a future AOLRC program or stay (less a $50 processing fee) is available if you give notice between seven and one day(s) before your program or stay. Credit may be applied to any AOLRC program or stay for one year following date of issue.
No credit or refund is available if you cancel on the arrival day, if you do not show up, or if you leave an event early for any reason. No refund will be available if you attend a program and are dissatisfied with its presentation or content.  AOLRC reserves the right to cancel a program at any time. If AOLRC cancels a program, you will receive a full refund.  Some programs may have special cancellation policies; see individual workshop descriptions.  For all other retreats, please be sure to check the registration page specific to that retreat.
To encourage a healthy environment we ask that guest to not consume alcohol or meat in our public spaces, however, guests may enjoy these items in their rooms.
Our property is always smoke-free.
Yes, we ask that guests with food allergies simply inform us so we can communicate those needs to our chef. Typically, we label potential allergens such as gluten, dairy, and nuts.