Want to learn the secrets to lasting intimacy, love, and fulfillment? Ready to expand joy, pleasure, and creativity in your life? Whether you're looking to rekindle love and intimacy with your partner, are at the brink of separation and looking to find your way back to one another, or are deeply in love but feel that there may be more to loving and relating—this workshop will help you feel passionate, connected, and fulfilled in ways you may not have thought possible. 
Best-selling authors and intimacy experts, Dr. Elsbeth Meuth and Freddy Zental Weaver guide you in essential tantric practices that allow for transformational openings and shifts within yourself and your relationship. In a safe (no nudity) and respectful environment, you'll be introduced to the principles and practices of Tantra Yoga, also called the "Yoga of Love," as developed in the TantraNova approach. Through group discussion, physical movement, journaling, hands-on experience, one-on-one sharing, and partner bodywork,
Discover meditation and conscious breathing to feel more intimately connected
Become aware of your life force energy to embellish your love life
Listen and communicate without anger and blame
Release the past and let go of blocks to intimacy
Shift from self-doubt and distrust to feeling freedom, confidence, and joy in your relationship.
Return home with a deeper, more intimate connection with yourself, expanded love and intimacy with your partner, and a tool-kit of powerful healing practices that bring trust, fulfillment, and bliss into your life.
Find out more, read What is tantra?
Items to Bring A notebook/journal and pen, comfortable clothes for movement and breathing exercises, and a water bottle.
For all committed couples.
Note Prior to the program, you will receive an intention form via email to complete and return. To respect those with allergies, please do not wear any fragrant lotions, laundry detergents, fabric softeners, or other fragrances such as perfumes, colognes, essential oils, or aromatherapy.
Elsbeth is one of the best coaches on the planet and Freddy Zental is fun and grounded in the masculine side of Tantra. Together they are magical. My sacred, sexual life, the balance of my masculine and feminine energy and who I am as a magnetic woman powerfully flowing with life was forever altered from my work with Elsbeth and Freddy.
We are indebted to you and Freddy for the lifesaver you threw to us at a critical time. We continue on our journey and so appreciate how you have helped us.
Today I can truly love myself and let go of my old lifelong companions of guilt and shame. I can breathe in the love and acceptance by my amazing husband and experience a marriage beyond my wildest dreams! Thank you forever, Freddy and Elsbeth, for this work. It brings forth healing to the entire human spirit like no other I have known.
We went to this intimacy workshop pretty clueless on what to expect and got what we did not expect. A beginning towards healing individually and as a couple. It was a beautiful experience and the beauty is growing daily.
Our therapist was quite surprised at how my husband and I were together yesterday in our couple's therapy session. He wanted to know what had happened to produce such results. He was quite impressed and said that it would have taken ten years of therapy to get where we have gotten through the intimacy workshop.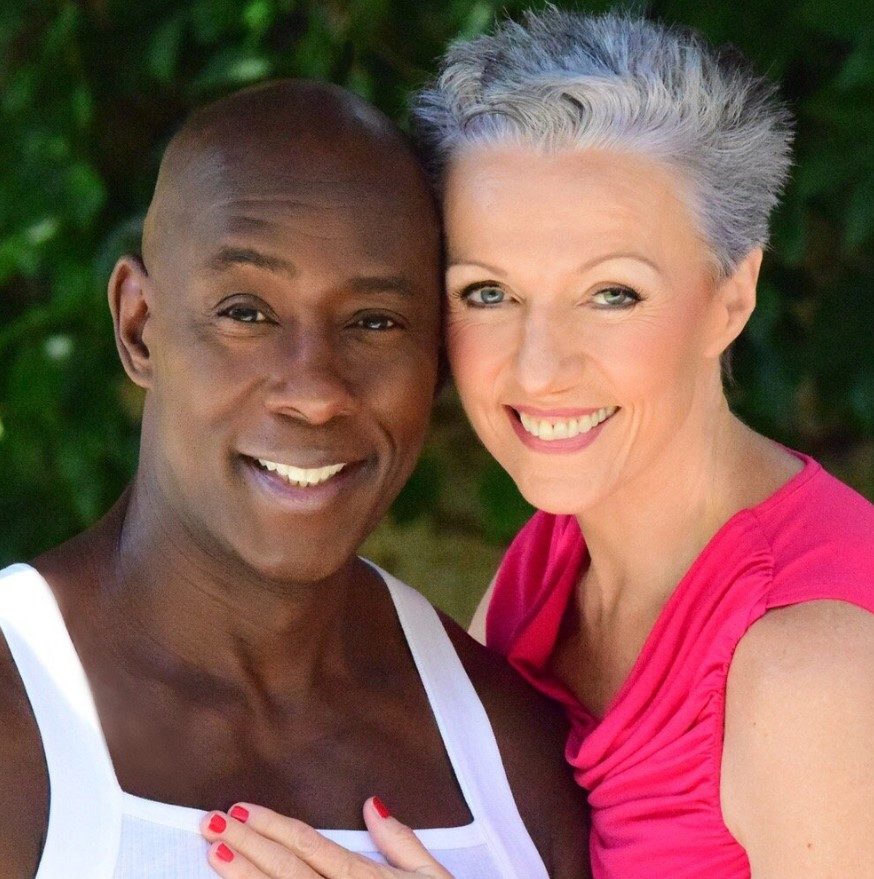 Dr. Elsbeth Meuth and Freddy Zental Weaver have assisted thousands of couples and singles create lasting intimacy and fulfillment in their relationships. They are featured on Showtime's documentary series Sexual Healing and the Emmy Award-winning NBC show Starting Over, best-selling authors of Sexual Enlightenment endorsed by world-renowned Spiritual Pioneer Dr. Michael Beckwith, and the co-founders of TantraNova Institute in Chicago. Elsbeth and Freddy Zental are beloveds—life and business partners—residing in Chicago.  tantranova.com
All options include daily vegetarian meals from dinner on the night of check-in through lunch on the day of check-out. (Rates below are per person.)
The private retreat room has twin beds, a private bath and complimentary wifi.
Shared Retreat Room (2 People)
The shared retreat room has twin beds, a private bath and complimentary wifi. One other person of the same gender will share the room with you. 
Shared Retreat Room (3 People)
The shared retreat room has twin beds, a private bath and complimentary wifi. Up to two more people of the same gender will share the room with you.
Tantric Secrets to Lasting Intimacy
May 15–17, 2020
Your Program Session Times (subject to change)
Friday 7:30-9:00 pm
Saturday 9:30 am-12:30 pm;  2:00-4:00 pm
Sunday 9:30-11:30 am (Room check-out is 11:00 am; luggage can be held at reception)
Arrival Day
3:00 pm Check-in begins; Rooms are ready by 3:00pm, but if you arrive early we will hold luggage at Reception.
6:00-7:00 pm Dinner
7:00-7:20 pm Guest Orientation Session (Venue: Dining Hall)
Optional Onsite Activities
We hope you enjoy your stay with us at the Art of Living Retreat Center. While here, we invite you to immerse in the quiet peace of the Blue Ridge Mountains and connect with yourself. Apart from the activities in your program schedule, there are also opportunities to join daily yoga and meditation classes, restorative Ayurvedic spa treatments, guided hiking trails, pottery classes, evening Kirtans, the outdoor labyrinth or the weekly Bonfire. Here are more details for your stay:
Optional Complimentary Activities (Please join only if above mentioned Program schedule permits)
7:30-8:30 am Hatha Yoga Class (Venue: Geeta Hall) During Program Dates only 
9:45-10:45 am/4:15-5:15 pm Hatha Yoga Class (Venue: Geeta Hall)
11:00 am-12:00 pm Mind and Meditation Session (Venue: Geeta Hall)
1:30-2:00 pm Yoga Nidra (Venue: Geeta Hall) Saturdays and Sundays only
2:00-3:15 pm Property Tour (Starts at Reception) Saturdays only
1:30-2:30 pm/3:00-4:00 pm Guided Nature Walk (Starts at Reception) Saturdays only
5:30-6:00 pm Guided Meditation Session (Venue: Geeta Hall)
7:30-8:15 pm Meditative Chant/Kirtan (Venue: Geeta Hall)
8:30-10:00 pm Bonfire (Below Veda 2; Weather permitting) Saturdays Only
Mealtimes
7:30-9:30 am Breakfast
12:00-2:00 pm Lunch (included on your departure day)
6:00-7:30 pm Dinner
Ayurveda Spa Appointments
We invite you to also make reservations at our award-winning Shankara Ayurveda Spa before arrival, in order to ensure availability. Please call 828-264-8382 for details.
Our Clay Studio is open Thursday–Sunday; hand-building classes and throwing classes are available by appointment. Clay pieces can be glazed and shipped back as well. Please contact our front desk to make an appointment.
Actual schedules and venues may vary; Please confirm with Front Desk upon check-in
639 Whispering Hills Rd, Boone, North Carolina 28607
Discover deep rest and rejuvenation in our tranquil sanctuary set amidst 380 pristine acres high up in the Blue Ridge Mountains of Boone, North Carolina—the perfect place to begin your journey to wellness.
NOTE Avoid using GPS—it will take you up a private road to a locked gate.  Please use the directions provided on this site.
For room reservations, spa retreats, and Art of Living Retreat Center (AOLRC) signature retreats, we have the following cancellation policy:
Refunds are available (less a $50 processing fee) up to eight days before your program or stay.
Nonrefundable credit toward a future AOLRC program or stay (less a $50 processing fee) is available if you give notice between seven and one day(s) before your program or stay. Credit may be applied to any AOLRC program or stay for one year following date of issue.
No credit or refund is available if you cancel on the arrival day, if you do not show up, or if you leave an event early for any reason. No refund will be available if you attend a program and are dissatisfied with its presentation or content.  AOLRC reserves the right to cancel a program at any time. If AOLRC cancels a program, you will receive a full refund.  Some programs may have special cancellation policies; see individual workshop descriptions.  For all other retreats, please be sure to check the registration page specific to that retreat.
To encourage a healthy environment we ask that guest to not consume alcohol or meat in our public spaces, however, guests may enjoy these items in their rooms.
Our property is always smoke-free.
Yes, we ask that guests with food allergies simply inform us so we can communicate those needs to our chef. Typically, we label potential allergens such as gluten, dairy, and nuts.