Retreat Type
Health & Ayurveda
Health & Wellness
Self-Discovery
Retreat Goals
Boost Energy
Get Healthy
Personal Development
Strengthen Immunity
Recent advances in nutritional science show how diets can slow aging and push the envelope of human longevity.
This interactive seminar with Dr. Joel Fuhrman explores this new research in detail and gives you both information and actionable techniques for using food to improve your own health or the health of your clients.
Food is truly the most effective medicine. – Dr. Joel Fuhrman
Through lectures, Q&A and discussion, you'll learn
How the application of new nutritional science can prevent disease
How to resolve food addiction and emotional eating in order to maintain a healthy weight, and a healthy relationship with food, forever
The workings of the therapeutic aspects of lifestyle medicine and their role in reversing disease
How to implement a nutritarian eating style, which is designed to optimize healthy life expectancy.
You will go home with the information and motivation needed to enjoy eating healthy food—and the knowledge you need to make that food taste fantastic.
Open to all.
CE Credits may be available for fitness professionals and health professionals such as nurses and physicians.
A Retreat in the Mountains
During your stay, you have time for personal R & R also. Whether you want to explore forest trails and bask in the fresh mountain air, enjoy a pottery or watercolor painting class, release stress with a therapeutic spa treatment, the choice is yours. (Additional fees may apply.)
Make Your Retreat Extra Special
Combine your retreat with authentic Ayurveda for rejuvenation on all levels, body, mind and spirit. The recommended Ayurveda treatment for this retreat is an Abhyanga massage ("Abby" for short), followed by a relaxing steam to further release stress. Pre-requisite: 18 years of age or older.
Joel Fuhrman, MD, is a board-certified family physician, nutritional researcher, and author. His work in nutritional science is well respected in scientific communities and the wider population, and his books have reached the New York Times bestseller list six times. His most recent books are Eat to Live Quick and Easy Cookbook and Fast Food Genocide. He serves as the president of the Nutritional Research Foundation and is on the faculty of Northern Arizona University.
I saw Dr. Fuhrman on PBS and it changed my life. It made me finally get it through my head that I needed to make a change. Eating the most nutritious foods just made sense. Acknowledging my food addiction with Dr. Fuhrman's help has been a gift that allowed me to lose 140 pounds.
Reversed My Type 2 Diabetes
Marina P.
Before I found Dr. Fuhrman and the Nutritarian lifestyle I had lost hope after countless unsuccessful yo-yo diets. Over two years I lost 160 pounds following this lifestyle and reversed my type 2 diabetes. I would not be here with a new lease on life and mission in life without Dr. Fuhrman. Thank you and blessings from the bottom of my heart.
Happier Than Ever
Vivien B.
I was determined to eat 100 percent plant-based, even as the doctors and the nutritionist in the hospital advised against it. I was told I would be on statins, triglyceride meds and two types of insulin for the rest of my life. Now, I am no longer diabetic and happier than ever. I will be forever grateful to Dr. Fuhrman and the Nutritarian Eat to Live program.
I learned from Dr. Fuhrman that if you give your body the right foods, exercise and rest, your body will be able to heal itself and transform itself in ways you never imagined. I thank him for saving my life and allowing me to thrive physically for the first time in my entire life. This is the gift he has given me, and I am forever indebted and grateful.
Very enlightening! Dr. Fuhrman's expertise and knowledge on nutritional excellence has truly changed my life! I feel very blessed to have come across Dr. Fuhrman. So grateful for this experience and information.
Engaging & Delightful
Susan S.
Dr. Fuhrman is one of my heros! His information and expertise is undeniable. His presentation style and personality are engaging and delightful.
Dr. Fuhrman is excellent. He is improving quality of lives and saving lives.
I thoroughly enjoyed the weekend and consider my time spent learning from Dr. Fuhrman invaluable.
All options include daily vegetarian meals from dinner on the night of check-in through lunch on the day of checkout. (Rates below are per person.)
Two Twin Beds
Private Bath
Complimentary Wi-Fi
Delicious Vegetarian Meals
Complimentary Tea/Coffee & Fresh Fruit
Daily Yoga & Meditation Classes
Access to Grounds and Facilities, including Gym & Steam Rooms
Eat For Life
Strengthen Immunity, Reverse Disease, and Live Longer
November 4–7, 2021
Subject to change.
Thursday 7:30–9:00 pm
Friday 9:30 am–12:30 pm and 2:00–4:00 pm
Saturday 9:30 am–12:30 pm and 2:00–4:00 pm
Sunday 9:30–11:30 am  Room checkout is 11:00 am; luggage may be held at Reception.
All times are Eastern Standard Times (EST) unless otherwise noted.
Arrival Day 4:00 pm Check-in begins; Rooms are ready by 4:00 pm, but if you arrive early we will hold your luggage at Reception. 6:00–7:00 pm Dinner 7:00–7:20 pm Guest Orientation Session (Venue: Dining Hall)
Mealtimes 7:30–9:30 am Breakfast 12:00–2:00 pm Lunch (included on your departure day) 6:00–7:30 pm Dinner
Optional Activities
Apart from the activities in your program schedule, we offer the following optional complementary activities. (Please join only if your program schedule permits.)
7:30–8:30 am Hatha Yoga Class | Gita Hall; during program dates only.
9:45–10:45 am and 4:15–5:15 pm Hatha Yoga Class | Sattva Studio
11:00 am–12:00 pm Mind and Meditation Session | Sattva Studio
1:30–2:00 pm Yoga Nidra | Sattva Studio; Saturdays and Sundays only.
2:00–3:15 pm Property Tour | Starts at Reception; Saturdays only.
1:30–2:30 pm and 3:00–4:00 pm Guided Nature Walk | Starts at Reception; Saturdays only.
5:30–6:00 pm Guided Meditation Session | Sattva Studio
7:30–8:15 pm Meditative Chant/Kirtan | Gita Hall
8:30–10:00 pm Bonfire | Below Veda 2 Weather permitting; Saturdays only.
Optional Activities with Additional Fees
To ensure availability, please register for these activities by calling 800-392-6870 prior to your arrival.
Ayurveda Cooking Class $35 (1 hour) Thursday and Saturday Only Learn how to best nourish your specific body type and thrive in every season.
Pottery Class $30 (1 hour) Thursday to Sunday Explore your creativity. Get hands-on experience in throwing on the wheel, hand-building and decorating handmade pots.
Shankara Ayurveda Wellness Appointments (Additional Cost)
Hours: 9:00 am–6:30 pm daily We invite you to make reservations for consultations, treatments, and therapies at the award-winning Shankara Ayurveda Wellness prior to arrival in order to ensure availability. Please call 828-264-8382 for details.
Actual schedules and venues may vary; please confirm with Front Desk upon check-in.
For room reservations & spa retreats, we have a 24 hour cancellation policy.
For all other retreats, please be sure to check the registration page specific to that retreat.
Happiness Retreat Cancellation Policy:
Refunds are available (less a $50 processing fee) up to eight days before your program or stay.
Nonrefundable credit toward a future AOLRC program or stay (less a $50 processing fee) is available if you give notice between seven and one day(s) before your program or stay. Credit may be applied to any AOLRC program or stay for one year following the date of issue.
No credit or refund is available if you cancel on the arrival day; if you do not show up; or if you leave an event early for any reason. No refund will be available if you attend a program and are dissatisfied with its presentation or content.
AOLRC reserves the right to cancel a program at any time. If AOLRC cancels a program, you will receive a full refund. Some programs may have special cancellation policies; see individual workshop descriptions.
If a participant attends no sessions of the course, the course registration and full course fee can be transferred to another course of the same course type within 60 days after the end of the course originally registered for. If a participant is unable to finish the course s/he can take another course of the same course type for no additional fee.
To encourage a healthy environment we ask that guest to not consume alcohol or meat in our public spaces, however guests may enjoy these items in their rooms. That being said our property is always smoke-free.
Yes, we ask that guests with food allergies simply inform us so we can communicate those needs to our chef. Typically we label potential allergens such as gluten, dairy and nuts.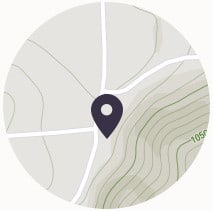 639 Whispering Hills Rd, Boone, North Carolina 28607
Discover deep rest and rejuvenation in a pristine natural setting in the Blue Ridge Mountains of Boone, North Carolina. Set amidst 380 acres of pristine forest high up in the Blue Ridge Mountains is a tranquil sanctuary.