For over 35 years May McCarthy has built six highly successful businesses as large as $100 million in annual revenues. May credits her success to her daily spiritual practices — and she's joining us in the spectacular Blue Ridge Mountains to share these practices with you.
Have you ever had a strong desire that was unmet or abandoned? Perhaps you wanted to experience more freedom or abundance, but weren't sure where to start. Maybe you've seen other people around you or in the media who have accomplished what you'd like to experience, and you've thought that it's just not possible to achieve what they've done.  If you can identify with these views, it's time to make a change. You are powerful and deserve to experience all of the desires of your heart. This retreat can show you how.
If your desires include any of the following, then this is definitely the retreat for you;
I want a healthier body and lifestyle.

I want harmonious relationships with co-workers, family, friends and community.

I want to use my skills and talents in satisfying ways and feel valuable and appreciated.

I want more money and the freedom to do what I want, whenever I want.

I want a balanced lifestyle with the support, time and freedom to enjoy vacations.

I want a deeper connection to my inner wisdom, an all-knowing power in the universe.
During this empowering retreat you will learn spiritual and practical tools in a fun and interactive environment to achieve more of your desires and experience your wonderful life. Following is an outline of what you can expect to learn during our time together:
Discover: Understand Why before What
In our first evening together, we're going to discover why you're here in this life to do what you do. Your strong desires and goals are meant to be manifest; they most likely are in alignment with your purpose. They wouldn't repeat as desires if they weren't meant to be experienced. We'll go through exercises to discover your purpose and to provide the clarity necessary to see how your desires can be manifest once you've determined your "why" or purpose in life. You'll understand why living from purpose makes achieving your desires easy and fun! "If you can tune into your purpose and really align with it, setting goals so that your vision is an expression of that purpose, then life flows much more easily." – Jack Canfield
Clarify: Determine what you desire as outcomes
In our first morning session, we'll discover the power of words as they relate to your desires. Many of us have used words idly in our lives and are surprised that we're experiencing what we've described in words.  Phrases like "I want to lose 10 pounds" or "I want to get out of debt" or, "I don't want to make a bad impression" actually prevent you from achieving the outcomes that you want. You'll discover new ways to create powerful goal statements that will stimulate your subconscious and intuition to illuminate the path to achieve them. "Words cannot only create emotions, they create actions. And from our actions flow the results of our lives." – Tony Robbins
Uncover: Identify when your beliefs have sabotaged you
In our first afternoon session, we'll uncover conscious and unconscious limiting beliefs and behaviors that have prevented you from experiencing your desires. As you think about the desires of your heart and the outcomes that you'd like to experience, you may have had ideas pop up that told you that you couldn't experience your desires. Ideas like "My family medical history prevents me from being completely healthy." Or, "I am too old to experience a loving relationship." Or, "I don't have the right training to succeed in the job of my dreams."  Or, "I've never gotten a break like others have had to succeed." In our time together, we'll uncover these thoughts and beliefs and abolish them so you can create a clear pathway to realize your desires. You'll learn how to release old beliefs forever and allow your wonderful life to unfold without obstruction. "Stop standing in your own way. Stop making excuses. Stop talking about why you can't. Stop sabotaging yourself. Decide which direction you are going in and take action. One decision at a time, one moment at a time." ― Akiroq Brost
Give Forth: Make room within you to receive
In our second evening session, we'll look at how filled up you are with things that are not serving you. You'll give these forth and release them to make room to receive more of the desires of your heart. Imagine a full bottle of water. If it's filled to the brim, can you fit any more water into it? No, you can't. The same is true with you. You'll learn how to identify what you need to give-forth in order to make room to receive the outcomes and experiences that you desire. As you make space available, your desires will manifest sooner. "In the process of letting go, you will lose many things from the past, but you will find yourself." – Deepak Chopra
Practice: Use your power to create the life you love
In our last morning together, you'll learn a daily practice to unleash your power to manifest your desires. You will discover how powerful you are and will learn how to make what you desire familiar and welcome and to "have courage", as Steve Jobs said, "to follow your heart and intuition". You'll learn to realize more of your desires and have more fun doing it! You'll take on a new partner as the source of your intuition and wisdom who will help point the way to experience the outcomes that you'd like. Your new partner will guide you to take steps along a path to achieve your goals in an easier way. Life will become a game of happiness, abundance and freedom for you from this point forward. "Intuition is a spiritual faculty and does not explain, but simply points the way." – Florence Scovel Shinn
By the end of the retreat you will have a deeper connection to the innate power of your intuition and wisdom, and begin to understand what your responsibilities are, and what you can leave up to the universe. Plus, you'll have the tools you need to break through obstacles to realize your dreams! You will live from a place of purpose and your future desires will be easier and more joyful to manifest and experience. I look forward to our time together to help you to experience more happiness, health, abundance and freedom!
Open to all.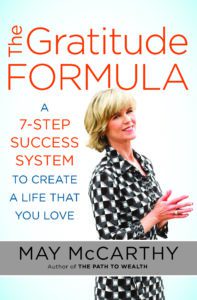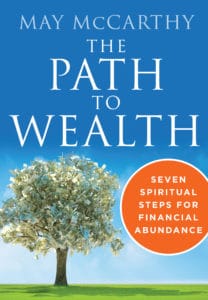 What people are saying about May's work and books:
"Participants of May McCarthy's workshops tell me weeks after the workshop about their increase of success and joy on an ongoing basis as a result of the simple success tools outlined in her book. Not only are business owners talking about increased success, but everyone is talking about the increased sweetness of their personal relationship to a higher power. The tools are imminently practical and so easy and fun to apply." — Ileana Vassiliou, President of Creating Effective Organizations, Inc.
"May McCarthy is a prosperity genius. She has developed a clear prosperity plan that is easy to implement. She provides all readers with a complete recipe for financial success. Now that we have the recipe, it is up to each of us to engage in the discipline of delight to implement it."
— Dr. Tom Sannar. Senior Minister & Spiritual Director, One Heart-One Mind Center for Spiritual Living, San Diego, CA
"May McCarthy's daily success practice has forever changed how I move and breathe in every moment within my business. My new daily practice shifted my relationship with Spirit into one that is very personal, safe and familiar. Since starting this process my business has grown dramatically. I am forever grateful for your introduction to the CSO and simple tools outlined in your book. It has changed my life!" — Makena Phillips, Founder, Shepard Moon Concoctions
"May McCarthy presents solid spiritual principles wrapped in a most delightful and engaging package. She is articulate, spiritually grounded, joy-filled and engaging. It just doesn't get any better than that!" — Dr. Michele Whittington, Senior Spiritual Director, Creative Living Fellowship, Phoenix, AZ
"I would recommend any individual that is interested in meeting and exceeding more of their goals to read May's book and attend a workshop." — Cynthia Clay, President & CEO, NetSpeed Learning Solutions & Author of: Fun and Peer Power: Transforming Workplace Relationships
To see more testimonials and media coverage, please visit www.maymccarthy.com.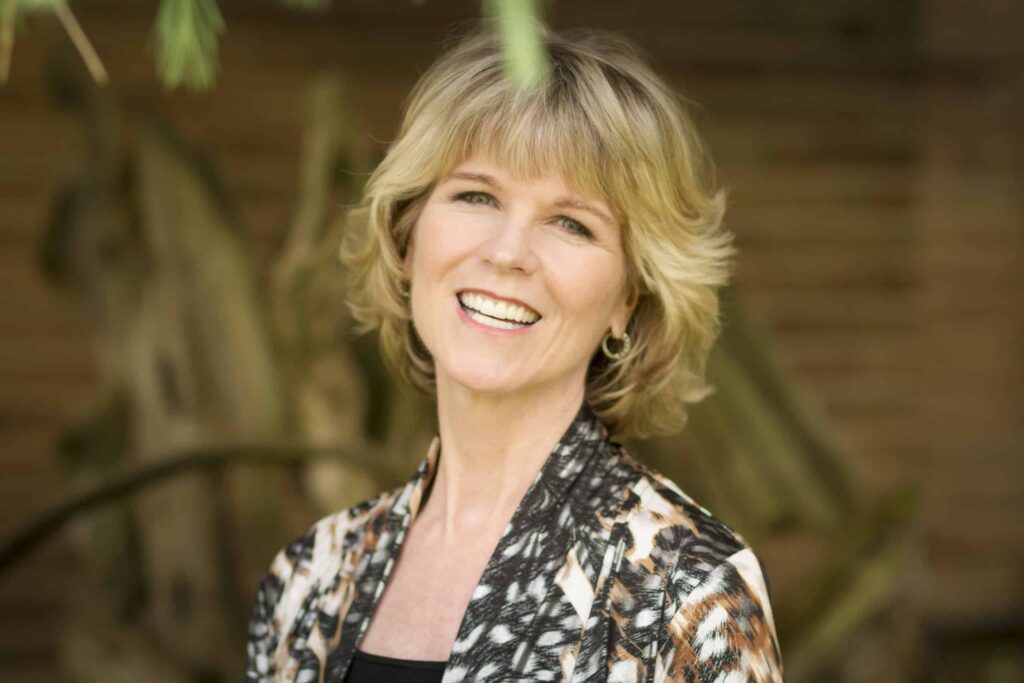 May is the last of 10 children, born and raised in Hawaii. Growing up in the shadow of 9 siblings enabled May to develop the sales, negotiating and business skills that she is famous for today.  
Since 1982, May has used Spiritual and practical tools to start and grow seven profitable companies in a variety of industries to as large as $100 million in annual revenues, and has worked for Fortune 500 companies like Johnson & Johnson and Boeing. May is an angel investor, advisor to dozens of small and medium sized companies, and is on the boards of business, philanthropic, arts, and educational organizations. She is a highly sought-after professional speaker and guest university lecturer sharing simple success strategies that make life and work more joyful and prosperous!
May has been featured in local, national and international media including CBS, ABC, NBC, PBS, FOX, Newsmax, the Hallmark Channel, Coast to Coast AM, The Jenny McCarthy Show, CEO Magazine, Forbes, and more. Inc. Magazine calls The Path to Wealth process "A simple morning routine to prime your brain for success."

May has learned the importance of effective planning and execution and uses her experience to help audiences to eliminate blocks that have held them back, change limiting beliefs, and implement a simple practice to achieve more of the goals that they desire.  Through workshops and her best-selling book, The Path to Wealth: Seven Spiritual Steps for Financial Abundance, May shares the importance of relying on intuition, as do successful people like Bill Gates, Oprah Winfrey, Einstein, Dr. Wayne Dyer, and hundreds of others, to achieve more of their goals for business and life.  Her latest book, The Gratitude Formula, takes readers to a greater level of understanding that allows them to achieve goals that they once thought were impossible. May travels the world on purpose; "to help people to create lives that they love with greater prosperity and freedom."
To learn more about May McCarthy, please visit www.maymccarthy.com.  
All options include daily vegetarian meals from dinner on the night of check-in through lunch on the day of checkout. (Rates below are per person.)
Shared Hotel Room (2 People)
The shared hotel room features either a king bed or two full beds, a flat screen TV, a refrigerator, private bath, and complimentary high-speed WiFi.
As a precautionary measure, shared housing options are available for friends and family only. If you are coming alone, please book either a Private Hotel or Private Retreat Room.
The private retreat room has twin beds, a private bath, and complimentary high-speed Wi-Fi.
Shared Retreat Room (2 People)
The shared retreat room has twin beds, a private bath, and complimentary high-speed WiFi.
As a precautionary measure, shared housing options are available for friends and family only. If you are coming alone, please book either a Private Hotel or Private Retreat Room.
Shared Retreat Room (3 People)
The shared retreat room has twin beds, a private bath, and complimentary high-speed WiFi.
As a precautionary measure, shared housing options are available for friends and family only. If you are coming alone, please book either a Private Hotel or Private Retreat Room.
The Path to Wealth
May 17th-19th, 2019
Your Program Session Times (subject to change)
Arrival Day 7:30-9:00 pm
Daily 9:30 am-12:30 pm; 2:40 pm-4:40 pm (Optional 7:30-8:30 pm)
Departure Day 9:00-11:00 am (Room check-out is 11 am; Luggage can be held at reception)
General Guest Information
We hope you enjoy your stay with us at the Art of Living Retreat Center. While here, we invite you to immerse in the quiet peace of the Blue Ridge Mountains and connect with yourself. Apart from the activities in your program schedule, there are also opportunities to join daily yoga and meditation classes, restorative Ayurvedic spa treatments, guided hiking trails, pottery classes, evening Kirtans, the outdoor labyrinth or the weekly Bonfire. Here are more details for your stay:
Arrival Day
3:00 pm Check-in begins; Rooms are ready by 3:00pm, but if you arrive early we will hold luggage at Reception.
6:00-7:00 pm Dinner
7:00-7:20 pm Guest Orientation Session (Venue: Dining Hall)
Optional Complimentary Activities (Please join only if above mentioned Program schedule permits)
7:30-8:30 am Hatha Yoga Class (Venue: Geeta Hall) During Program Dates only
9:45-10:45 am/4:15-5:15 pm Hatha Yoga Class (Venue: Geeta Hall)
11:00 am-12:00 pm Mind and Meditation Session (Venue: Geeta Hall)
1:30-2:00 pm Yoga Nidra (Venue: Geeta Hall) Saturdays and Sundays only
2:00-3:15 pm Property Tour (Starts at Reception) Saturdays only
1:30-2:30 pm/3:00-4:00 pm Guided Nature Walk (Starts at Reception) Saturdays only
5:30-6:00 pm Guided Meditation Session (Venue: Geeta Hall)
7:30-8:15 pm Meditative Chant/Kirtan (Venue: Geeta Hall)
8:30-10:00 pm Bonfire (Below Veda 2; Weather permitting) Saturdays Only
Optional Saturday Activities
Mealtimes
7:30-9:30 am Breakfast
12:00-2:00 pm Lunch (included on your departure day)
6:00-7:30 pm Dinner
Ayurveda Spa Appointments
We invite you to also make reservations at our award-winning Shankara Ayurveda Spa before arrival, in order to ensure availability. Please call (828) 264-8382 for details.
Our Clay Studio is open Thu-Sun; Hand-building classes and Throwing classes are available by appt. Clay pieces can be glazed and shipped back as well. Please contact our front desk to make an appointment.
Actual schedules and venues may vary; Please confirm with Front Desk upon check-in
639 Whispering Hills Rd, Boone, North Carolina 28607
Discover deep rest and rejuvenation in our tranquil sanctuary set amidst 380 pristine acres high up in the Blue Ridge Mountains of Boone, North Carolina—the perfect place to begin your journey to wellness.
NOTE Avoid using GPS—it will take you up a private road to a locked gate.  Please use the directions provided on this site.
For room reservations, Ayurveda Wellness Retreats, and Art of Living Retreat Center (AOLRC) signature retreats, we have the following cancellation policy:
Refunds are available (less a $50 processing fee) up to eight days before your program or stay.
Nonrefundable credit toward a future AOLRC program or stay (less a $50 processing fee) is available if you give notice between seven and one day(s) before your program or stay. Credit may be applied to any AOLRC program or stay for one year following date of issue.
No credit or refund is available if you cancel on the arrival day, if you do not show up, or if you leave an event early for any reason. No refund will be available if you attend a program and are dissatisfied with its presentation or content.  AOLRC reserves the right to cancel a program at any time. If AOLRC cancels a program, you will receive a full refund.  Some programs may have special cancellation policies; see individual workshop descriptions.  For all other retreats, please be sure to check the registration page specific to that retreat.
To encourage a healthy environment we ask that guest to not consume alcohol or meat in our public spaces, however, guests may enjoy these items in their rooms.
Our property is always smoke-free.
Yes, we ask that guests with food allergies simply inform us so we can communicate those needs to our chef. Typically, we label potential allergens such as gluten, dairy, and nuts.