Retreat Type
Featured Presenters
Must Be 18+
Self-Discovery
Retreat Goals
Better Relationships
Get Happy
Personal Development
Relieve Stress
Self-Care
Love Your Life. For Real.
As we get farther and farther away from childhood, the demands and stresses of life increase. We tend to forget that we have the power to say yes to the delights of our heart and soul. We forget what makes us feel alive and what brings us peace. But we must remember in order to live a present, joyful, and fulfilling life. We must abandon the pressure to do it all. We must surrender the need to please everyone. We must protect our time and energies from those things which deplete and exhaust us.
Best-selling author and celebrated motivational speaker Rachel Macy Stafford presents Soul Shift, a shame-free, hope-filled workshop which teaches you to recognize when your soul sends invitations to face powerful truths, shift your responses, and replace self-defeating habits with practices rooted in self-awareness, healing, and compassion.
Through lecture, group exercises, reflection questionnaires, and journal prompts, you will learn how to uncover and respond to your innermost painful truths and achieve truly transformational results.
Come ready to dig into your soul to uncover the obstacles that are preventing you from living a fulfilling life
In This Workshop, You Will Discover
The formula for finding the joy in life that has eluded you
A practical and proven process for repairing broken connections
How to love yourself "as is," and to extend that same unconditional love to others
Ways to pursue and express the passions of your heart.
By the end of the program, you will have a personalized Soul Shift Action Plan made up of three key pieces acquired at each session.
You will go home with the tools to gain and maintain a sense of inner peace—and experience joy, connection, and fulfillment.
Open to participants age 18 and older.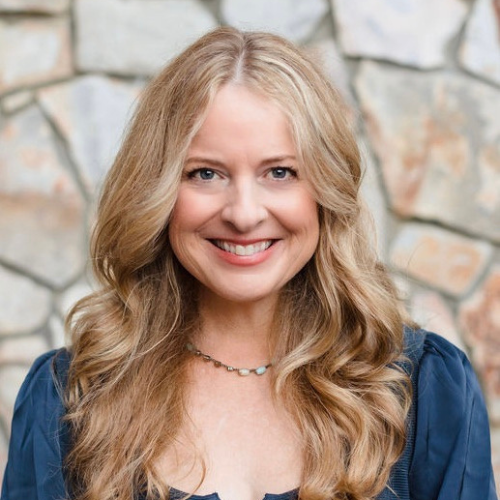 Rachel Macy Stafford has one goal: help people choose love as much as humanly possible. She is the New York Times best-selling author of Hands Free Mama, Hands Free Life, Only Love Today and Live Love Now. Rachel is also a certified special education teacher and inspiring speaker. …
So Grounded and Secure
B.F.
"To say Rachel's work has changed my life is an understatement. It has had a ripple effect. I am so grounded and so secure in my place in this world now that I want to help others feel that way too. We all have different paths in how we can get there, but we can get there. I was beginning to doubt if I would ever get there before Soul Shift."
"I cannot say this about any other course I have taken: SOUL SHIFT has CHANGED MY LIFE for the better. It felt like I was taking an important ride with a close friend who totally understands me. Rachel made the work possible, and even joyful, as we got to hold each other's hands through the journey."
"Our house which was filled with anger, shouting, orders and talking down to the kids to 'make' them do things has completely changed. My kids have a different temperament now. My partner and I have grown so much closer. Our house has become a 'home' and a loving place we 'want' to come back to. Thank you, Rachel, from the bottom of my heart."
More Kind, Patient, Understanding
M.K.
"I am so happy that I cared enough about myself & my family to fully take part in Soul Shift! I feel fortunate that I was able to connect with so many amazing, truthful, kind, honest, loving, & raw souls! I truly believe that this course has helped to bring kindness, understanding, compassion, and patience to my family's everyday life."
"This course has changed me in profound ways. After almost twelve years of marriage, I'm now finding and speaking my truths to my spouse and my children. It's a struggle as we chart new territory, but the journey is worth it because I've found myself and that's truly invaluable. Only love today. And tomorrow. And forever after. Thank you, Rachel."
"This course was amazing. I no longer feel alone; now I feel understood. I'm so happy I've started this journey to love myself for real. I wouldn't have been able to do it alone. Thank you so much Rachel!"
Exactly What I Needed
C.S.
"This course is exactly what I needed at a time when everything was glaringly pointing me in the direction of self-improvement, self-love, self-care and love of others. I got that and so much more. You get a lifetime of developing who you are and allowing the best version of you to ripple out and change lives. What more could we want out of life?"
"Thank you, Rachel Macy Stafford. Soul Shift has been life changing in many ways. I feel the shift happening slowly and see it in my loved ones' eyes."
$416 per person/per night + tax
All options include daily vegetarian meals from dinner on the night of check-in through lunch on the day of checkout. (Rates below are per person.)
King bed or two full beds
Flat screen TV
Refrigerator
Private bath
Hair dryer
Complimentary Wi-Fi
Daily delicious vegetarian meals
Complimentary tea/coffee & fresh fruit
Daily yoga & meditation classes
Access to fitness & steam rooms
Soul Shift
October 4–6, 2024
Subject to change.
Friday 7:30–9:00 pm
Saturday 9:30 am–12:30 pm and 2:00–4:00 pm
Sunday 9:30–11:30 am  Room checkout is 11:00 am; luggage may be held at Reception.
All times are Eastern Standard Time (EST) unless otherwise noted.
Arrival Day
4:00 pm Check-in begins; Rooms are ready by 4:00 pm, but if you arrive early we will hold your luggage at Reception.
6:00–7:00 pm Dinner
7:00–7:20 pm Guest Orientation Session (Venue: Dining Hall)
Actual schedules and venues may vary; please confirm with Front Desk upon check-in.
Apart from the activities in your program schedule, we offer the following optional complementary activities. (Please join only if your program schedule permits.)
9:45–10:45 am Yoga | Thu–Sun
11:00 am–12:00 pm Mind & Meditation | Thu–Sun
1:30–2:15 pm Guided Hike* | Assemble at Shankara Reception | Sat
2:30–3:45 pm Ayurveda Cooking Class* | Tulsi Kitchen
Thu: Sweet Treats • Sat: Chef's Seasonal Recipe
4:15–5:15 pm Yoga | Wed–Sat
5:30–6:00 pm Guided Meditation | Wed–Sat
7:30–8:15 pm Meditative Chants/Kirtan | Wed–Sat
Saturday kirtan is outdoor by the bonfire; weather permitting.
*Included with Wellness Escapes and R&R; Other participants: $35.00/per person
Clay Studio
11:00 am–7:00 pm Friday & Saturday
Hand Building $55 | 1 hour
9:00 | 10:45 am Sunday


Wheel Throwing

$75 all guests; glazing and shipping are included | semi-private class | 75 minutes
Hours
Wednesday 11:00–8:00 pm
Thursday–Saturday 9:00 am–6:00 pm
Sunday 8:00 am–2:00 pm
We encourage you to also make reservations for consultations, therapies, and treatments at our award-winning Shankara Ayurveda Wellness at least two weeks prior to your arrival date to ensure availability. Please call 828.264.8382 for details. Additional cost.