Rest in your Infinite Nature
What could be better than an annual silence retreat?
Perhaps a silence retreat in an awesome setting of natural silence, incredible beauty and peace…
The Art of Living Silence Retreat in Boone, offered for a minimum of two and a half days, provides optimal conditions for going deep within, quieting our mental chatter, and experiencing profound rest and inner silence. This course builds upon the Sudarshan Kriya® breathing technique offered in the Art of Living Happiness Program.
The practice of silence – of consciously withdrawing our energy and attention from outer distractions – has been used in different traditions throughout time as a pathway to physical, mental, and spiritual renewal. By participating in various course processes specifically designed to take us beyond our usually active minds, we experience an extraordinary sense of peace and renewed vitality that we carry home with us and into daily lives.
You will also have time to explore the grounds of the center and the surrounding mountain pathways.
"Every moment doing the advance course was a new experience for me: the meditation and the silence."
— Nita R
" I cannot directly pin point it, but definitely there is a big change from before and after going to the part-2 course. I feel I have become a new person, so I say that the part-2 course has been the starting point of my new self. The new me is very comfortable. I feel blessed and very happy. Actually, I feel very lucky to come across a course like this. Thank you for giving such an opportunity."
— Shoko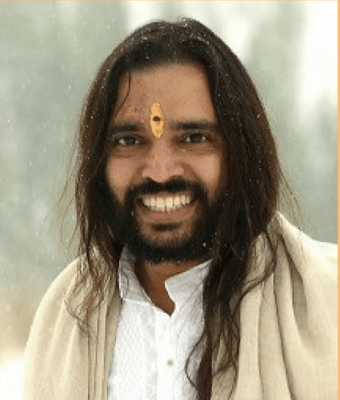 Dinesh Kashikar, affectionately known as Kashiji, is the Director of Teacher Training for the global Sri Sri School of Yoga in India and part of the curriculum design team, bringing more than 15 years of training aspiring yoga teachers in the various dimensions of the study and practice of yoga.
Kashi began studying yoga at the age seven when he completed Upanayanam, the ancient thread ceremony, thereby beginning his formal education in the Vedic tradition from which Yoga comes. Walking on the path of yoga naturally brought about an interest in the source of yoga, and with a background in Sanskrit, Kashi has immersed himself in the study of what he calls a wonderful treasure trove of knowledge, including the research in both the spirit and science of yoga. His life long journey in the study of yoga especially blossomed when in 1995 he became a full time volunteer with the Art of Living Foundation, a global non-profit educational organization founded by Sri Sri Ravi Shankar.
From student to teacher, Kashi now delivers a diverse set of yoga based programs for the Art of Living globally taking him to many parts of the world. Kashi conducts the Sahaj Samadhi, a mantra based meditation workshop, the Happiness Program, a Sudarshan Kriya breathing based self-development program, to more than 100,000 participants internationally, the Sri Sri Yoga Deep Dive Retreats and the Vedic Wisdom Course, a month long immersive curriculum in the ancient sciences of yoga, among others.
Under the guidance of Sri Sri, Kashi has taken on incredible responsibility and leadership in growing Sri Sri Yoga in India and globally. He has empowered yoga teachers in the authentic traditions of yoga, making it accessible and practical, so that individuals can both personally thrive and confidently teach. His style of teaching is infused with humor and lightness and reflects his versatility in the knowledge of yoga, expertise in training and ability to connect with a variety of audiences and cultures.
For Kashi, yoga is a way of life, a philosophy that spans the gamut of the mundane to the sublime; it can shape one's life both on and off the mat. He guides his students through this journey covering the building blocks of yoga teacher training – asanas, instructions, anatomy, physiology for example – coupled with the contextual knowledge of yoga, so that teachers can infuse an appreciation of the philosophy and tradition in their teaching. He skillfully prepares yoga teachers to understand, utilize and teach the tools of yoga, balanced with the freedom of practice, to naturally experience the pure state of yoga within.
His travels have taken him throughout Asia, the United States, and Europe where he has conducted a series of yoga tours and immersive yoga based workshops. Over the years, he has also had the honor of traveling with HH Sri Sri Ravi Shankar across India conducting yoga sessions for gatherings in the thousands.
Kashi is a graduate of the prestigious Indian Institute of Technology. He is a E-RYT 500H with Yoga Alliance and is a member of the Steering Committee for Yoga for the Quality Council of India, a government body that upholds the current certification process for yoga professionals. Kashi also is a member of the academic council of Sri Sri University where he is instrumental in designing and upgrading the curriculum of graduate and under graduate programs in yoga.
All options include daily vegetarian meals from dinner on the night of check-in through lunch on the day of check-out. (Rates below are Per Person)
The private retreat room has twin beds, a private bath and complimentary wifi.
Shared Retreat Room (2 People)
The shared retreat room has twin beds, a private bath and complimentary wifi. One other person of the same gender will share the room with you. 
Shared Retreat Room (3 People)
The shared retreat room has twin beds, a private bath and complimentary wifi. Up to two more people of the same gender will share the room with you.
Art of Silence 
Day 1
3:00 pm
Check-in 
6:00 pm – 7:00 pm
Dinner
7:00 pm – 7:20 pm
AOLRC Orientation – MANDATORY FOR ALL GROUPS 
7:30 pm – 9:45 pm
Session 
Day 2/3
6:30 am – 8:30 am
Morning Session

8:30 am – 9:15 am
Breakfast

9:15 am – 10:00 am
Seva
10:00 pm – 1:00 pm
Session
1:00 pm – 1:45 pm
Lunch
1:45 pm – 3:00 pm
Seva
3:00 pm – 6:00 pm
Session
6:00 pm – 6:45 pm
Dinner
6:45 pm – 7:30 pm
Seva
7:30 pm – 9:30pm
Session
Day 4 — Departure Day
6:30 am – 8:30 am
Morning Session
8:30 am – 9:15 am
Breakfast
Please be sure to check out of your room with reception during breakfast and seva break
9:15 am -10:00 am
Seva
10:00 am – 1:00 pm
Session
1:00 pm – 2:00 pm
Lunch is included in your stay this day!
2:00 pm – 3:00 pm
Session
*If a spa appointment is made during a Breakfast, Lunch, or Dinner, guests may request a meal to be boxed for pickup by asking spa reception.
**Meals are served during the following times – 7:30-9:30am for Breakfast, 12:00-2:00pm for Lunch, and 6:00-7:30pm for Dinner. Food will be put away at the ending times, but the dining hall will remain open.
***Please call the spa in advance to book spa treatments during your free time if you are interested. The phone number is (828) 264-8382.
Optional Saturday Activities
639 Whispering Hills Rd, Boone, NC 28607
Discover deep rest and rejuvenation in a pristine natural setting in the Blue Ridge Mountains of Boone, North Carolina. Set amidst 380 acres of pristine forest high up in the Blue Ridge Mountains is a tranquil sanctuary. The perfect place to begin your journey to wellness. *NOTE* Please avoid using GPS…It will take you up a private road to a locked gate.  Use directions provided on this site.
For room reservations & spa retreats, we have a 24 hour cancellation policy.
For all other retreats, please be sure to check the registration page specific to that retreat.
Happiness Retreat Cancellation Policy:
Refunds are available (less a $50 processing fee) up to eight days before your program or stay.
Nonrefundable credit toward a future AOLRC program or stay (less a $50 processing fee) is available if you give notice between seven and one day(s) before your program or stay. Credit may be applied to any AOLRC program or stay for one year following the date of issue.
No credit or refund is available if you cancel on the arrival day; if you do not show up; or if you leave an event early for any reason. No refund will be available if you attend a program and are dissatisfied with its presentation or content.
AOLRC reserves the right to cancel a program at any time. If AOLRC cancels a program, you will receive a full refund. Some programs may have special cancellation policies; see individual workshop descriptions.
If a participant attends no sessions of the course, the course registration and full course fee can be transferred to another course of the same course type within 60 days after the end of the course originally registered for. If a participant is unable to finish the course s/he can take another course of the same course type for no additional fee.
To encourage a healthy environment we ask that guest to not consume alcohol or meat in our public spaces, however guests may enjoy these items in their rooms. That being said our property is always smoke-free.
Yes, we ask that guests with food allergies simply inform us so we can communicate those needs to our chef. Typically we label potential allergens such as gluten, dairy and nuts.