Imagine…it's fall 2021, and the calendar just flipped to November. You notice something different this year. You're not stressed. You're not holding your breath. Instead, you feel relaxed about the holiday season because you know you get to create it anyway you'd like, AND—you're well rested because you just returned home from a retreat in the Blue Ridge Mountains and you're ready for anything! If you'd like to do more than imagine how you'd feel, Slow Down to Speed Up is the retreat for you!
Jenn Shull, mindset coach and certified yoga teacher, has created this experience to honor your connection to yourself, others, nature, and the divine. Spend four days nourishing your body with exquisitely prepared clean, nutrient-dense foods. Be led through an intentionally crafted series of experiences designed to deepen your connection to yourself—mind, body, and soul. Inspired by Mother Nature and her instinctual release of leaves in autumn, you'll be invited into intentional release of that which no longer serves you in preparation for the winter months ahead.
What do you suppose is possible when you're in flow with the seasons and Mother Earth? Most of us understand that we need to slow down and rest. We know that time away from work, stress, and the day-to-day grind is important. We 'know' a lot, but we struggle to embody it because we are moving too fast, and we don't know how to ground ourselves and stay there. Through group and one-on-one coaching, yoga, yoga therapy, journaling, sharing, time in nature, and more, you'll experience what it feels like to slow down so you can speed up.
What makes this retreat unique is how we'll pull together science and intuition in a way that creates space for transformation. You'll take home tools you can use while you're back to your life that will help you to continue building that new path for yourself. 
Open to everyone. This retreat includes ontological life coaching which can be a confronting process and is not appropriate for those within the first year of any addiction or recovery treatment program.
Retreat facilitators reserve the right to cancel the retreat in the event that we do not meet the retreat minimum by September 3, 2021. In the event the retreat is cancelled by retreat facilitators, all money paid will be fully refunded.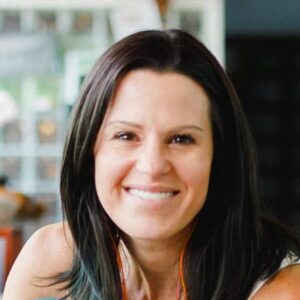 Jenn Shull, MA, RYT200 is an ontologically trained life and leadership coach who combines coaching, neuroscience, behavioral psychology, and yoga principles to support her clients in creating a bolder vision and life by fostering the divine intelligence within. Jenn focuses on mindset coaching and the science of transformation to help clients fast-track results in their lives, businesses, and careers.
I participated in one of Jenn's retreats and it was truly amazing! She is very intuitive which allows her to individualize the experience for each member of the group. Using both group discussions and 1:1 time was very impactful. There was also an effective balance with enough time factored in for some "me" time. Thank you Jenn for genuinely caring and for the wonderful work you do!
I enjoyed a powerful retreat with Jenn in the mountains of North Carolina. She pulls together science and intuition in a way that creates space for so much transformation. My favorite part was how the group coaching fostered community and such a close bond among the women who attended! What a fabulous experience!
Jenn really knows her stuff and I had an amazing transformational retreat with her. If you are looking to get unstuck and have a change in mindset, as a leader or entrepreneur she is who you want to go to!
Jenn's Fall retreat at Art of Living was soul nourishing, healing and energizing. Jenn struck the perfect balance of introspection and rejuvenation. The coaching exercises we did helped open my heart and connect me to my values and goals. This was especially powerful as we were heading into the holiday season and the end of the year. Because of the work Jenn had us do, I was able to stay grounded through the chaos of the Holiday Season - allowing me to stay focused on self-care and my goals. Jenn also incorporated the physical body with gentle yoga and essential oils which created space to reflect on the coaching work we did. And she topped it all off with built in free time to explore the beauty of the mountain, socialize, or just take in the work as deeply as possible. I cannot tell you enough how much my soul needed this retreat and I didn't even know it. If you are craving peace, power, and clarity - this is the retreat for you!
I attended Jen's retreat in Boone in the Fall of 2019. It was exactly what I needed to relax and focus on myself. It allowed me to do a lot of introspection while making some amazing connections with other women were also interested in growing and learning about themselves. A memory I will cherish forever.
It is evident that Jenn has devoted her personal and professional life to heartfelt coaching for those who seek true guidance and transformation! I found her when seeking a retreat in search of inner peace, enlightenment and guidance on improved self care. I had very high expectations for what I needed to get out of the time for myself yet no clue as to what I was really signing up for. The retreat far exceeded my hopes. Not only did I depart the retreat with a renewed energy but also the peace I sought after, a new support system and resources of modalities that will prove to be beneficial for a lifetime! There is no stone left unturned in the space Jenn creates!
The retreat was magical, cosmic, enlightening! My first experience of this kind. After finding 'my power' and returning home, I was able to 'open my heart' and share my long suppressed feelings/thoughts with my husband whose mouth hung open while listening to me... My marriage/communication has been so enriched from Jenn's guidance and time spent in the beautiful heavenly mountains! Forever grateful but sure could have used it 20 years sooner... However, I believe the universe delivers when the time is right... which was in November 2019. I know I will return to that beautiful place and hopefully connecting with our beautiful sisterhood.
All options include daily vegetarian meals from dinner on the night of check-in through lunch on the day of checkout. (Rates below are per person.)
Two Twin Beds
Private Bath
Complimentary Wi-Fi
Delicious Vegetarian Meals
Complimentary Tea/Coffee & Fresh Fruit
Daily Yoga & Meditation Classes
Access to Grounds and Facilities, including Gym & Steam Rooms
SLOW DOWN TO SPEED UP

October 7–10, 2021

Your Program Session Times (subject to change)
Thursday, October 7
4:00  Check-in, Settle-in, Explore
6:00–7:00 pm  Dinner
7:00–7:20 pm  MANDATORY AOLRC Orientation (Dining Hall)
7:30–8:00 pm  Group Welcome (This will be in whatever space we're assigned to)
8:00–9:00 pm  Restorative Yoga (includes meditation and breathwork)
Friday, October 8
7:30–9:30 am  Breakfast
10:00–10:30 am  Connection & Co-Creation/Setting the Tone
10:30 am–12:15 pm  Experiential exercises followed by group coaching
12:30–1:30 pm  Lunch 
1:30–5:00 pm  Space for *You* (Hike, nap, read, enjoy the spa…whatever slows you down!)
(2:00–4:30 pm  5 thirty minute 1:1 coaching sessions)
5:00–6:15 pm  Mindful Flow Yoga (includes meditation and breathwork)
6:30–7:30 pm  Dinner
7:45–8:30 pm  Yoga Nidra
Saturday, October 9  
7:30–9:30 am  Breakfast
10:00–10:30 am  Group Sharing
10:30 am–12:15 pm  Experiential exercises followed by group coaching
12:30–1:30 pm  Lunch
1:30–5:00 pm  Space for *You*  (Hike, nap, read, enjoy the spa…whatever slows you down!)
(2:00–4:30 pm  5 thirty minute 1:1 coaching sessions)
5:00–6:15 pm  Restorative yoga (includes meditation and breathwork)
6:30–7:30 pm  Dinner
8:00–8:30 pm  Create burn list
8:30 pm—whenever you're ready to rest  Bonfire (You guessed it! The burn list is getting burned!)
Sunday, October 10
7:30–9:45 am  Breakfast/Check out
10:00–11:00 am  Group Wrap Up (Be sure you've checked out)
11:00 am–12:15 pm  (Optional) Mindful Flow Yoga (includes meditation and breathwork)
12:30–2:00 pm  Lunch is included in your stay if you'd like to take your time!
All times are Eastern Standard Times (EST) unless otherwise noted.
Arrival Day 4:00 pm Check-in begins; Rooms are ready by 4:00 pm, but if you arrive early we will hold your luggage at Reception. 6:00–7:00 pm Dinner 7:00–7:20 pm Guest Orientation Session (Venue: Dining Hall)
Mealtimes 7:30–9:30 am Breakfast 12:00–2:00 pm Lunch (included on your departure day) 6:00–7:30 pm Dinner
Optional Activities
Apart from the activities in your program schedule, we offer the following optional complementary activities. (Please join only if your program schedule permits.)
7:30–8:30 am Hatha Yoga Class | Gita Hall; during program dates only.
9:45–10:45 am and 4:15–5:15 pm Hatha Yoga Class | Sattva Studio
11:00 am–12:00 pm Mind and Meditation Session | Sattva Studio
1:30–2:00 pm Yoga Nidra | Sattva Studio; Saturdays and Sundays only.
2:00–3:15 pm Property Tour | Starts at Reception; Saturdays only.
1:30–2:30 pm and 3:00–4:00 pm Guided Nature Walk | Starts at Reception; Saturdays only.
5:30–6:00 pm Guided Meditation Session | Sattva Studio
7:30–8:15 pm Meditative Chant/Kirtan | Gita Hall
8:30–10:00 pm Bonfire | Below Veda 2 Weather permitting; Saturdays only.
Optional Activities with Additional Fees
To ensure availability, please register for these activities by calling 800-392-6870 prior to your arrival.
Ayurveda Cooking Class $35 (1 hour) Thursday and Saturday Only Learn how to best nourish your specific body type and thrive in every season.
Pottery Class $30 (1 hour) Thursday to Sunday Explore your creativity. Get hands-on experience in throwing on the wheel, hand-building and decorating handmade pots.
Shankara Ayurveda Wellness Appointments (Additional Cost)
Hours: 9:00 am–6:30 pm daily We invite you to make reservations for consultations, treatments, and therapies at the award-winning Shankara Ayurveda Wellness prior to arrival in order to ensure availability. Please call 828-264-8382 for details.
Actual schedules and venues may vary; please confirm with Front Desk upon check-in.
639 Whispering Hills Rd, Boone, North Carolina 28607
Discover deep rest and rejuvenation in our tranquil sanctuary set amidst 380 pristine acres high up in the Blue Ridge Mountains of Boone, North Carolina—the perfect place to begin your journey to wellness.
NOTE Avoid using GPS—it will take you up a private road to a locked gate.  Please use the directions provided on this site.
For room reservations, Ayurveda Wellness Retreats, and Art of Living Retreat Center (AOLRC) signature retreats, we have the following cancellation policy:
Refunds are available (less a $50 processing fee) up to eight days before your program or stay.
Nonrefundable credit toward a future AOLRC program or stay (less a $50 processing fee) is available if you give notice between seven and one day(s) before your program or stay. Credit may be applied to any AOLRC program or stay for one year following date of issue.
No credit or refund is available if you cancel on the arrival day, if you do not show up, or if you leave an event early for any reason. No refund will be available if you attend a program and are dissatisfied with its presentation or content.  AOLRC reserves the right to cancel a program at any time. If AOLRC cancels a program, you will receive a full refund.  Some programs may have special cancellation policies; see individual workshop descriptions.  For all other retreats, please be sure to check the registration page specific to that retreat.
To encourage a healthy environment we ask that guest to not consume alcohol or meat in our public spaces, however, guests may enjoy these items in their rooms.
Our property is always smoke-free.
Yes, we ask that guests with food allergies simply inform us so we can communicate those needs to our chef. Typically, we label potential allergens such as gluten, dairy, and nuts.