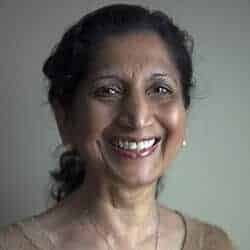 Dr. Bharti Verma, MA, MD, FCFP
Dr. Bharti is currently in active practice at Duffus Health Centre, a multidisciplinary health care team, including psychotherapy and counselling, women's health, chronic disease management and acute medical care services. She is President of Duffus Health Centre since 2010.
Dr. Bharti has varied experience in all aspects of family medicine including long term care, obstetrics, geriatrics, pediatrics, psychotherapy and counselling. She is affiliated with Department of family medicine Dalhousie University as Lecturer/preceptor and is keenly interested in promoting preventive health and patient education.
She is actively involved with Art of Living Foundation (AOLF) Canada since 1986, and is Vice-President of AOLF Canada from 2010 to 2017 and is also Chair Person SSY school of yoga from 2016 to present.
She is a certified instructor with 500H E-RYT Yoga Alliance and a very senior instructor in yoga and meditation with Art of Living Canada.
Sejal Shah BHMS, E-RYT 500, YACEP
Sejal is a certified Art of Living Instructor and E-RYT® 500, YACEP® through Yoga Alliance and a writer. Having a strong foundation for understanding health, in terms of mind-body-spirit state with her academic training in homeopathy, yoga and Ayurveda, she teaches people of all walks of life about healthy living, how to effectively manage their mind and emotions, eliminate stress, live in harmony amid diversity and bring greater peace and joy into their lives. She has facilitated more than 15,000 hours of programs in mind-body wellness. Her gentle, loving, and authentic approach brings profoundness in her teaching that helps her students to experience the depth of yoga and its relation to life. She has been with Art of Living Foundation since 2009.
She is the former Founder of Wellness and Life Style Excellence Center, a member of Yoga Academic Council at Sri Sri University, India, and a research associate with WISE (World Wide Scientific Explorations).
Recently Dr Bharti Verma and Sejal worked with American Association of Physicians of Indian Origin to create a yoga journal on "Integrated Medicine – Integrating Ancient Science with Modern Medicine – An Illustrative guide for Physicians".