Health care professionals are inspired to serve their patients and profession.  But in the process of caring for their patient's needs the care provider is subject to many stressors, all of these can lead to stress and physician burnout.

The Living Well Art of Self Care Retreat for HCPs provides you with an opportunity to learn simple hands on self care practices that
Reduce stress, exhaustion and compassion fatigue

Enhance physical, mental, spiritual and social well-being




Improve resilience and enrich quality of life




Help to navigate the challenges of personal as well as professional life with more tranquility and dynamism resulting into improved performance




The program gives HCP also an opportunity to earn 20 CME / CNE credits as provided by joint partnership of Art of Living Foundation with NYU Post-Graduate Medical School and ANCC respectively.
Course Objectives:

Upon completion of this program, the participants will be able to:

1. Recognize the connection between body, mind, breath, and Self.
2. Reflect on the tendencies of the mind and recognize how managing the mind can help bring awareness and alleviate stress and burnout.  
3. Relate to the science of breath and breathing techniques as tangible tools to increase energy and reduce stress.                        
4. Identify and optimize the sources of energy to maximize personal well-being.
5. Demonstrate, perform and practice Yoga asana, Breathing techniques, and unique process of "Sudarshan KriyaTM"
6. Practice "Sahaj Samadhi Meditation" and follow the instructions to adhere to daily Meditation practice.
7. Develop practical tools and social skills through reflective interactive processes.
8. Incorporate the course's knowledge into daily life to create regular self-care practices for life-long benefits.

Course Curriculum:
Yoga Asanas: Various gentle and vigorous postures including a specific sequence of invigorating and soothing yoga postures called "Padma-Sadhana®" and Sukshma Vyayam (Subtle Yoga)
Yogic Science of Breathing – Pranayama: Various Breathing techniques including Victory Breath (also known as Ujjayi Breath), Bellows Breath (also known as Bhastrika), Shining Skull Breath (also known as Kapalbhati), Alternate Nostril Breathing (also known as Nadi Shodhan), Bee Breath (also known as Bhramari) and Yogic Breath
Rhythmic Breathing – Sudarshan Kriya® (also known as SKY practice): This powerful breathing process is the centerpiece of the course and uses specific, natural rhythms that facilitate the release of deep stress and harmonize the body-mind complex.
Sahaj Samadhi Meditation®: "Sahaj" means natural or effortless, "Samadhi" means the state of deep peace and rest that underlies thought and activity. This is an ancient meditation practice that allows the conscious mind to settle deeply into itself in a natural, effortless way.
Yoga Psychology – Cognitive Behavioral Reframing based on timeless wisdom – Interactive experiential processes based on ancient and modern science.
Mind/Body R & D – Yoga Genetics –  Neuroplasticity
Your Personal Self Care Routine for Improving Resilience

Accreditation:
NYU-New York University Post-Graduate Medical School:-

ACCREDITATION STATEMENT
This activity has been planned and implemented in accordance with the accreditation requirements and policies of the Accreditation Council for Continuing Medical Education through the joint provider ship of the NYU Post-Graduate Medical School and the Art of Living Foundation. The NYU Post-Graduate Medical School is accredited by the ACCME to provide continuing medical education for physicians.

CREDIT DESIGNATION STATEMENT
The NYU Post-Graduate Medical School designates this live activity for a maximum of 20 AMA PRA Category 1 CreditsTM. Physicians should claim only the credit commensurate with the extent of their participation in the activity.

AHNA-American Holistic Nurses Association:-
ACCREDITATION STATEMENT
"This continuing nursing education activity is approved by the American Holistic Nurses Association (AHNA), an accredited approver by the American Nurses Credentialing Center's Commission (ANCC) on Accreditation."

Continuing Education Credits:
This program is approved for:

Physicians: – CME Credits – 20 CME under the standards of Accreditation Council for Continuing Medical Education (ACCME) for MDs.  
MD Participants will receive maximum 20 AMA PRA Category 1 CreditsTM

Nurses: CNE Credits – 20 Contact Hours Continuing Educational Credits for Nurses under the standards of American Nurses Credentialing Center (ANCC).
Nurses will receive a maximum of 20 CNE contact hours.

Other HCPs: Certificate of Attendance for all other Health Care Professionals

Participants who attend the "Pre-Session Introduction to the Living Well Programs" and "Post-Session Follow-up to the Living Well Programs" may earn up to 1.5 Continuing Education Credits additionally.

Overall Benefits:
Learning tools and techniques to prevent and reverse the burnout, enhancing personal and professional performance.
Creating a daily self-care practice to live a happier and healthier life.
Earning up to 20 AMA PRA Category 1TM CME credits for MDs and 20 AANP contact hours CNE credits for Nurses.
Lifetime access to weekly Sudarshan KriyaTM practice groups in 10,000+ Art of Living centers around the world over 155 countries.
Opportunity to connect with a global community of Meditating doctors and other HCPs.

Research:

Research has demonstrated that Sudarshan Kriya® and the related practices can:
Reduce levels of stress (reduce cortisol – the "stress" hormone)
Relieve anxiety and depression (mild, moderate and severe)
Enhance well-being (Increase prolactin)
Regulate brain function (increased mental focus, calmness and recovery from stressful stimuli, including PTSD)
Support the immune system.
Increase antioxidant protection.
Help to restore normal sleep patterns.

More information on Sudarshan Kriya® and Sahaj Samadhi Meditation can be found at:

Sudarshan Kriya – Science of Breath
https://www.youtube.com/watch?v=xRMf4z8Cs8s

Research – on SKY & Sahaj Meditation
www.aolresearch.org

Meditation – Now & Then
https://www.youtube.com/watch?v=xRMf4z8Cs8s

Living Well Programs
https://www.artofliving.org/us-en/living-well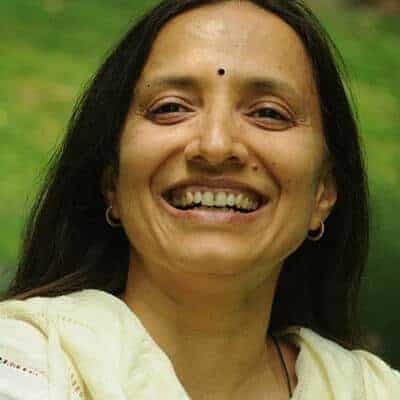 Sejal has been on the path of yoga and meditation for about 20 years. Having a strong foundation for understanding health, in terms of mind-body-soul state with her training in Homeopathy, Yoga and Ayurveda, she teaches people of all walks of life about healthy living, how to effectively manage their mind and emotions, eliminate stress, live in harmony amid diversity and bring greater peace and joy into their lives. She has facilitated more than 15,000 hours of programs in mind-body wellness. She is the Founder & Director of Wellness and Life Style Excellence Center and a member of Yoga Academic Council at Sri Sri University, India. She writes regularly on yoga and healthy living in various print and digital media like Huffington Post, YOGANONYMOUS, etc.  She facilitates the Happiness Program, Art of Living Yoga Retreats, Art of Living Yoga Teachers Training Program, Mind & Meditation Seminars and also Living Light Weight Loss program, Yoga and Marma Sessions at the Shankara Ayurveda Spa. Her gentle, loving, and authentic approach brings profoundness in her teaching.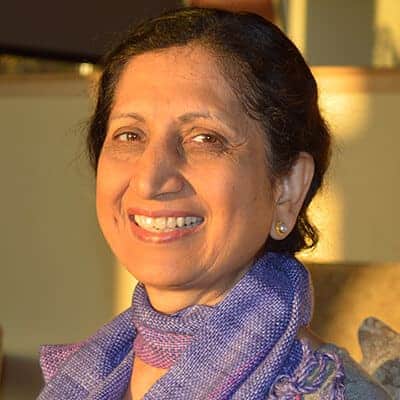 Dr. Bharti is currently in active practice at Duffus Health Centre, a multidisciplinary health care team, including psychotherapy and counselling, women's health, chronic disease management and acute medical care services. She is President of Duffus Health Centre since 2010.
Dr. Bharti has varied experience in all aspects of family medicine including long term care, obstetrics, geriatrics, pediatrics, psychotherapy and counselling. She is affiliated with Department of family medicine Dalhousie University as Lecturer/preceptor and is keenly interested in promoting preventive health and patient education.
She is actively involved with Art of Living Foundation (AOLF) Canada since 1986, and is Vice-President of AOLF Canada from 2010 to 2017 and is also Chair Person SSY school of yoga from 2016 to present.
She is a certified instructor with 500H E-RYT Yoga Alliance and a very senior instructor in yoga and meditation with Art of Living Canada.
All options include daily vegetarian meals from dinner on the night of check-in through lunch on the day of check-out. (Rates below are Per Person)
The private retreat room has twin beds, a private bath and complimentary wifi.
Shared Retreat Room (2 People)
The shared retreat room has twin beds, a private bath and complimentary wifi. One other person of the same gender will share the room with you. 
Shared Retreat Room (3 People)
The shared retreat room has twin beds, a private bath and complimentary wifi. Up to two more people of the same gender will share the room with you.
All sessions are mandatory to attend.
Friday, Nov 1:
3-4 pm: Check-in, Refreshment and Meet and Greet
4-6.30 pm The Secret of the Breath
6.30-7 pm: Dinner
7-7.20 pm: AOLRC orientation
7.30-9 pm: Introduction and Initiation to Sahaj Samadhi Meditation
Saturday, Nov 2:
6-7.30 am: Morning Walk/Sunrise/Labyrinth Meditation (Weather permitting) or Journaling/Solitude
7.30-8.30 am: Morning Yoga
8:30-9:30 am: Breakfast
9.30 am-1 pm: The Rhythms of Life, Meditation practice
1-1.30 pm: Lunch
1.30-4 pm: Free time*
4-6 pm: Yoga Psychology – Cognitive Behavioral Reframing based on timeless wisdom, Science of Consciousness, and Meditation practice
6.30-7.30 pm: Dinner and Q- A
7.30-8.30 pm: Understanding the scientific basis of practices  
Sunday, Nov 3:
7-8.30 am: Morning Yoga
8:30-9:30 am: Breakfast
9.30 am-1 pm: A new beginning of self-care routine
1.30-2.30 pm: Lunch and Q-A
Note: The schedule is subject to change to accommodate the flow of the course.
*Free time to enjoy a range of activities such as hiking, pottery, spa treatments, or simply unwind with a book whilst admiring the vastness of the mountain range
**We recommend you to book the pottery and spa treatments in advance to avoid any disappointments.
639 Whispering Hills Rd, Boone, NC 28607
Discover deep rest and rejuvenation in a pristine natural setting in the Blue Ridge Mountains of Boone, North Carolina. Set amidst 380 acres of pristine forest high up in the Blue Ridge Mountains is a tranquil sanctuary. The perfect place to begin your journey to wellness. *NOTE* Please avoid using GPS…It will take you up a private road to a locked gate.  Use directions provided on this site.
For room reservations & spa retreats, we have a 24 hour cancellation policy.
For all other retreats, please be sure to check the registration page specific to that retreat.
To encourage a healthy environment we ask that guest to not consume alcohol or meat in our public spaces, however guests may enjoy these items in their rooms. That being said our property is always smoke-free.
Yes, we ask that guests with food allergies simply inform us so we can communicate those needs to our chef. Typically we label potential allergens such as gluten, dairy and nuts.