Calm the Mind, Effortlessly
Have you ever wondered what prevents each of us from living each moment fully and with joy? Often, we may feel that the mind is just too busy, too tired or too overwhelmed by thoughts. However, a simple, powerful technique of meditation can quickly calm the mind. Even if you feel like you cannot meditate or are often overwhelmed by your "monkey mind", millions of meditators have found it is possible to experience a calm and centered mind on a regular basis.
Truthfully, anyone can learn to meditate. The key to success is a powerful technique, experienced guidance and some practice. In the Meditation Retreat, you are offered all this — you work personally with an experienced teacher, learn a technique you can practice at home, and receive individual guidance during the critical first few days of practice. After the retreat, you will have the knowledge and experience to calm your mind and launch a lifelong practice.
Access deep rest and greater energy effortlessly on a regular basis
Tap into greater creativity and intuition
Experience a calm and centered state of mind in the midst of your daily routine and responsibilities
Explore your potential for inner peace
This is the experience of Sahaj Samadhi, an ancient tradition of meditation and wisdom.
Retreat Overview
Personal Guidance and Ongoing Support
The Meditation Retreat begins on Friday evening with personal instruction from a certified teacher. Many people have found that learning in person makes a huge difference over learning online, due to the experiential nature of meditation. Over the next few days, you'll enjoy interactive sessions with plenty of time to ask questions and practice. After the weekend, your teacher will continue to be available to answer your questions about your practice, even after the course!
A Practice to Enjoy
This meditation is effortless and enjoyable both to learn and practice. The technique can be learned by anyone, does not involve a change in belief or lifestyle and does not require that you have a naturally quiet or focused mind. During the practice, both mind and body relax into a state of deep and profound rest in which stress dissolves and inner peace unfolds.
A Retreat in the Mountains
During your stay, you have time for personal R & R also. Whether you want to explore forest trails, enjoy a free pottery class, release stress with a spa therapy or bask in the fresh mountain air, the choice is yours.
Make Your Retreat Extra Special
Combine your retreat with authentic Ayurveda for rejuvenation on all levels, body, mind and spirit. The recommended Ayurveda treatment for this retreat is a Shirodhara Relaxation Therapy ("Shiro" for short).
Experiences
"It brought me to what I called an inevitable meditative state that I haven't been able to achieve trying to meditate on my own, by reading books and listening to guided meditations. It was more meaningful, more helpful, more profound than I expected."
— Jack H., Teacher
"I tried many meditation techniques over six years before coming to this practice. This technique has made all the difference. The impact is immediate, and the practice is enjoyable and doesn't take a lot of time. It's exactly what I needed."
— Sean K., Writer
"After taking the course I feel an overall improvement in my energy although I sleep much less than I used to. I'm also more present for the everyday moments of my life and in my relationships with friends and family. I find that I've become a lot calmer and less reactive to events that would have bothered me before and have even noticed an increase in my creativity."
— Raphael T., Branding and Marketing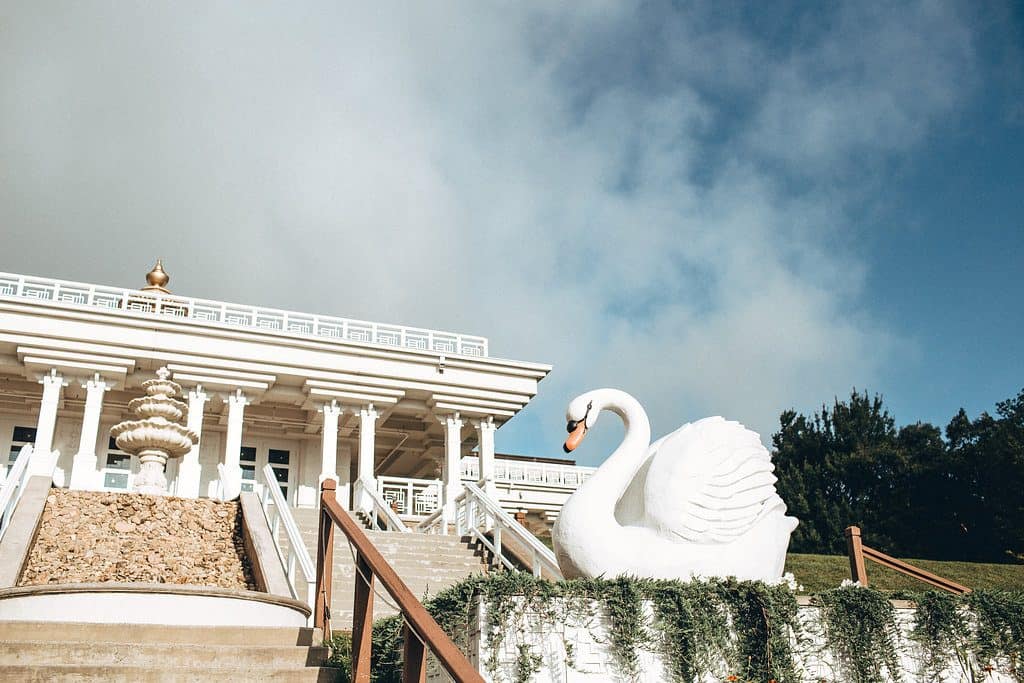 Art of Living faculty combine their passion for teaching with years of ongoing practice and volunteering in the service of others. Inspired by their own personal experiences of transformation and joy, teachers around the world (in over 150 countries!) have been sharing Art of Living's signature practices and insights into the human mind for over 35 years. They center on personal development from a holistic angle — looking at how the body, the breath, and the mind all work together to create inner peace and higher energy. Blending ancient, timeless wisdom with contemporary approaches to well-being to bring you the very best in health and wellness. What sets Art of Living teachers apart? A commitment to ongoing growth coupled with a heart-based approach rooted in authentic, effective techniques of meditation and breathwork.
All options include daily vegetarian meals from dinner on the night of check-in through lunch on the day of check-out. (Rates below are per person.)
The private retreat room has twin beds, a private bath and complimentary wifi.
Shared Retreat Room (2 People)
The shared retreat room has twin beds, a private bath and complimentary wifi. One other person of the same gender will share the room with you. 
Shared Retreat Room (3 People)
The shared retreat room has twin beds, a private bath and complimentary wifi. Up to two more people of the same gender will share the room with you.
Friday
• 6:00 pm-7:00 pm Dinner
• 7:30 pm-9:00 pm Session 1
Saturday
• 7:30 am-8:30 am Yoga
• 8:30 am-9:30 am Breakfast
• 10:30 am-12:30 pm Session 2
• 12:30 pm-2:00 pm Lunch
• 2:00 pm-5:00 pm Free Time
• 5:15 pm-6:00 pm Session 3
• 6:00 pm-7:30 pm Dinner
• 7:30 pm-8:15 pm Kirtan Meditative Chant (Optional)
Sunday
• 7:30 am-8:30 am Yoga
• 8:30 am-9:30 am Breakfast
• Check-out Please vacate room and return keys before the start of the Final Session
• 10:30 am-12:30 pm Session 4
• 12:30 pm-2:00 pm Lunch
Optional Saturday Activities:

Guided Nature Walk: 1:30-2:30pm or 3-4pm
Pottery Class: 2-3pm, 3-4pm or 4-5pm
639 Whispering Hills Rd, Boone, North Carolina 28607
Discover deep rest and rejuvenation in our tranquil sanctuary set amidst 380 pristine acres high up in the Blue Ridge Mountains of Boone, North Carolina—the perfect place to begin your journey to wellness.
NOTE Avoid using GPS—it will take you up a private road to a locked gate.  Please use the directions provided on this site.
For room reservations, spa retreats, and Art of Living Retreat Center (AOLRC) signature retreats, we have the following cancellation policy:
Refunds are available (less a $50 processing fee) up to eight days before your program or stay.
Nonrefundable credit toward a future AOLRC program or stay (less a $50 processing fee) is available if you give notice between seven and one day(s) before your program or stay. Credit may be applied to any AOLRC program or stay for one year following date of issue.
No credit or refund is available if you cancel on the arrival day, if you do not show up, or if you leave an event early for any reason. No refund will be available if you attend a program and are dissatisfied with its presentation or content.  AOLRC reserves the right to cancel a program at any time. If AOLRC cancels a program, you will receive a full refund.  Some programs may have special cancellation policies; see individual workshop descriptions.  For all other retreats, please be sure to check the registration page specific to that retreat.
To encourage a healthy environment we ask that guest to not consume alcohol or meat in our public spaces, however, guests may enjoy these items in their rooms.
Our property is always smoke-free.
Yes, we ask that guests with food allergies simply inform us so we can communicate those needs to our chef. Typically, we label potential allergens such as gluten, dairy, and nuts.