Puja 1
Guru Puja is a traditional ceremony of gratitude honoring the lineage of spiritual Masters who have been the custodians of the knowledge of the Self. Under the loving guidance of Bhanu, Sri Sri Ravi Shankar's sister, one learns to chant and perform the Guru Puja. Chanting the Guru Puja unites our minds with this tradition of Masters. Many participants report an experience of the presence of Divinity during the course and from performing the Puja. The course also includes beautiful ancient knowledge, lovely guru stories and a profound feeling of the presence of these great Masters.
The Guru Puja Course is in two parts:
PHASE ONE
During Guru Puja 1, you learn the chanting, intonation and meaning of the puja, and explore the mysteries of Vedic knowledge and traditions.
Prerequisites for Puja 1 
Art of Living Teacher  OR
Four Art of Living Silence Retreats AND Sahaj Samadhi Meditation course OR
3 Silent Retreats AND 1 Blessings Course/VTP/DSN
Important Details
The program will be taught online.
There will be one 45 minutes live session daily at 10:00 am EDT/9:00 am CDT/7:00 am PDT on Zoom.
Remaining all the sessions will be pre-recorded to be done at your own pace. 
The pre-recorded self-paced videos will be available for 24 hours from the time they are released.
The live sessions will not be recorded or available for future viewing, so please plan accordingly.
Morning yoga+SKY+meditation can be done on your own or use the pre-recorded guided morning practice.
Please find below a suggested schedule that you can follow in your own time zone except for the LIVE sessions. This will help you to get the most out of this online program while maintaining its sanctity.
Program will be conducted in English.
Limited seats. Registration closes on Sunday, August 30, at midnight PDT
Questions?
Email [email protected] or call 828-513-0032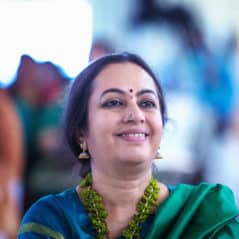 Bhanumathi Narasimhan is the sister of Gurudev Sri Sri Ravi Shankar—humanitarian leader and ambassador of peace—and shares his vision for a stress-free violence-free world. She is the Chairperson of Women's Welfare and Child Care programs of the The Art of Living, a not-for-profit, educational, and humanitarian NGO engaged in bringing stress relief and service initiatives to more than 150 countries. She has deep roots in spirituality and a broad vision for service to humanity. For more than three decades, she has been committed to bringing a positive social transformation with a focus on education, environment, and women empowerment. Enabling people to handle their negative emotions and stress with meditation and breathing techniques, she has helped them regain their self-confidence and come to the forefront to take responsibility for a harmonious society through service.
DAY 1  Thursday, September 3
SESSION 1   (01:11:18) from 6:30–7:45 pm (Pre-recorded)
SESSION 2  (00:32:15) from 8:00–8:45 pm (Pre-recorded)
DAY 2 Friday, September 4
Morning Padma sadhana + SKY + Meditation 
Live Session from 10:00–10:45 am EDT 
SESSION 1   (01:17:00) from 11:00 am–12:30 pm (Pre-recorded)
SESSION 2   (01:44:15) 3:00–4:45 pm (Pre-recorded)
Meditate from 5:00–5:30 pm 
DAY 3 Saturday, September 5
Morning Padma sadhana + SKY + Meditation
Live Session from 10:00–10:45 am EDT 
SESSION 1  (01:28:39) from 11:00 am–12:30 pm (Pre-recorded)
SESSION 2  (02:27:32) 3:005:30 pm (Pre-recorded)
Part 1  (01:25:43)
Part 2 (00:21:59)
Part 3  (01:04:35)
Meditate from 5:30–6:00 pm
DAY 4  Sunday, September 6
Morning Padma sadhana + SKY + Meditation
Live Session from 10:00–10:45 am EDT 
SESSION 1  (01:26:15) from 11:00 am–12:30 pm (Pre-recorded)
SESSION 2  in 3 parts, from 3:00–6:00 pm (Pre-recorded)
DAY 5 Monday, September 7
Morning Padma sadhana + SKY + Meditation
Live Session from 10:00–10:45 am EDT 
SESSION 1  (Pre-recorded)
Part 1  (00:54:11) from 11:00 am–12:00 pm
Part 2  (00:54:35) from 3:00–4:00 pm