Overview
Sri Sri Yoga Teacher Training Program (SSY TTP) provides comprehensive and multidimensional yoga education and training that is rooted in science, experience and a lineage of yoga masters to enable excellence in teaching through self practice, service and expansion of the self for all walks of life.
Successful graduates will take home a 200H Yoga Alliance accredited yoga teaching certificate with 280 training hours in Sri Sri Yoga.
SSY TTP will enable you to:
Be ready to confidently lead group yoga classes for different audience types

Be able to develop comprehensive tailored practice for students based on their specific body needs

Understand functional anatomy and physiology as applied to yoga teaching

Have a deep experiential and practical understanding of the philosophy and wisdom of yoga

Have the ability to develop classes for different audiences
Learn about and experience the four paths of yoga – Gyana (wisdom), Karma (service and action), Bhakti (love and devotion), and Hatha (effort)

Be qualified to pursue specialized advanced modules

Have an understanding of Ayurveda and its relationship with yoga

Be ready to facilitate workshops in any part of the world

Join a global network of fellow graduates upon graduation

 
Applicant requirement: A minimum of 6 months yoga practice.
*The SSY TTP will be the first training program to undergo and offer the QCI (Quality Council of India) accredited Yoga Curriculum. The SSY TTP curriculum contains all elements of the QCI curriculum guidelines. Graduates will have the option to prepare for the exam and to meet the number of hours for QCI certification an extra week of training would be required.
Sri Sri School of Yoga
Founded by Sri Sri Ravi Shankar, a global humanitarian and thought leader in yoga and meditation, who is fully established in the self. The school seeks to expand the world's understanding of yoga through education and training that is steeped in the vedas – the original roots of yoga – and a long lineage of masters while making it accessible and applicable for modern day use for people of all ages, abilities, cultures and religion. Through a comprehensive and multidimensional science based education, the schools' programs integrate the four paths of yoga – Ghyana (wisdom), Karma (service and action), Bhakti (love and devotion) and Hatha (effort). Program graduates undergo a rigorous training and are equipped with a deep and personal understanding and experience of yoga that enables them to bring the different dimensions of yoga to their students. The simplicity of Sri Sri's approach to yoga combines the fundamental principles of self practice (sadhana), service (seva) and expansion of the self (satsang) – this unique approach empowers individuals to thrive and society to blossom in human values.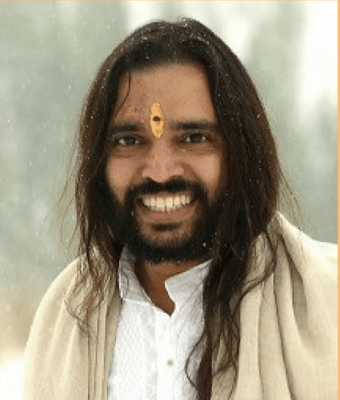 Kashi Dineshkar or Kashi ji, as he is widely known, is an expert in Yoga, Pranayama and Vedic knowledge. Associated with Art of Living Foundation since 1995, he has traveled extensively around the world to teach yoga, meditation, and pranayama. It is estimated that about half a million people have been touched by his programs in India, Far East, Europe and now North America. Besides being an exceptional yoga, meditation and pranayanam teacher, Kashi ji also has a wealth of knowledge about ancient Vedic texts, and traditions.
All options include daily vegetarian meals from dinner on the night of check-in through lunch on the day of check-out.
The private retreat room has twin beds, a private bath and complimentary wifi.
Shared Retreat Room (2 People)
The shared retreat room has twin beds, a private bath and complimentary wifi. One other person of the same gender will share the room with you. 
Shared Retreat Room (3 People)
The shared retreat room has twin beds, a private bath and complimentary wifi. Up to two more people of the same gender will share the room with you.
To be determined. 
Call for more details:
Meals are served during the following times – 7:30-9:30am for Breakfast, 12:00-2:00pm for Lunch, and 6:00-7:30pm for Dinner. Food will be put away at the ending times, but the dining hall will remain open.
639 Whispering Hills Rd, Boone, NC 28607
Discover deep rest and rejuvenation in a pristine natural setting in the Blue Ridge Mountains of Boone, North Carolina. Set amidst 380 acres of pristine forest high up in the Blue Ridge Mountains is a tranquil sanctuary. The perfect place to begin your journey to wellness. *NOTE* Please avoid using GPS…It will take you up a private road to a locked gate.  Use directions provided on this site.
Distance from Nearest Airport
2 Hours by car without traffic
For room reservations & spa retreats, we have a 24 hour cancellation policy.
For all other retreats, please be sure to check the registration page specific to that retreat.
To encourage a healthy environment we ask that guest to not consume alcohol or meat in our public spaces, however guests may enjoy these items in their rooms. That being said our property is always smoke-free.
Yes, we ask that guests with food allergies simply inform us so we can communicate those needs to our chef. Typically we label potential allergens such as gluten, dairy and nuts.