Integrating Shamanism Into Your Life and Work
Description
Shamanism in various forms has been around for up to 40,000 years and in the past few years has infiltrated western "new age" culture and attracted an increasingly number of people to its methodologies and teachings. These ancient earth-based practices have been passed down through the lineages of various indigenous communities and have continued to evolve to where the principles and practices are being applied and integrated into various other alternative healing systems, such as energy healing, astrology, breathwork, and even psychotherapy. While these cannot legitimately be called shamanism in its purest and most classical form, drawing from this wealth of ancient wisdom and knowledge can not only enhance the practice of many of these present-day alternate healing modalities, but also provide a balanced spiritual focus for your daily life.
In order to qualify as shamanic, there are four basic skills that can be readily integrated into any particular healing modality or daily life:
• The ability to do the shamanic journey, whether through drumming, dancing, chanting, or breathwork
• Being able to transit across the veil into non-ordinary reality
• Know how to work with helping spirits for healing and guidance
• A heartfelt understanding that we are related with all Beings as they express in both physical and non-visible form, particularly evident in nature and the land.
Whether you're new to shamanism, already have some training, or curious as to how you can integrate these principles into your daily life and/or an alternative healing practice, you'll find this workshop will deepen your experience and understanding of shamanic realities. Please bring with you a drum or rattle (if you have one available), eye mask, and a yoga mat.
You will:
• Discover and experience the four ways of inducing the shamanic state of consciousness—drumming/rattling, dancing/movement, singing/chanting, and breathwork.
• Journey to non-ordinary reality (NOR) for guidance and healing
• Discover three major spirit guides—an elder ancestor, spirit animal, and plant or tree spirit
• Receive accurate guidance from the spirits of nature
• Participate in a group soul healing
• Fire ceremony with dancing and drumming
Bio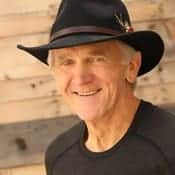 Dr. Steven Farmer is a psychotherapist and shamanic healer, the author of several best-selling books and oracle cards, including Animal Spirit Guides, Earth Magic®, Earth Magic® Oracle Cards, and the Children's Spirit Animal Cards, Healing Ancestral Karma and the recently released Shaman's Path Cards and Spirit Animals as Teachers, Guides, and Healers. In addition to workshops on Animal Spirit Guides, Integrative Breathwork, Healing Ancestral Karma, and shamanism. Dr. Farmer offers Integrative Healing sessions in person or remotely by phone, Zoom, or Skype, as well as an individualized Spiritual Mentorship program. He is on the board of the Society of Shamanic Practice and also offers a certification program, the Earth Magic® Practitioner training.
For more information please visit his website www.EarthMagic.net 
Rooms & Pricing
Retreat: Hotel Room Single
Rate includes King Bed or Two Full Beds, flat screen TV, wifi, refrigerator, private bath, daily vegetarian meals.
$766.00
---

Retreat: Hotel Room Double Sharing
Rate includes King Bed or Two Full Beds*, Room will be shared with a maximum of 1 other individual.
$640.00
---

Retreat: Retreat Room Single
Rate includes Twin Bed, daily vegetarian meals (dinner the night of check-in and breakfast, lunch, and dinner throughout your stay.
$680.00
---

Retreat: Retreat Room Double Sharing
Rate includes Twin Beds, Room will be shared with a maximum of 1 other individual from the same gender.
$582.00
---

Retreat: Retreat Room Triple Sharing
Rate includes Twin Bed, Room will be shared with a maximum of 2 other individuals from the same gender.
$548.00
Schedule
Your Program Session Times (subject to change)
Arrival Day 7:30-9:00 pm
Daily 9:30 am-12:30 pm; 2:00 pm-4:00 pm
Departure Day 9:00-11:00 am (Room check-out is 11 am; Luggage can be held at reception)
General Guest Information
We hope you enjoy your stay with us at the Art of Living Retreat Center. While here, we invite you to
immerse in the quiet peace of the Blue Ridge Mountains and connect with yourself. Apart from the
activities in your program schedule, there are also opportunities to join daily yoga and meditation
classes, restorative Ayurvedic spa treatments, guided hiking trails, pottery classes, evening Kirtans, the
outdoor labyrinth or the weekly Bonfire. Here are more details for your stay:
Arrival Day
3:00 pm Check-in begins; Rooms are ready by 3:00pm, but if you arrive early we will hold luggage at Reception.
6:00-7:00 pm Dinner
7:00-7:20 pm Guest Orientation Session (Venue: Dining Hall)
7:30-9:00 pm Program Session
Optional Complimentary Activities (Please join only if above mentioned Program schedule permits)
7:30-8:30 am Hatha Yoga Class (Venue: Geeta Hall) During Program Dates only
9:45-10:45 am/4:15-5:15 pm Hatha Yoga Class (Venue: Geeta Hall)
11:00 am-12:00 pm Mind and Meditation Session (Venue: Geeta Hall)
1:30-2:00 pm Yoga Nidra (Venue: Geeta Hall) Saturdays and Sundays only
2:00-3:15 pm Property Tour (Starts at Reception) Saturdays only
1:30-2:30 pm/3:00-4:00 pm Guided Nature Walk (Starts at Reception) Saturdays only
5:30-6:00 pm Guided Meditation Session (Venue: Geeta Hall)
7:30-8:15 pm Meditative Chant/Kirtan (Venue: Geeta Hall)
8:30-10:00 pm Bonfire (Below Veda 2; Weather permitting) Saturdays Only
Mealtimes
7:30-9:30 am Breakfast
12:00-2:00 pm Lunch (included on your departure day)
6:00-7:30 pm Dinner
Ayurveda Spa Appointments
We invite you to also make reservations at our award-winning Shankara Ayurveda Spa before arrival, in
order to ensure availability. Please call (828) 264-8382 for details.
Our Clay Studio is open Thu-Sun; Hand-building classes and Throwing classes are available by appt.
Clay pieces can be glazed and shipped back as well. Please contact our front desk to make an
appointment.
Actual schedules and venues may vary; Please confirm with Front Desk upon check-in
Location
Directions for Printing
Download a print file of the directions

Address
The Art of Living Retreat Center
639 Whispering Hills Rd.
Boone, NC 28607

Phone Number
If you need anything, just give us a call.
Phone: (800)-392-6870

A warning about using GPS!
We do not recommend using your GPS for driving directions, as many roads are incorrectly marked in the navigation system and inputting our address will take you on a wild ride. Instead, we recommend using Google maps (above). Many prefer to travel the Blue Ridge Parkway route only May through October since the road closes often in winter.

MAP
Click here to open the map in Google Maps

Nearest Airport
There are several airports within driving distance from the Art of Living Retreat Center:
Charlotte-Douglas International Airport (CLT) in Charlotte, NC (100 miles).
Tri-Cities Regional Airport (TRI) in Johnson City, TN (80 miles)
Piedmont Triad International Airport (GSO) in Greensboro, NC (110 miles)

Shuttles
The Hickory Hop shuttle goes from Charlotte airport to Boone five times daily. The cost is $90 per person. Please mention you are going to the Art of Living Retreat Center in Boone. Reservations are required, so please book ahead by contacting them directly. (828) 327-2340

Car Rental
Enterprise, Avis, Alamo, Hertz, National and Budget all offer car rentals at Charlotte airport. Please contact the rental company directly for pricing.
Uber: Uber has arrived in Boone. It is often possible to take an Uber from Charlotte airport all the way to the center's reception. This is a very cost-effective option when traveling with friends or family.

Public Bus
The Mountaineer Express goes from Boone to Charlotte at 9:25am and from Charlotte to Boone at 6pm daily. Please check their schedule for current timings. To reach the Charlotte bus stop, you can take the Cat5 airport express. Once you arrive in Boone, you can take an Uber to the center.