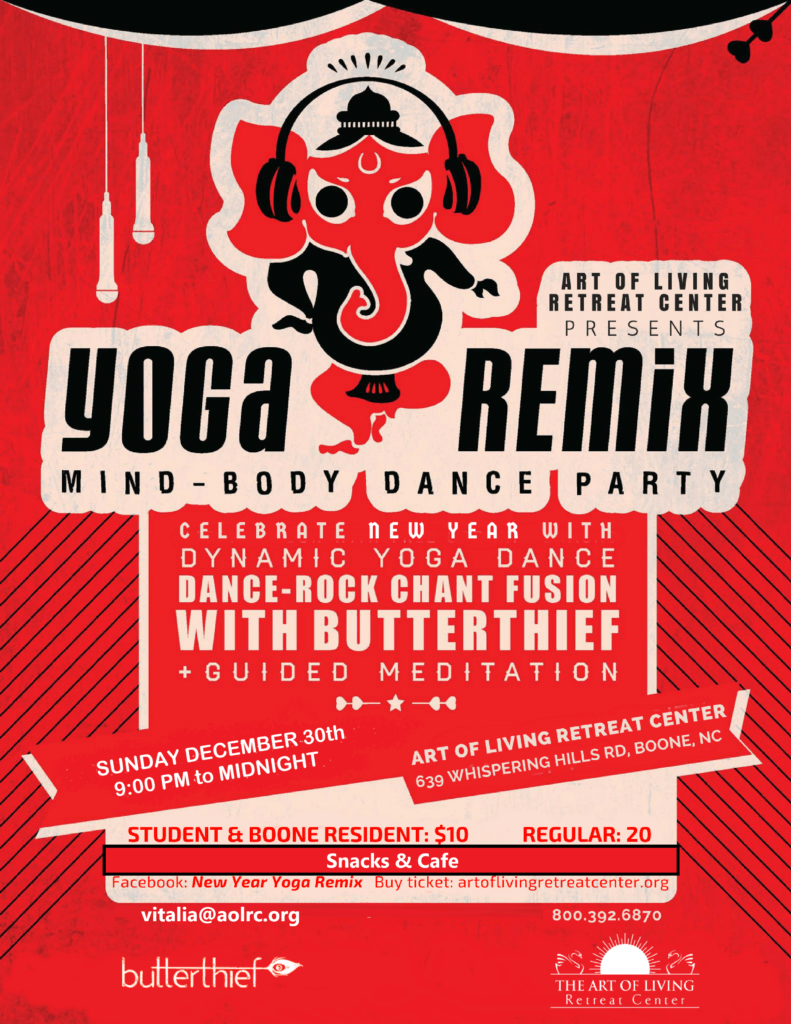 Experience the power of "sonic yoga" and a natural high like no other. Yoga Remix is an uplifting, interactive dance party featuring live music with the world-renowned band, Butterthief, who combine the ancient yogic practice of singing "mantras" (sacred healing sounds) with modern rock and electronic dance music. Start the New Year with a bang and take a New Years Resolution with the Sangha!!
What is Yoga Remix?
Yoga Remix, Mind-Body Dance Party, is a revolutionary new way to celebrate while connecting deeply with your self.  The event is substance free and a great example of how you can let go, be free and have the time of your life on a natural high.It's a fresh combination of live music, dance, yoga and meditation.  The evening kicks off with a rhythmic, connective yoga practice.  It then moves into an ecstatic dance party like no other featuring explosive dance-rock chant fusion with the internationally renowned band, Butterthief.  After that, it flows seamlessly into a deep, guided meditation practice and ends on a high note with more singing and dancing.  Butterthief, who has performed everywhere from Lincoln Center to the Bonnaroo Festival, puts a modern twist on ancient Sanskrit chants which are known for their healing qualities.The evening is presented a division of the Art of Living Foundation, the largest volunteer-run not-for-profit in the world. Yoga Remix is a sister event of Yoga Rave and these events have been featured in the New York Times, Wall Street Journal, Flavorpill and more.
Who is Butterthief?
Formed in 2005 in New York City, Butterthief plays an explosive mix of indie rock peppered with dance and new wave, fused with ancient Sanskrit chants. They put a unique and modern spin on Kirtan, an age-old Indian practice of call and response chanting set to music. The band started out playing at yoga studios, quickly gained popularity and have performed everywhere from: Lincoln Center's Avery Fisher Hall, to the United Nations, to the Bonnaroo Festival and Yoga Journal Conference.Butterthief consists of Manish Tandon (vocals & guitar), Mary Walker (vocals), Joey Repice (drums), and has appeared in NPR, the New York Times, ABC News, TV Asia and the Wall Street Journal.
Tickets are NON-REFUNDABLE and NON-TRANSFERABLE for another time.