Overview
Join us for a weekend Yoga Retreat and immerse yourself in the practice & mythos of yoga as we explore the stories — and learn the wisdom of the stories behind the poses – along with Mantras, Mudras & Mythology!!
Allow these tales of wisdom to deepen your yoga practice through observation of body, mind and spirit. Join Loretta Jo as she shares stories of:
The Trinity
Shiva & Shakti
Goddesses
Sages and More
As the asanas impact us physically, the stories & tales, characters and images can affect us and transform us emotionally and spiritually.
Learn how to use mantras, mudras and Yoga Mythology for reflection, self-examination and healing. Teachers learn how to weave mythology into your teaching~
Loretta Jo's Vinyasa practices include dynamic asana, sprinkled with mythology, mantras & mudras. Each practice session will begin with meditation & breathwork and the telling of a story (or two) followed by an all-levels vinyasa class. The sharing of mythology offers another dimension to the practice. The characters in the stories (gods, goddesses, sages, animals and more) become symbols — aspects of our own unconscious minds – allowing us to reflect and take the practice to a different level.
The weekend provides time for participants to enjoy a spa treatment at America's #1 Ayurveda Spa, Shankara. Or walk the meditation labyrinth and mountain trails in this forested mountaintop sanctuary. Or join participants as we create our own Mojo Magic and craft a beaded bracelet or Goddess sachet ~ all while enjoying great food and the mountains in Fall splendor.
–
This weekend retreat is open to all, yoga students and yoga teachers, and is accredited for Yoga Alliance CEU and YACEP workshops.
All students welcome.
Retreat Prices Start at $484* and vary according to style of room and length of stay – And include tuition, room & board — three meals per day~
*Rooms reflect per person rate.
About the Teachers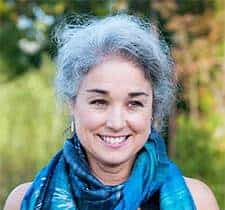 "The mind has to reach inside the body to find a quiet space…" Geeta Iyengar
Loretta Jo, E-RYT500, YACEP, has dedicated her teaching to helping students and teachers find that quiet space using the practice of yoga as a means for personal and professional transformation. As owner of the Yoga-Mojo Studio and Yoga-Mojo Teacher Training (YMYTT, she is locally recognized as a Master of Yoga sequencing and storytelling. Each Yoga-Mojo practice is designed to provide students an opportunity to seek a balance of mind, body and spirit – and an opportunity to be challenged, awakened and inspired. This is what Loretta Jo calls the magic of Yoga: 'Yoga-Mojo'. As an advanced Yoga teacher with over 8000 teaching hours, Loretta Jo's sequences include purposeful movement with attention to alignment and modification options inspiring students both on and off the mat. Her personal journey includes the love of mantra, mudra and yoga mythology and classes may include a story or two.
Schedule
Friday PM
3:00pm CHECK-IN
6 – 7:00pm DINNER – Dining Hall
7 – 7:20pm Welcome – AOLRC Orientation – Main Dining Hall
7:30 – 8:45 pm Introductions / Welcoming Circle — Yoga Nidra
Introduction to the Triumvirate – Brahma, Vishnu & Shiva
Trikonasana – Triangle Pose
Saturday AM
6:30am – 7:15am Optional – Sunrise Meditation
7:30-8:30am BREAKFAST – Dining Hall
8:30-9:30am Personal Time – Hike, Spa, Pottery, Rest, Walks, Meditation, Journaling
9:30-11:45am Yoga-Mojo Vinyasa – Shiva & Shakti~ Understanding Warrior I, II & III; Tadasana – Mountain Pose
Saturday PM
12-1pm LUNCH – Dining Hall
1-3pm Personal Time – Hike, Spa, Pottery, Rest, Walks, Meditatio, Journaling
Optional: Bracelet Making, Goddess Sachet Creations and more~
3-5pm Yoga-Mojo Vinyasa – Ganesha & Skanda; Half Moon Pose & Skandasana
5-6:30pm Personal Time – Hike, Spa, Pottery, Rest, Walks, Meditation
6:30 – 7:30pm DINNER – Dining Hall
7:30 – 8:15pm Kirtan / Satsang (optional Group / AOL – Community) – Evening Gathering*
8:15 – 9:30pm Fire Circle* (weather permitting) – Stories of Vasistha and Vishvamitra and/or a
story of the Buddha
Sunday AM
6:30-7:15am Optional — Sunrise Meditation
8:30-9:15am BREAKFAST – Dining Hall
9:30-~11:00am Yoga-Mojo Vinyasa Practice – The Four Goddesses – Goddess Pose –
Utkatasana, Dancer's Pose – Natarajasana and tbd
11:00am CHECK-OUT (luggage may be stored at the reception)
12:00-1:30pm LUNCH
*Art of Living Retreat Center Activity