Combining the art of stand-up comedy and transformation
New York Times bestselling author and Comedy Central headliner, Kyle Cease, helps his audience discover a new vision of what is possible in their lives. He draws on experience gained during his 25 years of performing, creating, and letting go of what other people think, to help you audience move past your anxieties, limitations, and self-doubts.
Life is a Playground is a powerful event designed to help you release your old conditioned patterns so you can tap into your natural flow state of creativity and unlimited possibilities. At this event, you will discover amazing and unique things about yourself that have been hiding just beneath the surface.
Through live talks with Kyle; Q&A sessions; and hands-on activities, you will: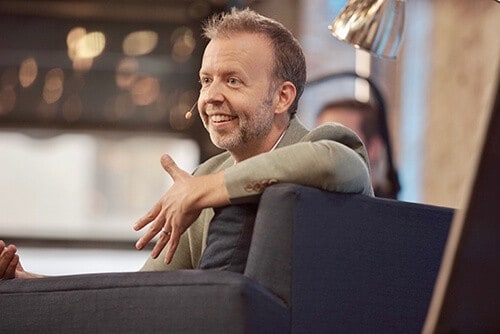 Be immersed in your natural, creative self.

Laugh for three days straight.




identify the illusions that keep you from being happy—right now.

Be a part of a fun, spontaneous, and collaborative experience, and meet people who are transforming with you.

Learn to release everything you are not—in order to make room for everything you are supposed to become.

Explore the profitability of playing and following your passions.




undo years of stress and anxieties that have been keeping you from truly living.

See new opportunities that have been hidden in plain sight all around you.

Learn that you are a fountain of unlimited ideas for books, movies, podcasts, etc., and that you have a powerful gift that the world needs.
Welcome to the Breathtaking Blue Ridge Mountains
Welcome to our forested mountaintop sanctuary & America's #1 Ayurveda Spa, Shankara.

Set amidst 380 acres of pristine forest high up in the Blue Ridge Mountains, you will find peace and tranquility as you begin your wellness journey to health, happiness and self-discovery.
With magnificent panoramic views stretching to the horizon, fresh mountain air, delicious food and a nurturing and relaxing environment, it is here that your heart will feel at home.
Our welcoming team of authentic and engaging thought leaders invite you to experience true, unparallelled nourishment in mind, body and spirit.

We are dedicated to making your stay extraordinary
It is very hard to write out the massive amount of benefits this event will bring you.
So we're just gonna say it: JUST GO.
Thousands of attendees have already stepped into a life of freedom by creating deeper connections to themselves and the moment, releasing debilitating fears, losing weight, ending stage fright, developing new purpose-driven companies, letting go of addictions, creating higher income, and discovering inner abilities that were previously overlooked.
Join us on a journey into yourself, and learn with tangible proof that YOU HAVE THE ANSWERS. Not your parents. Not your spouse. Not your clients. Not Kyle.
YOU.
Retreat: Hotel Room Single
Rate includes King Bed or Two Full Beds, flat screen TV, wifi, refrigerator, private bath, daily vegetarian meals.
$912.00
---

Retreat: Hotel Room Double Sharing
Rate includes King Bed or Two Full Beds*, Room will be shared with a maximum of 1 other individual.
$786.00
---

Retreat: Retreat Room Single
Rate includes Twin Bed, daily vegetarian meals (dinner the night of check-in and breakfast, lunch, and dinner throughout your stay.
$824.00
---

Retreat: Retreat Room Double Sharing
Rate includes Twin Beds, Room will be shared with a maximum of 1 other individual from the same gender.
$728.00
---

Retreat: Retreat Room Triple Sharing
Rate includes Twin Bed, Room will be shared with a maximum of 2 other individuals from the same gender.
$692.00