Visit the Wellness Tent (Ayurveda Health Spa)
While you're at the festival, be sure to stop by our tents for fun activities, Ayurveda educational sessions, and much more! We look forward to seeing you there!
Your Path to a Vibrant Tomorrow
The Art of Living Retreat Center, Shankara, and Sri Sri Tattva are dedicated to enriching lives and promoting holistic well-being. We stand united in our commitment to making a positive impact on individuals and communities alike. From the serene sanctuaries of the Art of Living Retreat Center, fostering self-discovery and inner peace, to the nourishing embrace of Shankara's Ayurvedic wisdom, nurturing both body and spirit and the transformative initiatives of Sri Sri Tattva, uplifting societies with wellness and compassion, together, we form a powerful force of positive change in the world. Join us on this inspiring journey of upliftment and transformation.
The Art of Living Retreat Center
Discover a path of peace and self-discovery at the Art of Living Retreat Center. Atop the serene Blue Ridge Mountains, this tranquil sanctuary offers unwavering support and a nurturing space for those embarking on a journey of self-awareness and happiness. With a focus on fostering inner transformation and deep connections with oneself and others, our center provides the perfect environment to explore peace and renewal.

Founded by the esteemed humanitarian and spiritual leader, Sri Sri Ravi Shankar, since 2012 the Center has stood as the centerpiece of the Art of Living in North America.

Embrace the transformative power of the Art of Living Retreat Center, where peace, growth, and inner harmony await your arrival.
Shankara
Shankara emerged from the vision of blending Ayurvedic wisdom from the East with the advancements in actives and modern processes from the West, fostering wellness and sustainable skincare. Our unwavering dedication lies in making eco-conscious choices to preserve the planet's green vitality while nurturing the well-being of others through tranquility for the mind, compassion for the heart, and nourishment for the skin.

Driven by a profound commitment to creating a positive impact, Shankara allocates 100% of its net profits to various initiatives. These encompass empowering girls' education and women in developing countries, as well as supporting veterans in building resilience and overcoming PTSD, contributing to a better world for all.
Sri Sri Tattva
Over 35 years ago, the team at Sri Sri Tattva had a vision to share an ecosystem of health and wellness with the world. Today, after decades of research and development in combining today's modern science with the ancient science of Ayurveda, we are proud to have grown into a global organization.

The 5,000-year-old science of Ayurveda—considered by many as the mother of all healthcare systems—has enabled us to take a multi-faceted and holistic approach to human health. This 360-degree holistic approach combines purity of ingredients, advanced scientific technologies, and a love for the planet and those we share it with.

We have built our portfolio of products and brands to match the ever-increasing speed of demand for a healthier body and mind. We remain committed to providing the best in safe, effective, high-quality, and responsible products.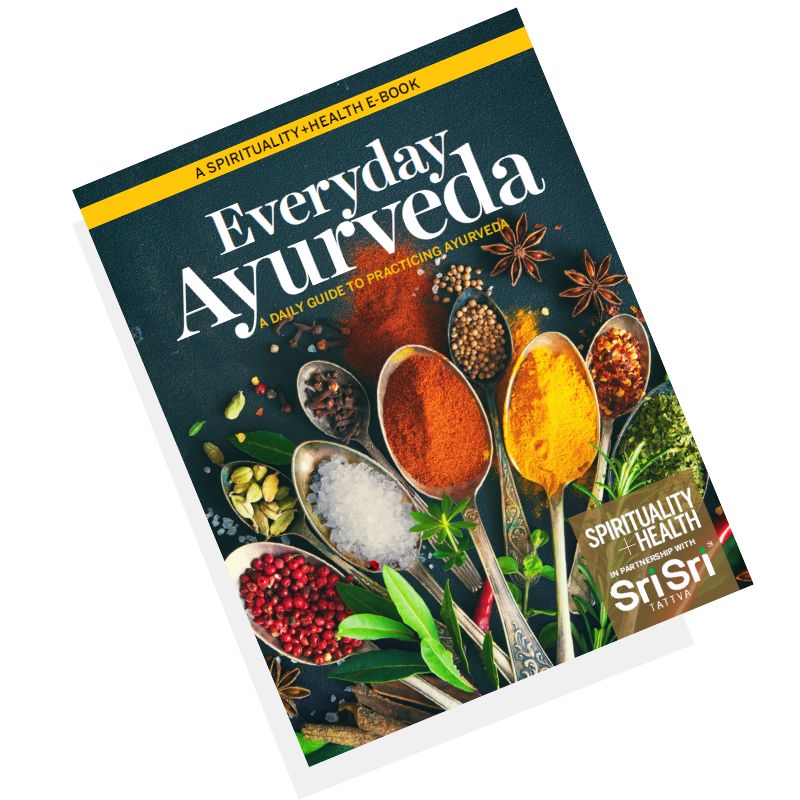 Our free e-book is your daily guide to the practice of Ayurveda. You'll learn about your specific dosha, get tips for immunity and resilience, and read great articles about fatigue, gut health, self-massage, and more. 
Get your free copy today!