Ayurveda Recipe: Sesame Cookies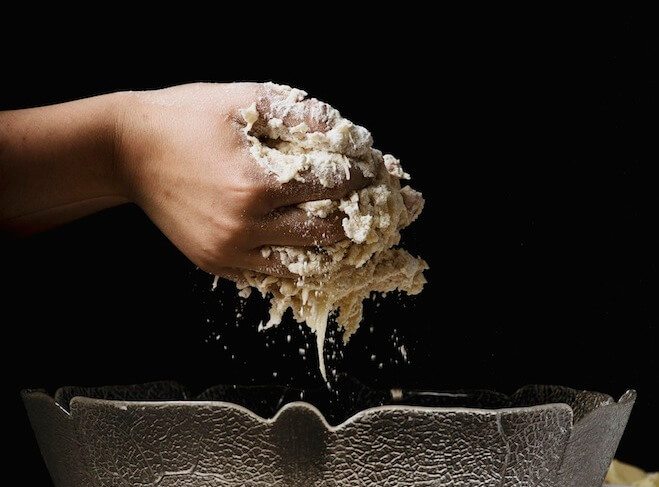 As we ease into fall and the leaves begin to change we naturally move into a different rhythm and explore other ways to spend time. Getting creative in the kitchen can be a wonderful way to ground and nurture yourself. Read on for a delicious ayurvedic sesame cookie recipe, perfect for dunking in those warming teas as you snuggle on the couch.
Sesame Cookies
Sesame is a special seed, it contains an unusual trio of tastes: bitter, pungent, and sweet. Its naturally balanced composition of heating, cooling, and building qualities makes it a tonic for increasing strength and immunity.
1 cup sesame tahini
1/4 cup almond flour
1/3 cup maple syrup
1/2 tsp pure vanilla extract
2 tsp Everyday Sweet Spice Mix
1/4 tsp salt
1/2 tsp baking soda
1 egg, whisked
2 tsp sesame seeds, plus extra for decoration
Preheat oven to 350 degrees. Prepare 2 baking sheets by lightly greasing with ghee or coconut oil or else lining with parchment paper.
In a medium mixing bowl, mix the ingredients together in the order listed. If the batter is too runny to shape, put it in the fridge for 5–10 minutes (but batter that's a little runny bakes nicely). Shape batter into tablespoon-size balls or drop with a spoon onto the prepared cookie sheets. Leave a few inches between the balls, as they will puff up when they bake. Lightly press down on the balls with a fork. Sprinkle tops with extra sesame seeds. Bake for 10–12 minutes, until they are firm enough to touch without your finger sticking.
Let them cool completely before removing from baking sheets and serving. Puffs will be soft when you eat them. Yum!
Source: The Everyday Ayurveda Cookbook
Interested in learning more about programs at the Art of Living Retreat Center? Check out our annual catalog here.