Ayurvedic Recipes: Vata-Calming Butternut Squash Soup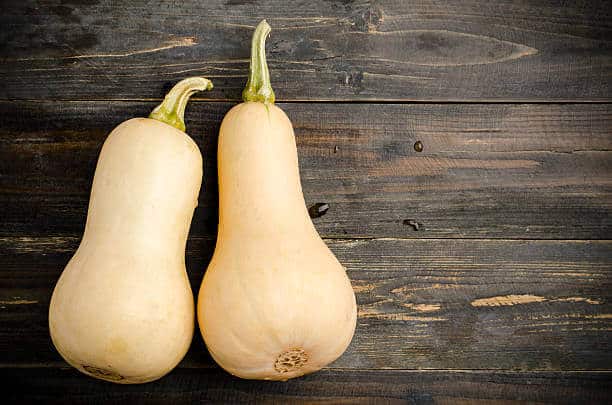 Autumn is Vata season, with the earth beginning to dry out from the summer months and the cool breeze blowing in from the upcoming winter. As our bodies adjust to the season, we might find ourselves feeling dry, bloated, anxious, and unbalanced. Luckily, nature provides a wonderful remedy to these afflictions in the seasonal foods available to us. Root vegetables, pumpkins, sweet potatoes, and other in-season foods are naturally vata-calming.
This butternut squash soup is not only healing, but a delicious ode to the season as well.
Vata-Calming Butternut Squash Soup
2 tbsp ghee
1 medium butternut squash, peeled, seeded, and cut into 1 inch chunks
1 medium sweet potato or 2 large carrots, peeled and chopped
1 large onion, diced
2 large garlic cloves, smashed
1 inch piece of fresh ginger, finely chopped
1 tsp ground cinnamon
1/2 tsp ground cloves
1 tsp ground cumin
1/2 tsp turmeric
3 cups water
1 cup cococnut milk
Salt and pepper to taste
Minced parsley for garnish
Directions
Melt 1 tbsp ghee in a large, deep saute pan. Add squash, sweet potato, and then onion. Saute, stirring very little at first, and then more frequently, for 7 or 8 minutes or until all ingredients turn golden brown.
Reduce heat to low and add garlic. Continue cooking until vegetables a rich caramel color, about 10 minutes. Remove from heat.
In a separate soup pot, add 1 tbsp ghee, the ginger, and the rest of the spices except the turmeric. Saute until fragrant.
Add water and vegetables to soup pot. Bring to a low boil over medium heat. Reduce to simmer for about 10 minutes, partially covered, until squash is tender.
Puree in a blender or food processor until smooth.
Return to soup pot. Pour in enough coconut milk so that the texture is smooth, thick, and hearty. Add salt and pepper to taste. Heat through, and garnish with parsley.
Serves 2-3.

---
Interested in learning more about Ayurveda and the programs at the Art of Living Retreat Center? Check out our annual catalog here!