The Lyme Disease Epidemic: A Call For Integrative Medicine
Lyme disease is the #1 fastest spreading infectious illness in the USA, with over 300,000 cases contracted annually, and a mere 10% properly diagnosed or treated. Often mistaken for autoimmune illnesses, a broad spectrum of Integrative Medicine modalities are necessitated for recovery from the chronic form. Doctors, especially in the Southeastern states, have little information on Lyme disease. In fact, most medical professionals are unaware this bacterial tick-borne infection is even existent in the Southern states. Consequently, tens of thousands of cases are misdiagnosed as spider bites, influenza, MS, arthritis, fibromyalgia and even autism in children.
Dr. Jodie Dashore and Katina Makris are leading experts in the field, with thousands of client hours between them. Both internationally renowned conference and workshop teachers, as well as award recipients, they will present a comprehensive program of  traditional and holistic medicine information as to the key components for healing from Lyme disease and co-infections, at The Art of Living Retreat Center.
An Integrative Approach to Lyme Disease
The retreat will emphasize modern medical science material for professionals and patients, on supporting the detoxification pathways, restoring damage to bodily systems, killing off infectious organisms, and restoring emotional and spiritual health.
We will also touch on how to minimize herxheimer reactions, reduce inflammation, homeopathic self help remedies, the importance of bonding with the appropriate lead practitioner in your care, forming family support and the intrinsic need for  emotional and spiritual empowerment via this healing journey will be detailed. Specialty mind-body- spirit exercises will be taught, alongside the critical call for integrative medicine tools in this exploding health care crisis. AIDS at its peak saw 101,000 cases per year, Lyme is surging 3 times faster!
As chronic Lyme disease survivors themselves, this is a unique collaboration between two master healers, who value the full spectrum of physical and spiritual support components for chronic disease recovery.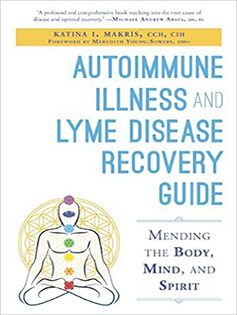 About Your Hosts
Katina's books "Autoimmune Illness &   Lyme Disease Recovery Guide, Mending Body, Mind & Spirit" and "Out of The Woods, Healing Lyme Disease" are international best sellers and award recipients. Her hit radio
program, "Lyme Light Radio with Katina" broke open the dialogue on this under recognized health topic.
Click here to listen to an MS patient's full recovery story from masked Lyme disease.
Dr. Dashore has been awarded Top Physician 2016-2017 by the International Neurology and Natural Medicine Association. Raised in Mumbai, India and schooled at some of the most prestigious universities of the world, Dr. Dashore's insights into autism, neurology and tick borne diseases are groundbreaking. Dr. Dashore and Ms. Makris are committed to facilitating the end of suffering from Lyme diseases and the toxic underpinnings linked to this illness.
Please join us for an unprecedented weekend of healing, inspiration and knowledge.
by Katina Makris, CCH, CIH
Endorsements:
"From the moment I met Katina, I knew that this dynamic, vibrant, powerhouse of a healer needed to come to Canada to share her message.  Her first book tour and workshop in Toronto and Guelph, Ontario were an absolute hit – Canada loves Katina!  Ever the consummate professional, Katina shares her knowledge from both the perspective of  ractitioner and patient in a way that endures her to any audience, creating instant rapport and trust.  She speaks from a place of knowledge, truth and grace."
Cecile Gough, RN
Guelph Canada Lyme Support Leader
"Katina Makris has much to share and she says it with clarity, wisdom, charm and humor. She is an outstanding speaker on the airwaves or at the podium and will make an audience come to their feet in approval as well as return for more"
 Irene Conlon M.S.N., Ph.D.
Katina is a well known authority in Holistic Medicine. She is passionate about bringing health back the natural way. Her own journey with Chronic Lyme disease as documented in her book, Out of the Woods, is inspiring and gave hope and new found sense of being able to recover from this illness, to so many sufferers.
Katalin Kovacs M.D.
"I am listening to all of your LymeLight radio interviews and you are awesome! My heart is touched deeply and had I a few tears hearing my same hell on these broadcasts. I have been suffering with Lyme for 12 years but could have well been a lot of longer because of my symptoms since childhood. I've been treating for a year and 3 months now and getting ready to start treatment on my 11 year old in June. I couldn't have done this without my husband, two good doctors and people like you, who understand this and are out there on the front lines fighting for us! Love you to pieces!"
LV
Interested in learning more about programs at the Art of Living Retreat Center? Check out our annual catalog here.

Lyme Disease: Healing Naturally
"Dr. Dashore, I've done every antibiotic treatment there is, but I still suffer. Why can't I recover from Lyme disease?" 
Lyme Disease: From Victim to Vitality
When Jennifer walked in my door last spring, she was shockingly frail, underweight, paralyzed on her right side, losing her vision, depressed, anxious, and barely able to keep even a few morsels of food down. She was ravaged by insomnia, and having been through a recent divorce as well, she was hanging by a thread. She came to me after witnessing her dear friend fully recover from stage 3 ovarian cancer, with the help of my techniques and methods of natural medicine.
Today, approximately a year later, Jennifer is a healthy, vibrant, and sparkling soul, ever willing to help another in need, to lend an ear and even a few dollars to help ease the pain of a fellow "Lymewayfarer." She has completely recovered from the anatomical, physiological, and biochemical damage that her Lyme disease created within her, is currently working full time, and training to be fit again with yoga and meditation.
The elegance of medicine lies in knowing when to wean ourselves off of harsh chemicals, and turn to the wisdom of plants, nature, and biological medicine to help us truly repair damage and heal from within.
Integrative Medicine is the Key
No one can kill their way to health. The body is a sacred vessel of the soul. We are all beings of light, and every cell carries the healing light of our maker within us. Every strand of our DNA is programmed to seek homeostasis and balance. Yes, we do need to bring out-of-control microbes back in check, with fast-acting allopathic medication during acute phases of any disease – but the elegance of medicine lies in knowing when to wean ourselves off of harsh chemicals, and turn to the wisdom of plants, nature, and biological medicine to help us truly repair damage and heal from within.
Almost every patient I see benefits both spiritually and emotionally from a physiological detox. The process is difficult, but then again, true change is never easy. It takes great willpower, faith in oneself, and a positive attitude that this universe will bend over backwards to help heal and accommodate a spiritually awakened child of hers.
The therapeutic ideal we strive for is a complete healing of all systems – body, mind, and spirit. These are not separate – in reality, we need all three to work together to remain fit, healthy, and happy.
In integrated medicine, we look at health as beyond freedom from physical disease. Health is a deeper strength, balance, and a mind-body wellness that must be achieved along with absence of disease. I truly believe that the future of healthcare lies in the fusion of allopathy with alternative therapies, giving rise to a system that will treat each patient holistically and according to their own unique needs.
The workshop that I am hosting, Walking the Lyme Road, will be a beautiful, synergistic blend of learning, empowerment, personal discovery, and healing.
Dr. Jodie A. Dashore
About the Author
Jodie A. Dashore is a Board Certified Doctor of Occupational Therapy in private practice in New Jersey. She has owned and operated clinical practices in Bombay, London, and Marlboro, New Jersey. Her current practice is dedicated to patients of all ages with Tick-Borne Diseases and PANS. She is a certified homeopathic and holistic health practitioner.
Dr. Dashore is also a trained spiritual counselor, yogi, and meditation leader. She has mentored with her Guru of 28 years, Sadguru Baba haran Singhji, at his Ashram in Dera Beas.
Interested in learning more about programs at the Art of Living Retreat Center? Check out our annual catalog here.