Retreat Type
Family & Relationships
Meditation & Mindfulness
Self-Discovery
Spiritual
Retreat Goals
Boost Energy
Get Healthy
Personal Development
Relieve Stress
Please Note
In alignment with the CDC guidelines, all guests will be required to show proof of vaccination OR a lab-certified Covid-19 test that produced negative results taken within 72 hours of their arrival at the Center when checking in.
The realm beyond manifestation can be found in the language of Reconnective Healing®.
Join Dr. Eric and Jillian for an in-person powerful and breathtakingly exquisite experiential exploration of a new capacity to receive the Reconnective Healing Experience and its infinite frequencies of Energy, Light & Information. Through interactive play, group discussion, movement, sharing, connecting with nature and elective Reconnective Healing sessions, you will
Develop a new capacity to receive—and transform from the limitations of merely feeling love to the infinite of becoming love itself

Connect with an intelligence that places you, us and everyone into a sphere of clarity, presence, healing… and love

Experience the Energy, Light, & Information scientifically known as the RH Frequencies

Access your greatest human role as a catalyst of inspiration for everything and everyone.
You'll leave equipped with the knowledge of what you need to effortlessly bring about your new metamorphosis from within—transformed!

Come touch Reconnective Healing in a new way, in a group of likeminded and loving friends getting together to explore and access wonderful and significant changes in your health, relationships and your life…

Become part of an ever-growing community bonded by the discovery that healing is just this simple!

This program is open to everyone; all levels of experience. The only prerequisite is that you're breathing… and even that one is negotiable!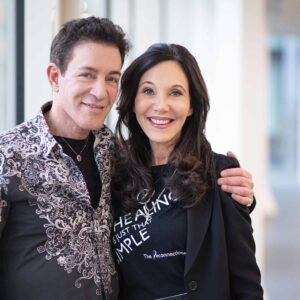 Dr. Eric Pearl ran a highly successful chiropractic practice for 12 years when one day his patients began reporting healings as Eric simply held his hands near them. The healings came in unexpected forms and ways. These profound experiences began an exploration of what's known as Reconnective Healing. Eric founded The Reconnection to share the gifts and language of this Intelligence, training others to share what science today calls the Reconnective Healing frequencies of energy, light, and information.
In 2012, Eric began practicing with his life partner, Jillian Fleer, Director of Insight & Development and Co-Instructor. They've continued expanding Reconnective Healing into an international program with live events, classes, and training programs in multiple languages. Their work's taken them to over 100 countries and myriad cultures, affecting millions of lives. They hope everyone will learn to access this comprehensive approach and ability to heal themselves and others.
Eric has appeared on The Dr. Oz Show, CNN, and in The New York Times, presented at the United Nations and Madison Square Garden. His internationally bestselling book, The Reconnection: Heal Others, Heal Yourself, is in 40 languages. Learn more at TheReconnection.com.
Lying in the RH energies this morning, I experienced the cognitive difference between the art of allowing vs. the energy of making things happen. I would get a gold medal for making things happen from my mind, but did that make me happy? Actually No. I sensed all that hard work doing energy was in my shoulders, especially my right shoulder and then suddenly there was this amazing softening in my muscles. It was huge. Suddenly I realized that to receive, to manifest, is to be open to allowing. I saw myself unfolding to the now and it is awesome. I have been a doer all my life. I am now in a place of allowing and anticipating in the moment and it's beautiful. Thank you.
I have been a curious person for decades and have experienced and tried out a lot. I am a Reiki teacher and Akasha Chronicle companion. I have read innumerable books because I have had innumerable questions. I heard about Flow Summit from Dr. Eric Pearl and I bought his book. What happened energetically when I read the lines, I can hardly put into words. Just that much, I knew immediately that this was something I had to devote myself to... Thank you, that was and is an extraordinary experience. The universe has connected something...I can attach great importance to this experience.
Reconnective Healing found me because I was dying and I didn't know it. I had a RH session and then I realized that this is huge, that it's beyond my understanding but also that I'll be able to understand somehow and that I deserve it. I realized that it wasn't my time to die and this was part of my new reality, because what I was living wasn't real. And because I always knew there is magic, universal magic, love. With RH I felt it's real. I discovered and I'm still discovering that we are able to be part of everything, we have infinite power and the universe is love. I recovered my tenderness; I was getting harder and harder, focused on empowerment from the hard side and now I'm more and more connected with the tenderness and love. Every day I'm more sweet and loving, which I couldn't believe to be able to do or be. I'm writing a book about that right now—which I didn't even think I would do something like this. I'm in calm and I feel the Nature. I feel the oneness. I can see beauty in everything. I'm a little girl again. And I keep supporting RH because others deserve this also, they deserve discovering all this, at their own way. And, by the way, my blood, pressure and general body state is now balanced and strong
All options include daily vegetarian meals from dinner on the night of check-in through lunch on the day of checkout. (Rates below are per person.)
Two Twin Beds
Private Bath
Complimentary Wi-Fi
Delicious Vegetarian Meals
Complimentary Tea/Coffee & Fresh Fruit
Daily Yoga & Meditation Classes
Access to Grounds and Facilities, including Gym & Steam Rooms
Listen, Love and Live in Reconnective Healing Frequencies
October 8–10

Your Program Session Times (subject to change)
Friday 7:30–9:00 pm
Saturday 9:30 am–12:30 pm, 2:00–4:00 pm, 8:30 pm
Sunday 9:30–11:30 am, 2:00–5:00 pm (Room check-out is 11:00 am; luggage can be held at reception)
All times are Eastern Standard Time (EST) unless otherwise noted.
Arrival Day
4:00 pm Check-in begins; Rooms are ready by 4:00 pm, but if you arrive early we will hold your luggage at Reception.
6:00–7:00 pm Dinner
7:00–7:20 pm Guest Orientation Session (Venue: Dining Hall)
Actual schedules and venues may vary; please confirm with Front Desk upon check-in.
Apart from the activities in your program schedule, we offer the following optional complementary activities. (Please join only if your program schedule permits.)
9:45–10:45 am  Yoga | Sattva Studio | Thu–Sun
11:00 am–12:00 pm  Mind & Meditation | Sattva Studio |  Thu–Sun
1:30–2:15 pm  Guided Hike | Assemble at Shankara Reception | Sat
2:30–3:45 pm  Ayurveda Cooking Class* | Tulsi Kitchen
     Thu: Sweet Treats • Sat: Chef's Seasonal Recipe
4:15–5:15 pm Yoga | Sattva Studio | Wed–Sat
5:30–6:00 pm  Guided Meditation | Sattva Studio | Wed–Sat
7:30–8:15 pm  Meditative Chants/Kirtan | Sattva Studio | Wed–Sat
     Saturday kirtan is outdoor by the bonfire; weather permitting.
*Included with Wellness Escapes and R&R; Other participants: $35.00/per person
Clay Studio
10:00 am–6:00 pm Saturday
     Clay Handbuilding $30.00 (1 hour) 
     Throwing Wheel $45.00 (2 hours) 
Hours: 9:00 am–6:30 pm daily
We invite you to also make reservations for consultations, therapies, and treatments at our award-winning Shankara Ayurveda Wellness prior to arrival in order to ensure availability. Please call 828-264-8382 for details. Additional cost.
639 Whispering Hills Rd, Boone, North Carolina 28607
Discover deep rest and rejuvenation in our tranquil sanctuary set amidst 380 pristine acres high up in the Blue Ridge Mountains of Boone, North Carolina—the perfect place to begin your journey to wellness.
NOTE Avoid using GPS—it will take you up a private road to a locked gate.  Please use the directions provided on this site.
For room reservations, Ayurveda Wellness Retreats, and Art of Living Retreat Center (AOLRC) signature retreats, we have the following cancellation policy:
Refunds are available (less a $50 processing fee) up to eight days before your program or stay.
Nonrefundable credit toward a future AOLRC program or stay (less a $50 processing fee) is available if you give notice between seven and one day(s) before your program or stay. Credit may be applied to any AOLRC program or stay for one year following date of issue.
No credit or refund is available if you cancel on the arrival day, if you do not show up, or if you leave an event early for any reason. No refund will be available if you attend a program and are dissatisfied with its presentation or content.  AOLRC reserves the right to cancel a program at any time. If AOLRC cancels a program, you will receive a full refund.  Some programs may have special cancellation policies; see individual workshop descriptions.  For all other retreats, please be sure to check the registration page specific to that retreat.
To encourage a healthy environment we ask that guest to not consume alcohol or meat in our public spaces, however, guests may enjoy these items in their rooms.
Our property is always smoke-free.
Yes, we ask that guests with food allergies simply inform us so we can communicate those needs to our chef. Typically, we label potential allergens such as gluten, dairy, and nuts.