Sri Sri Ravi Shankar is humanitarian leader, spiritual teacher, and ambassador of peace. His vision of a stress-free, violence-free society has united millions of people the world over through service projects and the courses in The Art of Living.
Born in 1956 in Southern India, Sri Sri Ravi Shankar was a gifted child. By the age of four, he was able to recite parts of the Bhagavad Gita, an ancient Sanskrit scripture, and was often found in meditation. He holds degrees in both Vedic literature and physics. In 1982, Sri Sri entered a ten-day period of silence in Shimoga located in the Indian state of Karnataka and in that silence, Sudarshan Kriya – a powerful breathing technique – was born. Later Sudarshan Kriya became the centerpiece of the Art of Living courses.
The Art of Living Foundation
Sri Sri founded The Art of Living Foundation as an international, non-profit, educational, and humanitarian organization. As a spiritual teacher, Sri Sri Ravi Shankar has rekindled the traditions of yoga and meditation and offered them in a form that is relevant to the 21st century. The educational and self-development programs of the Art of Living Foundation provide powerful tools to eliminate stress and discover inner reservoirs of energy and peace in daily life. Programs include breathing techniques like the Sudarshan Kriya®, meditation, yoga, and practical wisdom for daily living. In a mere 30 years, his programs have empowered millions of people across 151 countries to transform their lives.
Inspiring Humanitarian Service
In 1997, Sri Sri created the International Association for Human Values (IAHV) as a global platform for humanitarian initiatives that solve problems by uplifting human values. Through its country organizations and partners, IAHV conducts service projects and raises funds for humanitarian and disaster relief initiatives throughout the world. Activities administered or funded by IAHV include prisoner rehabilitation, trauma relief for veterans, youth and community development, disaster and trauma relief, and organizational excellence programs. The strength of his message has inspired a wave of service-based spirituality through a diverse body of volunteers, who are driving these projects forward in critical areas around the globe.
As an ambassador of peace, Sri Sri Ravi Shankar plays a key role in conflict resolution and spreads his vision of non-violence at public forums and gatherings worldwide. Regarded as a unbiased figure promoting the sole goal of peace, he represents hope to people in conflict. He is credited for bringing opposing parties to the negotiating table in Iraq, the Ivory Coast, Kashmir, and Bihar. Through his initiatives and addresses, Sri Sri Ravi Shankar has consistently emphasized the need for reinforcing human values and recognizing humanity as our highest identity. Fostering interfaith harmony and calling for multi-cultural education as the remedy for fanaticism have been significant parts of his efforts to achieve sustainable peace on our planet. His work has touched the lives of millions of people around the world, going beyond the barriers of race, nationality, and religion with the message of a "one-world family." He has also shared the idea that inner and outer peace are possible and that a stress-free, violence-free society can be created through service and the reawakening of human values.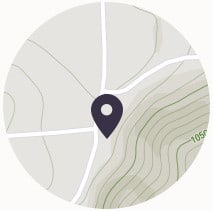 639 Whispering Hills Rd, Boone, North Carolina 28607
Discover deep rest and rejuvenation in a pristine natural setting in the Blue Ridge Mountains of Boone, North Carolina. Set amidst 380 acres of pristine forest high up in the Blue Ridge Mountains is a tranquil sanctuary.