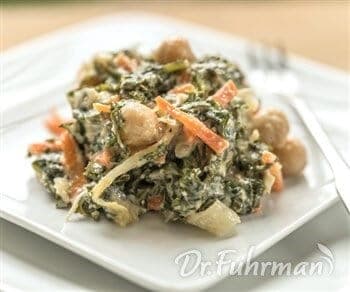 California Creamed Kale and Chickpeas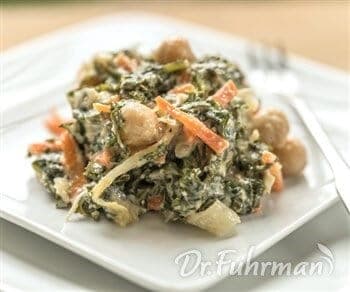 Serves: 4
Category: Main Dishes – Vegan
Author: www.drfuhrman.com
For an easy and delicious entrée, combine sautéed kale, onions and chickpeas with a creamy garlic cashew sauce.
INGREDIENTS:
1/2 cup raw cashews
1 cup unsweetened soy, almond or hemp milk
1 clove garlic
1 large onion, thinly sliced
2 carrots, finely chopped
1 1/2 cups cooked chickpeas or 1 (15 ounce) can no-salt-added or low sodium chickpeas, drained
1 bunch kale, tough stems removed, leaves thinly sliced
1/4 teaspoon crushed red pepper or to taste
INSTRUCTIONS:
Place cashews, non-dairy milk and garlic in a high-powered blender and blend until smooth. Set aside.
Heat 2-3 tablespoons water in a large skillet or dutch oven and water saute the onion and carrots for 5 minutes, or until softened. Stir in the chickpeas. Gradually add the kale and saute until kale starts to wilt, adding additional water as needed to prevent sticking. Cover and cook until kale is tender, about 10 minutes.
Stir in cashew sauce and crushed red pepper. Cook, uncovered for 2-3 minutes until heated through.
Calories 335; Protein 16 g; Carbohydrates 46 g; Total Fat 11.6 g; Saturated Fat 1.8 g; Cholesterol 0 mg; Sodium 70 mg; Fiber 11.2 g; Beta-Carotene 5838 ug; Vitamin C 49 mg; Calcium 203 mg; Iron 5.3 mg; Folate 210 ug; Magnesium 130 mg; Zinc 3.2 mg; Selenium 8 ug
---
Interested in learning more about Ayurveda and the programs at the Art of Living Retreat Center? Check out our annual catalog here!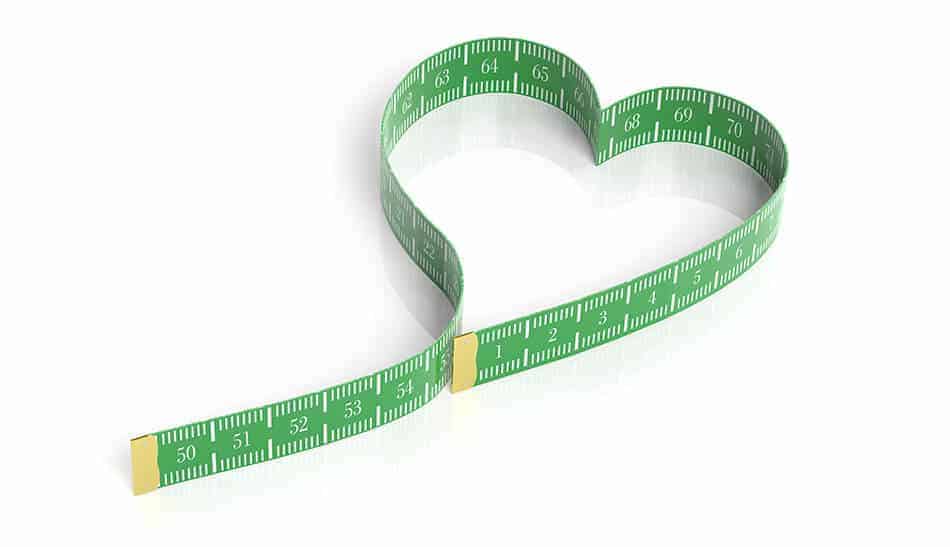 Excess weight does not protect against heart disease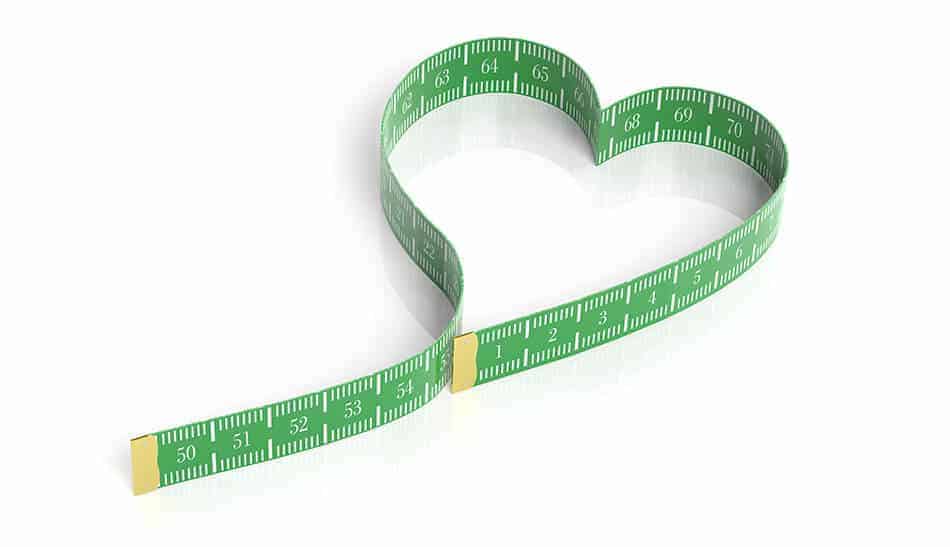 Lately there has been controversy about a potential "obesity paradox" in heart disease; the idea that some amount of excess weight either does not pose any risk or is even protective.
Unfortunately, the studies that suggest there may be a protective effect of body fat are often the ones that get more news coverage; but this does a disservice to an already overweight and nutritionally misguided public, allowing them to believe that excess body fat won't harm their health. The truth is there is no concrete evidence to support this paradox.
There are many studies that show elevated LDL cholesterol, hypertension, elevated triglycerides, inflammation, and blood glucose – are all exacerbated by excess body fat, and overweight/obesity itself is considered a risk factor.1-3
So what is the basis for this "obesity paradox"? It uses a person's body mass index (BMI) to determine body fat.
However, BMI, which only takes into account height and weight, is not an accurate indicator of body fatness. BMI does not distinguish between fat mass and lean mass, nor does it take into account fat distribution (visceral fat vs. subcutaneous fat). Many people whose weights are within the "normal" BMI range are still carrying excess fat. Plus, there are numerous medical conditions that contribute to a low BMI including unintentional weight loss, depression, anxiety, autoimmune diseases, cancers, and digestive disorders. In the elderly especially, a low BMI may be an indicator of muscle loss and frailty rather than an indicator of a healthy low level of body fat. In short, people who are thinner are not necessarily healthier.
Body fat and heart disease; importance of more measures than BMI
A new study  is helping to clear this issue up   A cohort of almost 300,000 people in the UK (age 40-69)  were followed for an average of 5 years. Their first analysis puts the optimal range of BMI for heart disease prevention at 22-23 kg/m2. It was a "J-shaped" association, meaning risk rose both above and below the 22-23 range.   Then the researchers went further. They used multiple measures of body fatness to get a more accurate picture: waist circumference, waist-to-hip ratio, waist-to-height ratio, and percent body fat.
Ultimately the researchers found using BMI produces different results than the other indicators. BMI was the only one that showed an increase in risk at the low end (<18.5 kg/m2). When they excluded smokers and participants with pre-existing diseases, the increase in risk associated with low BMI almost disappeared.
The more accurate measures of body fatness – body fat percentage, waist circumference, waist-to-hip-ratio, and waist-to-height ratio – showed a clear trend: more body fat, greater risk.4
Conclusion: Greater body fat, greater cardiovascular risk
The researchers concluded that the obesity paradox observation mainly occurs due to confounding effects of disease and other factors on BMI, and that the "public misconception of a potential 'protective' effect of fat on CVD risk should be challenged."4
As discussed above, a low BMI is often an indicator of disease, rather than an indicator of a healthy weight resulting from healthful eating. The standard American diet (SAD) is fattening. If someone is eating the SAD and is not overweight, there is likely something wrong.
Proven heart protection: Lose weight permanently on a Nutritarian diet
The dramatic weight loss-promoting effect of the Nutritarian diet contributes to cardiovascular protection. A 2015 study published in the American Journal of Lifestyle Medicine analyzed and reported weight loss results provided by 75 obese patients who had switched to a Nutritarian diet. The average weight loss was 55 pounds after three years, which means they kept the weight off long-term.5
Join Dr. Joel Fuhrman live at the Art of Living Retreat Center from August 29th – September 2nd, 2018, for his retreat, Advances in Nutritional Science to Slow Aging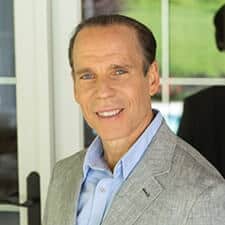 Joel Fuhrman, M.D.  is a board-certified family physician, nutritional researcher and six-time New York Times best-selling author. He serves as the President of the Nutritional Research Foundation. Dr. Fuhrman has authored numerous research articles published in medical journals and is on the faculty of Northern Arizona University, Health Science Division. His two most recent books are Eat to Live Quick and Easy Cookbook and Fast Food Genocide.
---
Interested in learning more about Ayurveda and the programs at the Art of Living Retreat Center? Check out our annual catalog here!