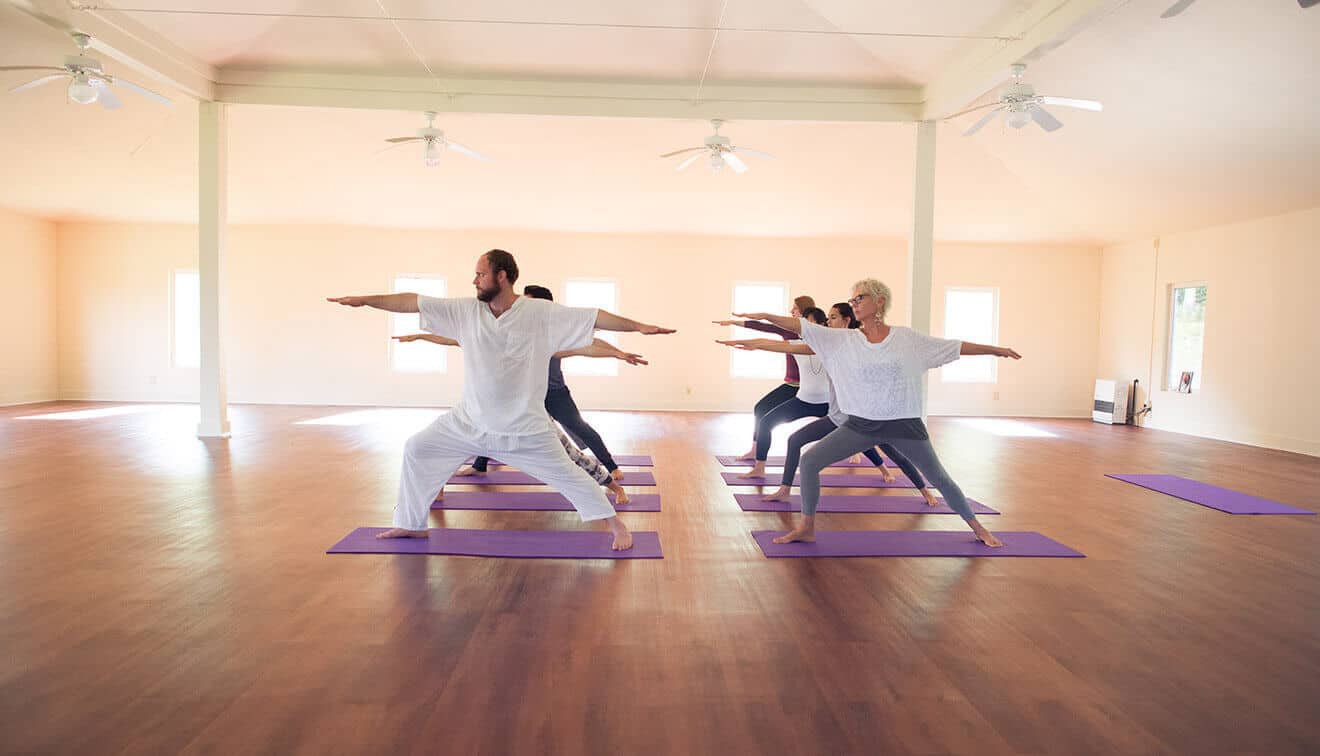 Becoming a Yoga Instructor: The Sri Sri Yoga Teacher Training Course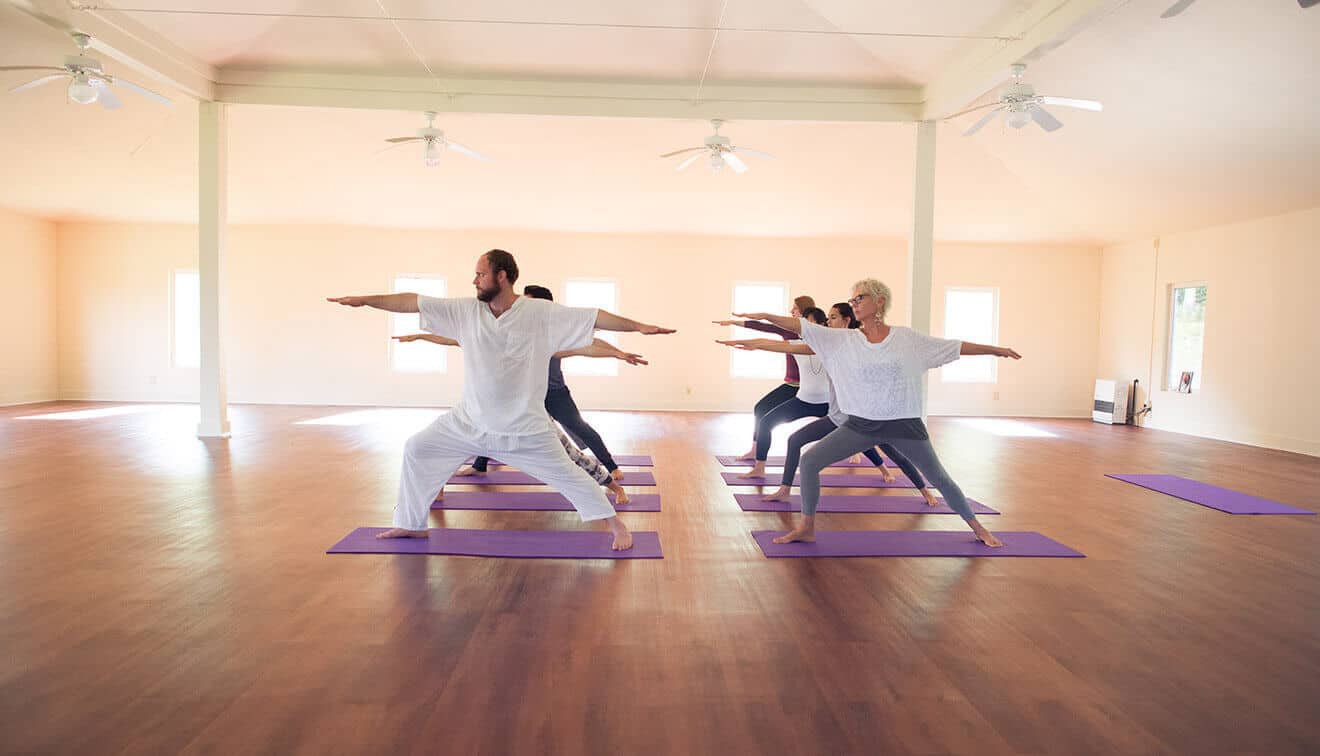 With week one and week two under our belt, we moved into our final week of the Sri Sri Teacher Training Course in the mountains of Boone, North Carolina. During week three, our schedule remained the same, and our growth continued.
Tapping into the joys of childhood
At the beginning of the third week, everyone in class began to look younger. It doesn't make sense, does it? After two weeks of lengthy yoga sessions, unpredictable weather, and long days, we should have looked haggard.
But, we didn't.
We all have those memories of the unbounded joys of childhood. Remember those? Our class collectively began to tap into those old memories of happiness, and the contentment of self that young children have before life gets rough. Tapping into those feelings of happiness made us feel and look younger. That lost eye twinkle was back!
What could challenge that renewed youthful spirit? Well, I'll tell you what…EXAMS!
Exam time!
The class instructors were very upfront about the upcoming exams. The exams would be difficult.
Panic rippled through the class. What if we spent three weeks learning anatomy, physiology, the endocrine system, ancient yoga knowledge, Sanskrit, perfected our yoga poses only to be told, "Sorry, honey, you failed. You can't be a yoga instructor."
Before I started the course, I didn't even know I wanted to become a yoga instructor, and now I was panicked I would fail. Other classmates verbalized that same fear as we dried dishes during seva, or walked up the hill to class.
During the third week, we had two practicums where we had to perform poses in front of our class and the teachers. The teachers we had grown to love would have clipboards and stern faces and would grade us as they watched us teach, and they weren't afraid to give failing grades.
We had the tools we needed, knowledge, proper alignment of poses, but could we teach a class? Did we believe in ourselves enough?
Doubt crept back in, and most of us wondered, "Do I know enough to succeed?"
Letting go of doubt
One of our teachers said something remarkable when faced with a barrage of questions from nervous classmates (It wasn't just me!) about the level of difficulty in the exam and practicum. Instructor Bharti said that if we failed, then she failed as a teacher. It was her job to provide us with everything we needed to pass. We had everything we needed. We just needed to calm down and believe in ourselves.
Intention matters. My intention developed and grew, and I wanted to pass the course. I had to believe that I did indeed have everything I needed. I had to let go of the crutches that kept me from succeeding, the what if's in life that everyone has. What if I couldn't remember the information. What if I physically couldn't perform the poses. What if I fail. What if…
With a little help from friends…
Our class would study together as we walked to the dining hall for meals. We would quiz each other while we were drying dishes. When one person felt weak about a particular subject, whether it was the name of bones or muscles or how to pronounce words in Sanskrit, collectively we would help that person. As we worked together as a group, and we became stronger as individuals.
Each classmate at one time or another during that last week reached out to help me with some aspect of the exam. I, in turn, reached out to help whoever needed help. We created a song to go with the Sanskrit words for the personal ethics of yoga while working in the kitchen. One classmate created a Jeopardy game that quizzed us on the endocrine system. A classmate reminded us all that we were only as strong as the weakest student. The individual desire to pass became a collective one fueling us through the week.
A desire to help others
When it was time for the practicum, I focused on my intention to teach yoga to the best of my ability. I didn't worry that I wasn't the most flexible person in the room or that I was in my 50's. My focus was on my intention, and my intention had grown from accepting a challenge from a friend to strengthening a desire to help others.
Without the three-week immersion into all things yoga, I might have missed that essential element.
I'm not going to tell you that the written exam was easy because I had all that I needed to pass it. It was tough, really tough. I hadn't taken a college-level exam in a long time (OK, so I'm talking 30 years.). We had 2 ½ hours to complete the exam (which felt like a college-level exam to me), and it took me the entire time. Yes, I remembered nearly all of the information, but I did get confused on some of the questions (what did the mitral valve do…what did that Sanskrit word mean again…argh!).
The results
At the end of the week, we found out as a class what our grades were and that we would be getting our 300-hour Sri Sri Yoga Certificate, which would allow us to apply for a 200-hour Yoga Alliance Certificate as well.
As a class, we did pretty well. There were a few As, a few Bs, many Cs, a few Ds, and a few people failed but were allowed to retake the exam. My grade was a B, and I was content with that.
We spent many hours after we got our scores smiling, hugging, laughing, and talking about how we would visit each other's yoga studios and guest teach. If we make those visits, the trips will take us all over the United States, to Canada and China.
A way to give back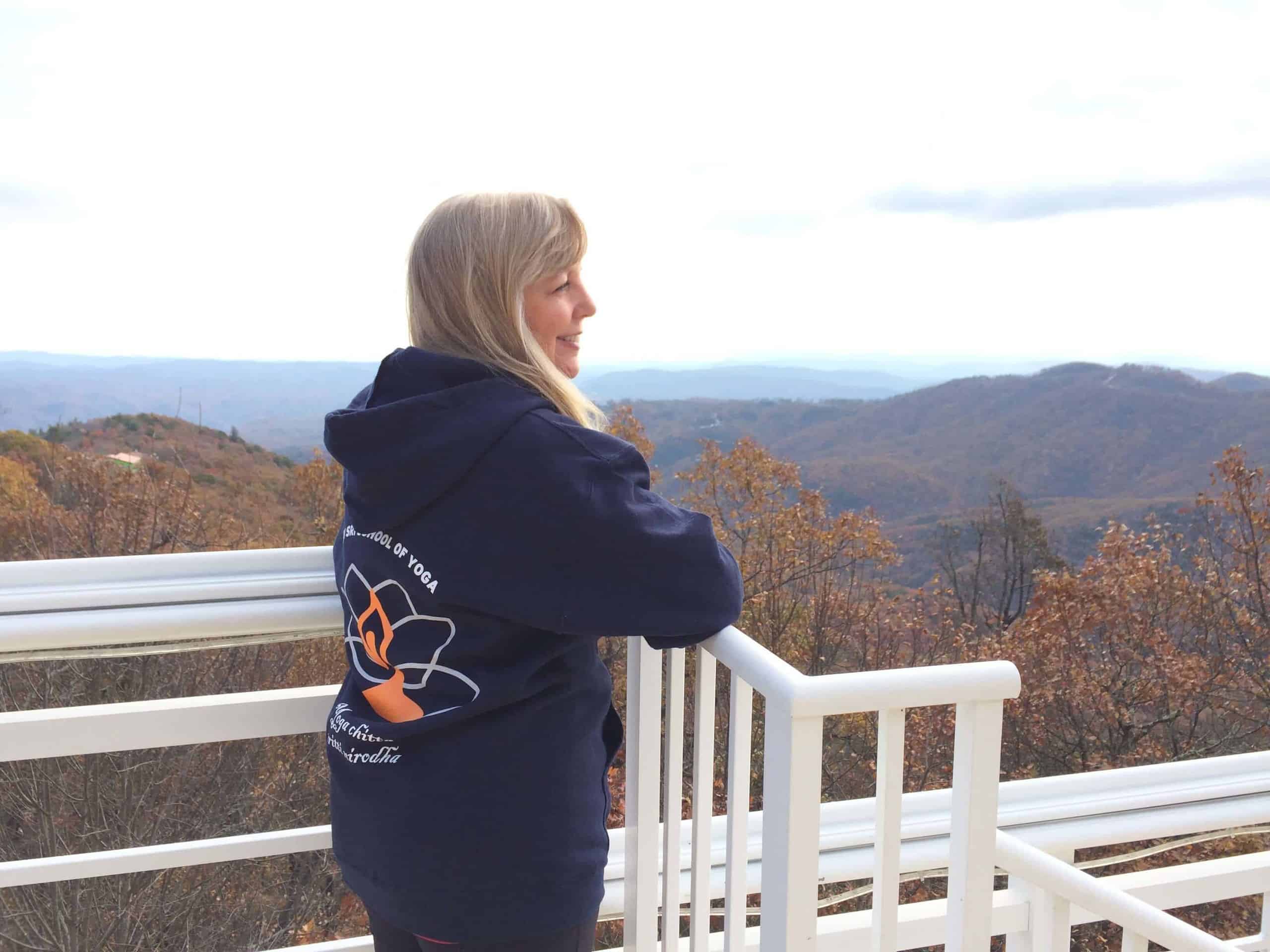 I've been home from The Sri Sri Teachers Training Course for several months now, and I find myself pausing when my friends say, "How was your yoga trip? It must have been so relaxing to do yoga for three weeks!"
"No. No, it wasn't relaxing at all." I reply to them. "It was transformational."
My life isn't perfect since I became a yoga instructor, and I'm certainly not happy all the time. Life is hard for everyone, and there is always something that knocks me off my confidence platform. Yoga, though, is a way for me to pick myself back up when I get knocked down. It's also a way for me to give back to the well of life from which I drink.
I have taught a few yoga classes since I have been home. The best part about teaching is looking at the faces of students after the yoga session and seeing people who are relaxed and happy. It's a great feeling to know that I am helping others to find their happy through the practice of yoga.
Recently, I've learned there is a 500-hour yoga teacher training course. I'm in my 50's and not very bendy, but in the near future, I'll be taking that course.
This September, you can experience the Sri Sri Yoga Teacher Training for yourself. Click here to learn more and begin your yoga teaching journey! 
---
Interested in learning more about Ayurveda and the programs at the Art of Living Retreat Center? Check out our annual catalog here!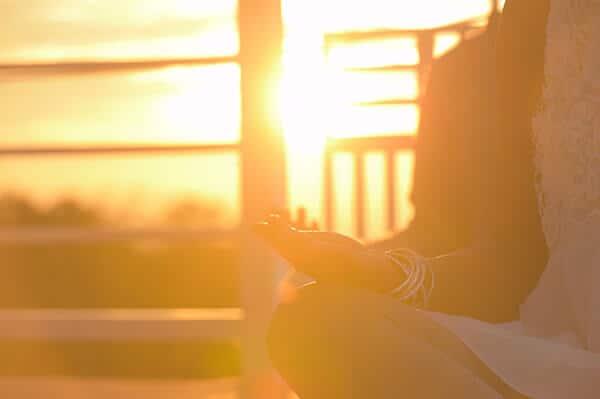 Can my body survive?: The Sri Sri Yoga Teacher Training Course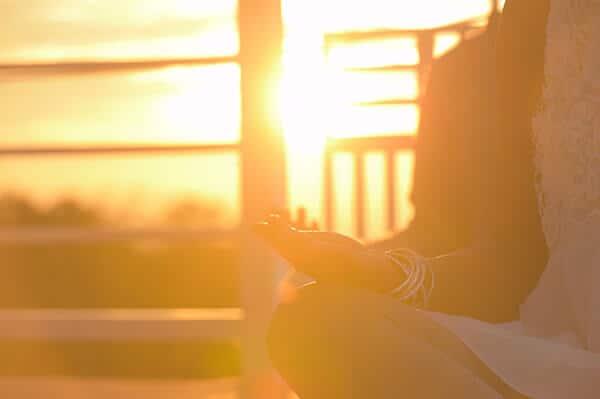 While taking a three-week course in the mountains of Boone, I spent the first week battling doubt in my abilities. The second week brought many other hurdles. My mind was willing, but could my 50-something-year-old body handle the course?
Luckily, sensing the exhaustion of the class, Krishan Verma, the Yogi Master, adjusted the start time from 5:30 am to 6:00 am. Thirty extra minutes. Only thirty extra minutes. I really could have used four extra hours…
The weekly pattern
The classes each week followed a similar pattern. We had early morning yoga, the full sequence (40+ poses) followed by breathing exercises and meditation. Then, we would walk to the dining hall for breakfast and seva. After, we would go back to the classroom for more yoga poses and strength training until lunch. Following lunch, we would do seva before walking to the classroom building.
The afternoon consisted of lessons on anatomy, physiology, and the endocrine system, more yoga poses, and meditation before dinner. After dinner, we did seva then walked back to Veda II (the classroom building) for satsang. The day ended with yoga theory, and study sessions/homework before hopefully falling asleep before midnight.
That's a demanding schedule for someone like me. Before my car accident, I was training to run a marathon. I was a little more used to a physically disciplined life then, but that was two years ago. By week two, I wasn't just tired; I was exhausted.
Weathering the weather
Not only was the course challenging, but Boone in October brought constant weather changes. There would be eighty-degree days followed by twenty-degree days. The retreat center experienced flooding and sunshine, gale-force winds and gentle breezes, beautiful fall foliage and snow. Part of the physical challenge of the course became figuring out what to wear each day: flip flops or winter boots, t-shirts or thick fuzzy sweaters.
However drastic the change in weather might be, the retreat center maintained its awe-inspiring beauty. After the flooding, a double rainbow painted the sky. A bright full moon warmed the frigid night. There was beauty everywhere I looked. It seemed the weather was in celebration of our course.
A week of celebrations
The weather wasn't the only thing celebrating. We also celebrated Diwali, the Festival of Lights. Our class dressed for the occasion and held a celebration after dinner. I was unprepared for the Diwali celebration – I didn't pack a dress. Sensing my feeling of inadequacy, my class buddy, Sunita, invited me to her room, reached in her suitcase and generously gave me a beautiful dress to wear. Her generosity humbled me.
The celebrations continued with two birthdays. Celebrating our Yogi Master's birthday, we danced, sang and ate cake. For Halloween, we celebrated yet another birthday. We laughed and danced with Jennifer (one of our yoga instructors) and even pranked her by dressing up our anatomy class skeleton with some of her clothes and placing the skeleton on her yoga mat. The nights ended with singing around a campfire eating candy from our Sanskrit teacher.
We worked hard each day, but we also celebrated with great joy.
A varied team of instructors
We had seven instructors who taught us every aspect of yoga. Andrew, a Sanskrit scholar, demonstrated how to pronounce Sanskrit words correctly. Medha, an expert on Ayurveda, lectured on the importance of diet. Bharti, a medical doctor, guided us through anatomy, physiology, and the endocrine system. Neha, Jennifer, and Neelam taught the morning yoga classes and were always on hand to help. There was so much to the course that I hadn't anticipated. I knew there would be a Yogi Master, but to have six additional instructors guiding us was fantastic. It increased the intensity of the course because it heightened our growth potential.
The course was so much more than learning yoga poses. We were learning to be healthier, happier people from the inside out.
Deep cleansing… literally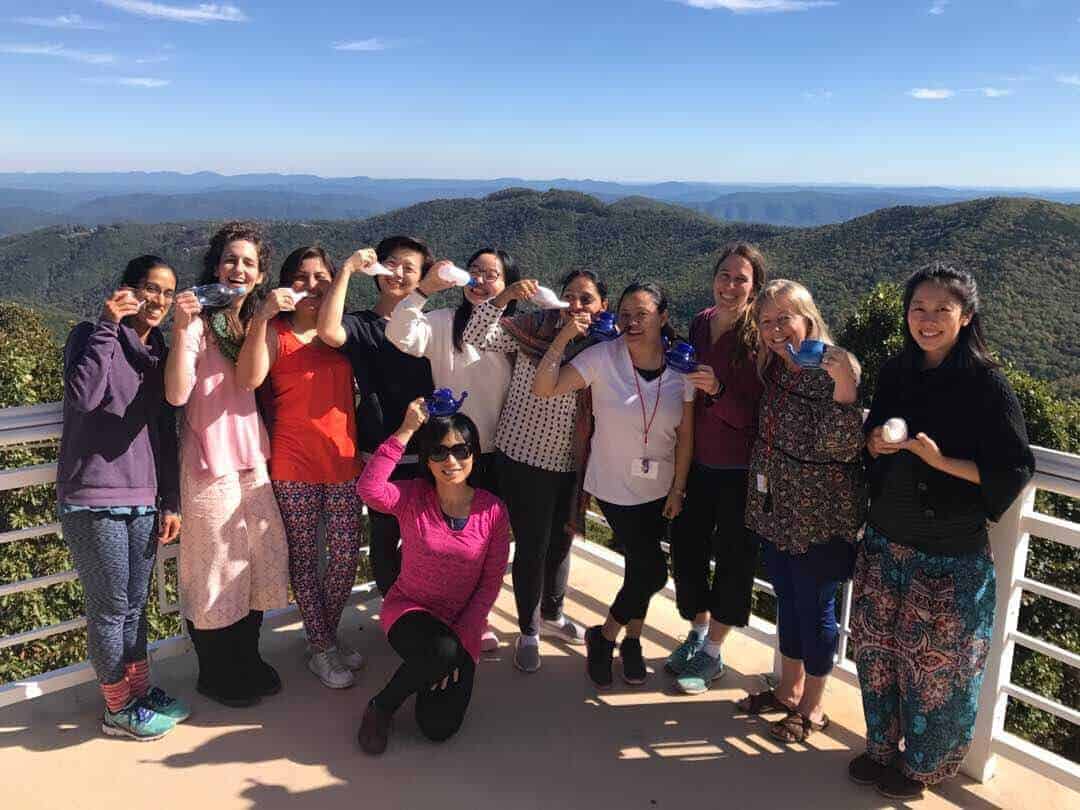 During week two, we literally moved our insides…out. One day we learned how to use the infamous Neti pot. Our entire class, together, cleaned out our sinuses using salt water while hanging our heads over the railing of the dining hall veranda. The saline cleared away the gunk and carried it down the hill to mix with the fallen leaves. On the terrace once more, we learned the practice of Sutra Neti, or nasal flossing, which I was not a big fan of; I'll leave it at that.
Another class exercise was Shankhaprakshalana: a salt water colon cleanse. This time IN the dining hall, our entire class drank salt water, performed eight yoga poses, and ran to the nearby bathroom as the concoction began to work. Then we would grab another cup of the colon cleansing elixir, return to our yoga mats and continue the poses until it was time for another mad dash for the toilets. In a way, it was a lot like the prep for the colonoscopy I had last year except for the classmates and the yoga. I have to add that it didn't taste as awful as the colonoscopy prep. The Neti pot experience may have brought our class closer, but the Shankhaprakshalana took our bonding to a whole new level.
At first, I thought: I will never do this again, but the cleanse left me feeling lighter. I made a mental note to repeat the practice every six months. We were getting rid of trapped physical and emotional waste. Who needs to hold on to all that garbage anyway?
The emergency cookies
Two weeks of focusing on yoga created a visible change in me. My clothes hung more loosely, and I was breathing more freely (and not just because of the Neti pot).
There was a bag of emergency cookies in my room – Pepperidge Farm Milano. I unpacked the cookies the first day and carefully placed them on the desk. I used to eat 4 or 5 every night. Maybe it was because I thought it gave me control over my day, or possibly just because? After the first week, I found that number being knocked down to one and not every night. Just one cookie every now and then. The entire yoga process was creating a calmer Laurie, a happier me that didn't really need a cookie before bed.
Looseness in the body
Falling asleep at night was no problem at all. In the past, I would have to take Motrin PM to fall asleep, but with the disciplined work came a tired body and a clear mind that had no problem sleeping. Waking up at 5 am became easier and easier. When the weather was good, I loved walking to class alone but for the stars brilliant against the dark sky.
With all of the mountain walks combined with endless hours of yoga, I was amazed that I had no soreness. My neck and back are often sore from the car accident I had two years ago. While I was taking the yoga course, I had no stiffness or soreness.
An emotional detox
The Yogi Master certainly knew what he was doing. All those poses we were holding were not only strengthening but also detoxing our bodies and emotions. There were times during class when I would notice tears streaming down my face. I wasn't sad or hurt, yet the tears came, freeing me from trapped emotions. I wasn't the only person experiencing tears in class. We became experts at knowing where the tissue box was and gently passing it to the person in need. That wasn't the only release. There were times when bursts of laughter would erupt from the room.
During the second week, I began to concentrate on my body's alignment, and not just during the hours of yoga sessions. While walking, I was more aware of my posture. Did I suck in my stomach? Were my shoulders pulled down and away from my ears? While I sat, was my spine straight?
The stronger my body became, the more I cared about my body alignment, and the less I cared about my flexibility.
My mind and body became stronger, allowing my spirit to take center stage. The total immersion into yoga allowed a safe place for me to grow.
Mind, body, and spirit
During the second week, our minds were challenged to memorize the sequence of poses, Sanskrit terms, ancient yoga knowledge, anatomy, physiology, and the endocrine system. Our bodies worked to perform the correct alignment for the poses while learning counter poses. Our bodies also had to build up from the cleanses while maintaining a tight daily schedule. Eventually, our spirits were challenged as locked-in emotions were set free allowing for growth.
My fear of not being able to complete the course physically was unfounded. The second week taught me that when led in the right direction, my body can keep up just fine. It even had energy left over to celebrate happy events. I began to feel thinner, stronger, and more comfortable in my skin. I felt my spirit grow as week two ended and week three started.
Two weeks down and one to go. Easy, right? Not really. The class as a whole was stronger and happier, but that didn't make week three easier. No, it wasn't easy at all. While the hours spent in class had become more routine, and the poses an enjoyable challenge, week three brought with it challenges that made me question if my spirit was going to be strong enough to help me pass the course.
To Be Continued…
---
Interested in learning more about Ayurveda and the programs at the Art of Living Retreat Center? Check out our annual catalog here!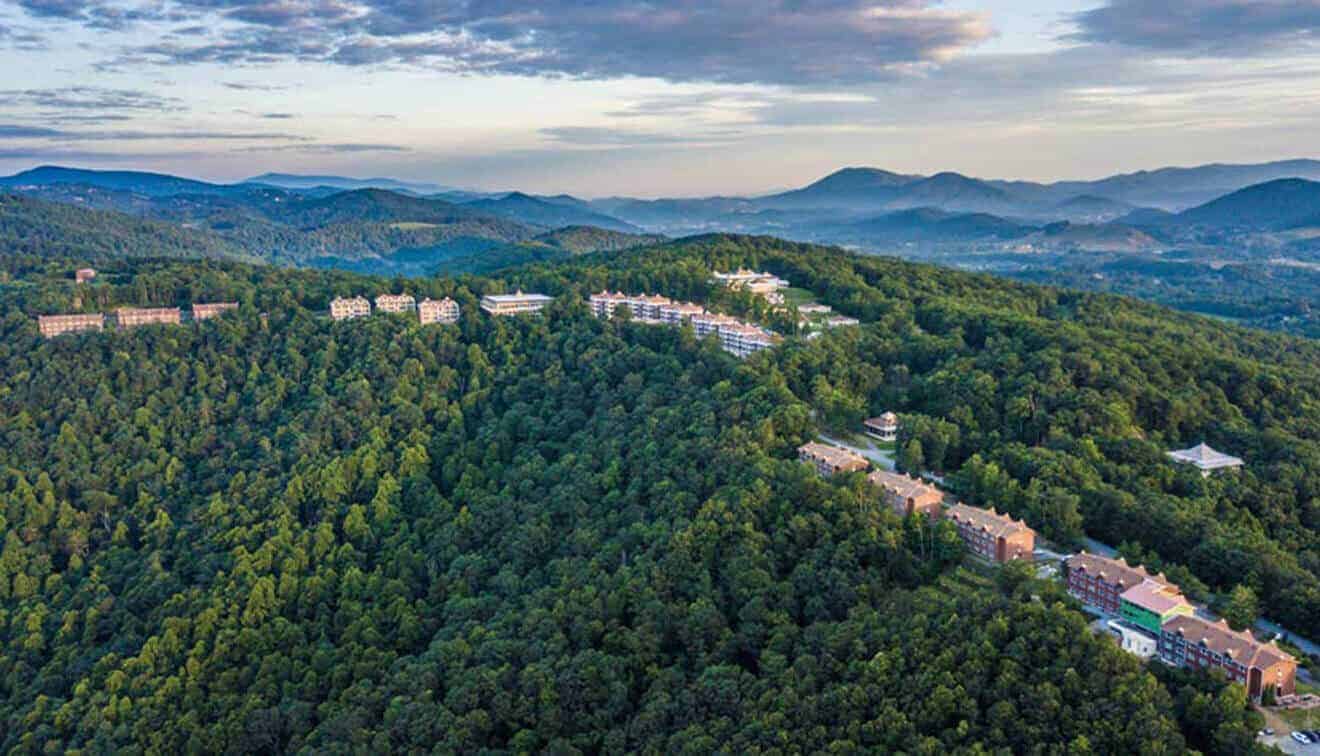 An Unlikely Candidate: The Sri Sri Yoga Teacher Training Course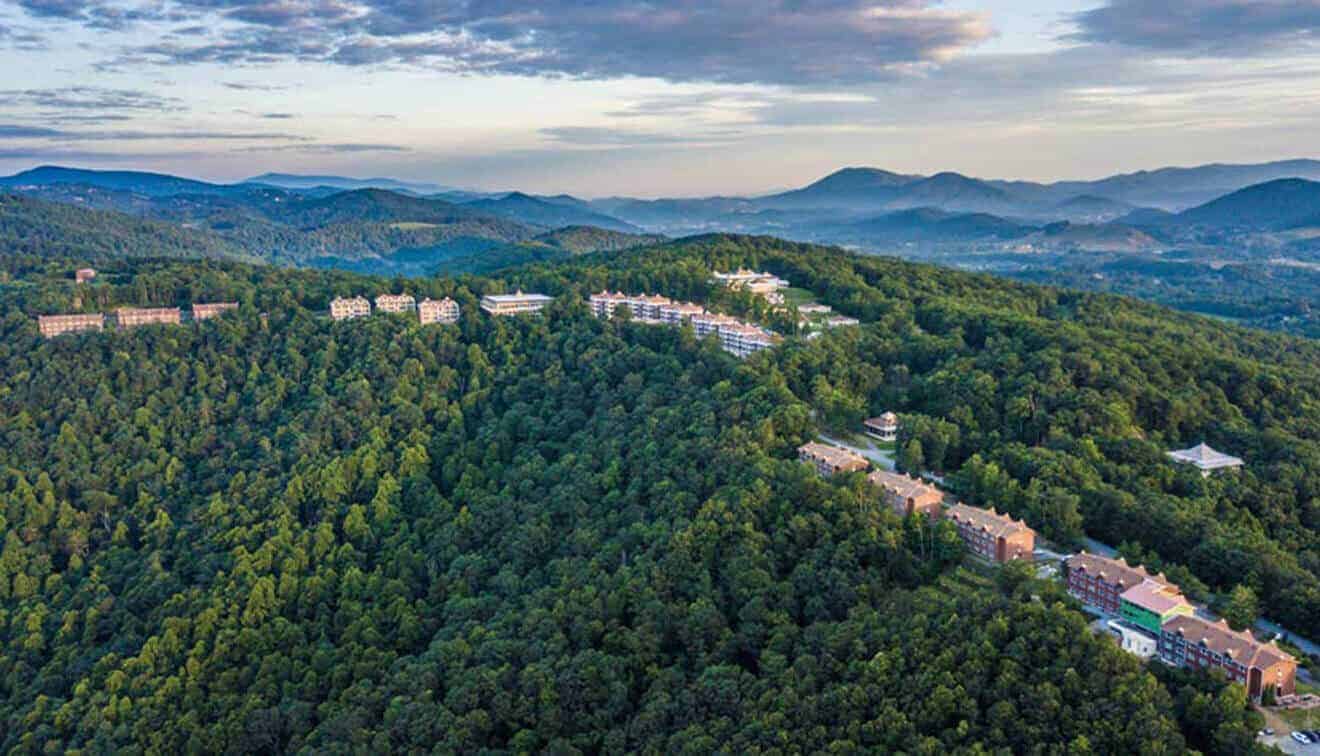 Last summer, a friend of mine, Sejal, suggested I take a three-week course in the mountains of Boone, North Carolina to become a yoga instructor. At first, of course, I said no.
I'm in my 50's and not very bendy. Except for taking Sejal's yoga class at the Art of Living Retreat Center, the only yoga I had taken was a class here and there at the YMCA and a few other fitness centers. Those classes were more feats of calisthenics than true yoga, and left me sore and feeling inadequate.
Sejal persisted, which made me wonder, "Why?" Why should a woman in her fifties with minimal experience in yoga become a yoga teacher?
"You don't have to be bendy," Sejal insisted. She went on to say that this is about a lifestyle, a chance to make life better.
Suddenly, and surprisingly to me, my "Why should I?" turned into "Why not?," and I headed to the mountains of Boone with my car packed full of clothes and emergency cookies.
Arriving at the Center
Upon reaching the Art of Living Retreat Center, I immediately felt a sense of calm, as though I was home. I checked into my dormitory-styled room, heaving my overstuffed luggage up the stairs. My room consisted of a bed, a nightstand, a desk, and a chair. I opened the windows and let the fresh mountain air fill the room before walking to class.
The view from the front of the building was gorgeous as I stopped by the benches placed for people to sit and breathe in the mountain view. It was October 14th, and the leaves were changing color.
I walked up the hill to one of the buildings below the main ashram. The crisp air, the view of the rolling mountains, and the overall stillness of retreat center made life feel simpler as I walked towards Veda II, the building I would be taking classes in for the next three weeks.
The first class
The building was intimate, yet had plenty of room for our class of 24 to spread out. I sat in the front row facing a small stage. On a yoga mat next to me sat Sunita, who soon became my buddy. She is 72. Yes, 72. It wasn't long before she told me about her double knee replacement surgeries and how yoga helped in her recovery. Here I was worried about not being very bendy and in my 50's…
While sitting on our yoga mats, the class had a short introductory session before we broke for dinner. It's a steep hill up to the dining hall, one we would walk up and down many times over the three-week course.
Nourishing food and community
The dining hall for the Art of Living Retreat Center is entirely vegan, and meals are served buffet-style. There were so many choices of food that I found my plate piled high each meal because I wanted to try everything. Chef Mel was fabulous at providing unique meals and only repeating dishes when asked – his tomato and pepper bisque was a welcome repeat.
Windows lined the dining hall wall and displayed a view of the rolling mountains painted with the changing fall leaves. That first night, I sat and ate dinner amongst strangers not fully aware that after three weeks these people would become my family.
Serene mornings
The first full day set the tone for how physically and mentally demanding the course would be. I set out for the day at 5:05 am, meeting Sunita and Daisy (another classmate) for the 15-minute walk up the hill to class.
At 5:05 am, the stars shone very brightly in the night sky. The brisk morning air stung my cheeks. I planned on bringing with me to Boone a mini Keurig so I could continue having my morning coffee, but my teenage daughter would not allow me to bring one. "Mom," she said with great exasperation, "It's like bringing beer to rehab. You are not bringing a coffee machine to learn yoga." She was right, and the coffee-free brisk morning walk helped to wake me up for the 5:30 am class.
The early morning class began with yoga, breathing exercises including Sudarshan Kriya (rhythmic breathing developed by Sri Sri Ravi Shankar), and Sahaj Samadhi meditation until 8:30 am. Then it was time for breakfast.
The hidden blessing of seva
One of the essential aspects of Sri Sri Yoga is seva (selfless service). We were all assigned a seva, and my seva was working in the kitchen after each meal.
Usually, I would not be excited about working in a kitchen. Truth-be-known, I am never enthusiastic about working in my kitchen at home. It made a huge difference that this kitchen was not my kitchen. It was a commercial kitchen filled with happy people whose intent was to help others. I would dry dishes and put them out on the counter, or stack dirty dishes bound for the large industrial dishwasher. This dishwasher had a conveyor belt system. Every time I pushed a tray into the machine, it reminded me of how people get on rides at Disney.
I scrubbed pots and pans, and I wrapped fruit. Whichever task I did, I did with contentment. It's amazing how being around like-minded happy people can make even the most menial tasks enjoyable.
Jim managed the kitchen. This job was his retirement job, and he always had a pep in his step and a sparkle in his eyes.
Other classmates worked in the kitchen with me. We would talk about our families and lives back home as we dried dishes, or whatever chore we were doing. Seva was a very grounding and comforting experience.
Sinking into yoga
After breakfast, it was back to Veda for more yoga. The Yogi Master, Krishan Verma, would have us hold specific yoga poses or asanas, and I would think, "Wow, I am awful at this," or "I'm not going to be able to stand up and walk again after holding this pose for so long." After a session, I would stand up and walk just fine without any pain. Yes, I would be exhausted, but I would not feel pain, which amazed me.
There were many times that first week when I kept looking into Krishan and his wife Bharti's eyes thinking they were going to shake their heads at me with an awkward look of annoyance and point towards the door saying, "This really isn't working. It's time for you to leave." Of course, that never happened – it was just doubt overwhelming my mind.
I doubted whether I would be able to do all the poses. My body is still recovering from a car accident I was in two years ago. It was a significant accident. I had neck problems and mild traumatic brain injury from the wreck that affected my speech and short-term memory. I would think about that as I was sitting crossed legged listening to Krishan teach the class. Maybe Sejal was wrong? Maybe I wouldn't be able to do this.
So much doubt!
Working through mental and physical blocks
Several years before the car accident, I blew out my Achilles tendon while training for a marathon and had to learn to walk again after having a new tendon created. Maybe I just couldn't do yoga because of that, never mind the car accident…
I kept doing all the poses to the best of my ability, taking the meditations seriously, committing to the breathing exercises, arriving to class early, and listening to what the teachers were instructing. At some point during the first week the doubt I was carrying became unimportant. It was still there. At times, it would wash over me in waves, but I found it best to acknowledge it and move on.
Maybe it was the fact that I was constantly busy? Perhaps the yoga poses, breathing exercises and meditations were giving me the strength I needed to ignore the persistent nagging doubt? Maybe I was just too exhausted? I don't know, but I stopped listening to that voice in my head that said, "You can't do this because of…" I began to concentrate on one step at a time.
We would break for lunch between 1 and 1:30, walk up the steep hill, eat lunch, and I would work in the kitchen again. That first week, as I got to know my classmates better, I began to notice that we all had voices of doubt to overcome. Life is difficult for everyone. It doesn't matter what kind of doubt someone carries. Doubt is doubt, and for every individual, it can stop progress.
Finding a rhythm
Some days, my classmates and I would talk a lot while doing seva. There were days when we wouldn't talk at all. Then there were days where we would laugh and sing. It all depended on what we were working through that day. Our struggles might have been different, but our paths were similar.
By the end of week one, we had learned all the Sri Sri Yoga poses, and we began learning anatomy and ancient yoga knowledge. Class started at 5:30 am and ended at 10 pm, followed by a daily written homework assignment and studying. After week one, the battle between myself and my mind had quieted. Now I wondered, can my body withstand the course?
To Be Continued…
---
Interested in learning more about Ayurveda and the programs at the Art of Living Retreat Center? Check out our annual catalog here!