Your Ayurvedic body type, or constitution, is at the heart of Ayurveda's approach to well-being. Knowing your constitution allows you to maximize your quality of life, health and happiness by following the recommendations for food and lifestyle for each constitution.
An Ayurvedic pulse diagnosis with an expert is the best way to recognize one's constitution.
I've spoken about the general characteristics of each body type to help familiarize readers with general tendencies. So read on to acquaint yourself with the main constitutions and the self-discovery that is the joy of Ayurveda.
THE GOOD LIFE (For Your Type)
Ayurveda means the science of longevity; it is the science of how to live a long, healthy life. "Ayu" is the life span we spend with the body. The spirit is immortal—it can be with the body or without it, but the union of body, mind and spirit—how long that combination stays, that time span is called ayu. How to live that time happily and in good health is the knowledge of Ayurveda. So how do we live this way?
In this respect, Ayurveda says there are four aspects:
What is good for the body
What is unhealthy
What makes us happy
What makes us sad
It is like driving a car in that once you know the rules of the road, you can drive safely. And it is the same with life also, once you know these four aspects.
For that we need to know the body and mind. The body is made of five elements, space, air, fire water and earth. Physiologically, these elements function as three bio-dynamic forces, called vata, pitta and kapha.  These are called variously dhatus, substances, dosha, or prakriti, our natural constitution.
What is the importance of knowing you Ayurvedic body type?
While every individual is born with five elements, the constitutional makeup and the relative proportions of each element are a little different, and our lifestyle also differs based on your type.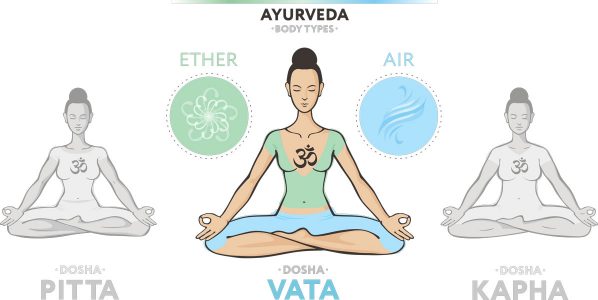 VATA
Those who are born with more of the space and air element have a vata constitution. Generally, a vata person will be very thin, more talkative, restless; they  typically have a lower body weight, dry skin, brittle nails, thin hair, and small, slightly sunken eyes.  While walking, their joints may make sounds. In terms of climate, they tend to prefer warm or hot weather, while they may have trouble tolerating the cold. They have a hard time gaining weight, so they tend to be thin with a low weight.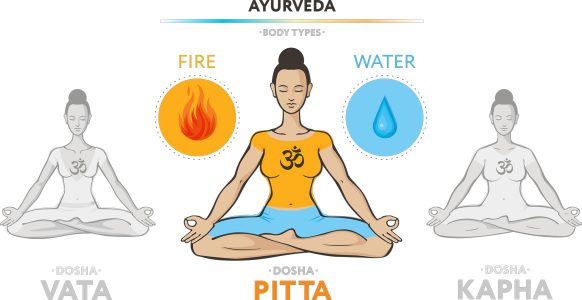 PITTA
Next are pitta people, those who are born with hotter constitutions, containing more of the fire element. A pitta person is generally active, good looking, a perfectionist, dynamic, intelligent and also short tempered. They may have leadership qualities, a moderate build, a smart personality, a sharp nose, and their eyes will also be sharp, sometimes offset with a  slight pinkish tint. Due to the unfortunate ease with which a pitta person gets imbalanced, hair loss and early greying are common. They are generally slightly warm to the touch with rosy lips and pink nails with a slight curve.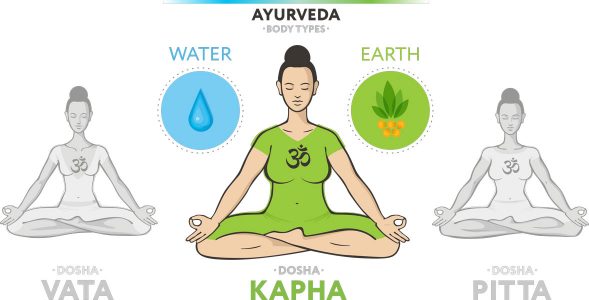 KAPHA
Kapha indicates a preponderance of the water and earth element. People with this kapha constitution are generally cool, calm, lazy,  cheerful, stocky (if not overweight). If assigned a task, they never complete the task in time. Actually, Ayurveda says that because a kapha person is the least bothered, happiest type of person on the whole planet, the best constitution is kapha. They're cheerful all the time! Other qualities include a thick build, thick, dark hair, big eyes with white around,  and prominent, shiny, white teeth. The skin may also be thick, moist, and a little cool to the touch. As a personality type, while they tend to accumulate stuff, they also have a sharing streak that moves them to service for society.
These are the three main Ayurvedic body types, though mixes also appear—pitta-kapha, pitta-vata, vata-kapha, and saamya, one whose constitution contains all of the five elements in equal ratios.
Constitution is what we are born with. When we eat the proper food and follow the lifestyle that suits our Ayurvedic body type,  we have better chances of staying fit, healthy and happy for a long time.
We'll continue in following posts with more detail on each constitution and some tips for each type to keep your body in balance.
Try an Ayurvedic Consultation
Gain insights into your natural constitution and current imbalances with an Ayurvedic counselor.