The Power to Heal Yourself
Heal the cycle of shame and self-abandonment that leads to anxiety, depression, addiction, aloneness and relationship failure. Discover how to love yourself rather than reject yourself, and learn to make your best decisions through consistent connection with your personal source of spiritual guidance.
The innovative Inner Bonding process shows you how to:
Rapidly heal false beliefs about yourself, others and God
Heal guilt, shame, emptiness and aloneness
Move beyond self-judgment into self-compassion
Address the resistance that may be keeping you stuck
Learn how to heal relationship conflicts and attain the intimacy you've always wanted
Unless you were raised by parents or caregivers who were loving to themselves, each other and to you, you may not have learned how to lovingly manage your painful feelings. As a result, you may be operating from your ego wounded self, controlled by your fears and false beliefs.
Your wounded self may often take over in unloving ways, trampling on your hurts, ignoring them or avoiding them with various addictions and controlling behavior such as:
Addictions to drugs, food, nicotine, alcohol, relationships, work, TV or video games.
Co-dependence – trying to control others with anger, violence, guilt or compliance – making others responsible for your sense of safety and worth.
Staying in your head rather than being present in your body
Self-judgment, shaming yourself
Obsessive thinking, ruminating
Resistance to self, others, Spirit – to taking loving care of yourself
These forms of self-abandonment perpetuate fears of rejection, abandonment, aloneness, engulfment or failure, which heal through the practice of Inner Bonding.
Through discussions, exercises and direct work with Dr. Margaret Paul, you learn the powerful Six Steps of Inner Bonding.
Praise for Dr. Margaret Paul's New Book Diet for Divine Connection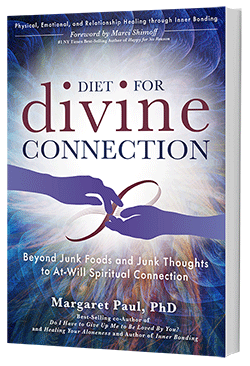 "Margaret Paul is ahead of her time and continues to be a renegade leading thinker and teacher in the psycho-emotional and spiritual realm with this new book." — Alanis Morissette
"Margaret Paul is connected with her own internal GPS. [She] teaches us how to do the same, and in the process, so much healing takes place." — Geneen Roth
"Life changing information…truly remarkable… and a true gift to anyone who reads it." — Sandra Ingerman
About your teacher
Dr. Margaret Paul is a bestselling author and co-creator of the powerful Inner Bonding® self-healing process, and the related SelfQuest® self-healing online program – recommended by actress Lindsay Wagner and singer Alanis Morissette. She has appeared on numerous radio and television shows, including Oprah. Her book titles include "Do I Have to Give Up Me to Be Loved By You" (and subsequent titles "Do I Have to Give Up Me to Be Loved By God," and "…By My Kids"), "Healing Your Aloneness" and "Inner Bonding" and her recently published book, "Diet For Divine Connection." Margaret holds a PhD in psychology, is a relationship expert, public speaker, consultant and artist. She has successfully worked with thousands and taught classes and seminars for over 50 years. Visit her websites at http://www.innerbonding.com and http://selfquest.com.
Margaret lives in Colorado. She has three children and three grandchildren. In her spare time, she loves to play with her grandchildren, paint, read, make pottery and kayak.
Schedule
Friday, May 18th
3:00 pm – Check-in
6:00 pm – 7 pm – Dinner
7:05 pm – 7:20 pm – AOLRC Orientation
7:30 pm – 9:30 pm – Program Session
Saturday, May 19th
7:30 am – 8:30 am – Breakfast
9:00 am – 12:15 pm – Program Session
12:30 pm – 1:30 pm – Lunch
2:00 pm – 4:30 pm – Program Session
4:30 pm – 7:30 pm – Free Time*
6 pm – 7:30 pm – Dinner
7:30 pm – 9:30pm – Program Session
Sunday, May 20th
7:30 am – 9 am – Breakfast
9 am – 11:30 am – Program Session
11 am – Check-out (luggage may be stored at reception)
12 pm – Lunch is included in your stay this day!