Retreat Type
Art of Living
Health & Ayurveda
Online Program
A Holistic Approach to a Healthier Life
Want to strengthen your spine and keep it healthy? Join us for this transformative spinal care program to learn holistic pain management techniques and strengthening postures for the spine. This workshop is a combination of targeted, evidence-based yoga postures to keep the spine strong and flexible and a basic knowledge of the 5000-year-old Eastern science of Ayurveda, which addresses other factors that may affect spine health, such as lifestyle.
Weak back and abdominal muscles may not be able to protect the spine, which makes the knowledge of how to protect your spine all the more relevant as you age. Aside from physical weakness, stress and emotional imbalance have also been shown to cause stiffness and soreness in the back. The multidimensional approach of this retreat addresses the root cause of spinal pain—whether it be physical or emotional.
During this program, you'll learn how to
Balance from within with yoga mudras and breathing techniques

Strengthen your musculoskeletal system

Deepen your understanding of your body constitution through Ayurveda

Modify your diet and lifestyle for optimum health

Prevent injuries and accelerate healing.
Consider deepening your experience by scheduling a virtual Ayurvedic Lifestyle Consultation prior to the program.  In order to support you during today's challenging times,  we've reduced the fee for this evaluation by 30% for a limited time. An experienced Ayurvedic practitioner will conducts an in-depth doshic evaluation to determine what your natural state of being is and identify your imbalances. 
The Next Best Thing to Being Here
This is not a pre-recorded program where you watch videos and try to keep up. These are live-streaming, interactive sessions with the same expert faculty you'd experience on our campus. You will have ample opportunities to ask questions, voice concerns, participate in discussion, and connect with fellow participants.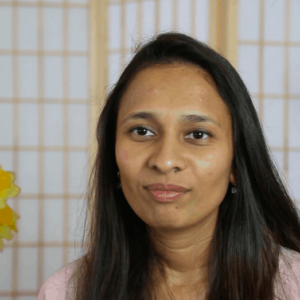 Nupoor Umarji, PT, MS, is a licensed physical therapist, breathwork and meditation expert, and certified  E-RYT 200 Sri Sri Yoga instructor. Nupoor started meditating and engaging in service activities since she was in middle school and found herself immensely joyful and transformed. Since then, she has been teaching yoga, breathwork, and meditation to the community, on university campuses, and to kids and teens. She is a certified JFB-MFR therapist and also a Marma therapist. Nupoor has a strong inclination towards Ayurveda and is also trained in Ayurvedic lifestyle management. She believes in holistic wellness and incorporates meditation and breathing techniques for her own physical well-being and pain management along with authentic yoga practice with successful results.
The instructor has an inspirational wealth of information. This is an excellent course, incorporating diet, lifestyle, exercises, and full of recommendations. So looking forward to learning more. I feel like this has opened a wonderful and exciting door to improved and genuine living. Thank you for everything."
"I'm excited to put what I've learned into practice. This was a life-changing retreat. I hope to come back to learn more. Thank you!"
"Very informative. Learned a lot. Excited about attending other retreats. Will recommend to patients and co-workers."
"Great learnings and takeaways on Spinal care and stretching. I highly recommend this session for everyone."
"Learnt so much, the instructor had a wealth of knowledge and tools to share. Excellent work you are doing, keep up the good work."
"The instructor was so knowledgeable. This was way more than I expected. Thank you!"
"The instructor is very knowledgeable about the subject of Ayurveda—ability to make the class very interesting. Great learnings and tips that I can apply right away!"
Retreat Cancellation Policy
Refunds are available (less a $50 processing fee) up to eight days before your program. 
Nonrefundable credit toward a future AOLRC program or stay (less a $50 processing fee) is available if you give notice between seven and one day(s) before your program or stay. Credit may be applied to any AOLRC program or stay for one year following the date of issue.


No credit or refund will be given if you cancel on the program start date, if you do not show up, or if you do not complete the program. No refund will be given if you attend a program and are dissatisfied with its presentation or content.
AOLRC reserves the right to cancel a program at any time. If AOLRC cancels a program, you will receive a full refund. Some programs may have special cancellation policies; see individual workshop descriptions.
Your program is hosted on Zoom. In order to participate, you will need one of the following:
Computer: Windows or Mac computer with speakers and a microphone. (Note: Webcams are recommended but not required.)

Mobile Device: iOS or Android 

Phone: mobile, desk or landline.
You can find out more about using Zoom here. 
Once you register and reserve your spot, you will receive a confirmation email with detailed instructions on how to access the online sessions. If you have any problems or questions, please feel free to reach us at 800-392-6870.
We're bringing our signature programming to you. All the knowledge, interaction, and benefits of our on-campus program in a special online format. Don't miss this opportunity to connect with a like-minded community for support, education, and empowerment—in the comfort of your own home!
Friday 6:00–7:30 pm
Saturday 10:00–11:30 am
Sunday 10:00–11:30 am