Retreat Type
Featured Presenters
Meditation & Mindfulness
Self-Discovery
Spiritual
Retreat Goals
Get Happy
Relieve Stress
Self-Care
Reawaken Mind-Body-Spirit
Anthony Profeta, a meditation instructor, mindfulness authority, and sound specialist, leads you on a transformative voyage into the profound realms of your spiritual path. Immerse yourself in a harmonious fusion of meditation, yoga, soothing sounds, and wisdom drawn from the teachings of Edgar Cayce, the famed "sleeping prophet."
In a safe, supportive, and nourishing environment, experience guided physical movement, meditation, mindfulness exercises, sound bathing, and one-on-one sharing, to rejuvenate your body, cultivate inner peace and clarity, and foster meaningful connection and personal growth.  
Diverse Spiritual Traditions Get profound insights into various traditions, deepening your understanding of the spiritual landscape.
Empowerment Tap into your inner power and authentic confidence through transformative practices.
Renewed Spiritual Journey Embark on a journey of renewal, where your spirit awakens to new possibilities and heightened awareness.
Inner Transformation Experience a profound shift within yourself as you release stagnant energies and embrace your true empathic power.
The Ability to Impact Others Positively As you transform, you gain the ability to positively influence others on their spiritual journeys.
Wisdom Readings Explore the writings of Edgar Cayce, a renowned figure in holistic medicine and psychic phenomena, and learn how this knowledge can enrich your life
At the program's conclusion, depart with a sense of wellness, spiritual guidance, and profound healing.
Join us for this illuminating journey of self-discovery, spiritual growth, and holistic rejuvenation led by a true expert in the field.
This program is for everyone. 
FAQ
Q: Who is Edgar Cayce?
A: Edgar Cayce was a 20th-century psychic renowned for his work in holistic medicine. He provided thousands of psychic readings—diagnosing illnesses and revealing past lives and future prophecies.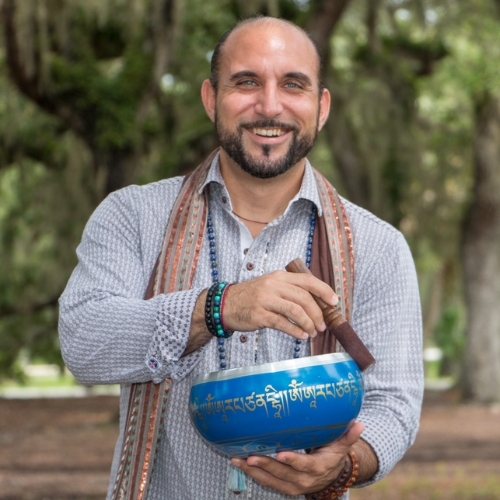 Anthony Profeta is a former medical student turned internationally renowned & professionally certified meditation teacher, mindfulness expert, and sound therapy specialist who has studied under the direct guidance of Jack Kornfield, Sharon Salzberg, and the Dalai Lama. His knowledge stems from over two decades of intensive study in monasteries and spiritual centers in the US, Nepal, Italy, and India. …
One of the most amazing experiences of my life was meeting Bill Philipps. My 5-year old son was murdered by his father in a murder/suicide. When Bill connected with my son, it was unbelievable. Bill knew things that only my son would know. Not only was it comforting hearing about my son, but to know that he was in no pain, and that my Mom was with him has been extremely comforting. It has helped me to continue to make steps with going forward with my life, and knowing my son is still with me. Thank you Bill for the peace of mind.
Bill's compassion to truly offer healing hearts to those who suffer was apparent. I would highly recommend a visit with him. You never know what joy or closure you will experience.
[Bill] was so quick to bring through specific details and messages from my loved ones, and tap into the issues important to me. Not only was he kind in his delivery, but he helped bring a calmness and closure to personal issues I sought advice in. I highly recommend him!
Through his ability to connect to your loved ones, you can receive words of advice and hear their messages of encouragement. Most importantly, you are free to look forward to the future and let go of grieving the past.
$372 per person/per night + tax
All options include daily vegetarian meals from dinner on the night of check-in through lunch on the day of checkout. (Rates below are per person.)
King bed or two full beds
Flat screen TV
Refrigerator
Private bath
Hair dryer
Complimentary Wi-Fi
Daily delicious vegetarian meals
Complimentary tea/coffee & fresh fruit
Daily yoga & meditation classes
Access to fitness & steam rooms
Nurturing the Spirit
April 11–14, 2024
Subject to change.
Thursday 7:30–9:00 pm
Friday 9:30 am–12:00 pm and 2:00–4:00 pm and 7:30–9:00 pm
Saturday 9:30 am–12:00 pm and 2:00–4:00 pm
Sunday 9:00–11:00 am  Room checkout is 11:00 am; luggage may be held at Reception.
All times are Eastern Standard Time (EST) unless otherwise noted.
Arrival Day
4:00 pm Check-in begins; Rooms are ready by 4:00 pm, but if you arrive early we will hold your luggage at Reception.
6:00–7:00 pm Dinner
7:00–7:20 pm Guest Orientation Session (Venue: Dining Hall)
Actual schedules and venues may vary; please confirm with Front Desk upon check-in.
Apart from the activities in your program schedule, we offer the following optional complementary activities. (Please join only if your program schedule permits.)
9:45–10:45 am Yoga | Thu–Sun
11:00 am–12:00 pm Mind & Meditation | Thu–Sun
1:30–2:15 pm Guided Hike* | Assemble at Shankara Reception | Sat
2:30–3:45 pm Ayurveda Cooking Class* | Tulsi Kitchen
Thu: Sweet Treats • Sat: Chef's Seasonal Recipe
4:15–5:15 pm Yoga | Wed–Sat
5:30–6:00 pm Guided Meditation | Wed–Sat
7:30–8:15 pm Meditative Chants/Kirtan | Wed–Sat
Saturday kirtan is outdoor by the bonfire; weather permitting.
*Included with Wellness Escapes and R&R; Other participants: $35.00/per person
Clay Studio
11:00 am–7:00 pm Friday & Saturday
Hand Building $55 | 1 hour
9:00 | 10:45 am Sunday


Wheel Throwing

$75 all guests; glazing and shipping are included | semi-private class | 75 minutes
Hours
Wednesday 11:00–8:00 pm
Thursday–Saturday 9:00 am–6:00 pm
Sunday 8:00 am–2:00 pm
We encourage you to also make reservations for consultations, therapies, and treatments at our award-winning Shankara Ayurveda Wellness at least two weeks prior to your arrival date to ensure availability. Please call 828.264.8382 for details. Additional cost.