Retreat Type
Family & Relationships
Featured Presenters
Meditation & Mindfulness
Self-Discovery
Retreat Goals
Better Relationships
Calm & Clear Mind
Personal Development
Life is full of unpredictable twists and turns. We've all experienced those moments when everything seemed to fall apart, leaving us thinking, "That sucked. Now what?"
During this weekend intensive, renowned personal transformation expert and emotional health advocate Dr. Neeta Bhushan invites you to dive deep into the messy moments, the obstacles, and the challenges that didn't go as planned. Navigate the weekend—acknowledging "the magical moment of suck," recognizing the contributing elements of your bounce factor, and processing—using the five stages of the Fly Forward framework.
Through meditation, group discussion, journaling, one-on-one sharing/dyads, and mindfulness exercises, you will discover practical tools, insights, and strategies to embrace the unexpected magic in the mess and find joyful purpose in the chaos of adversity.
Expect to learn how to
Overcome internal blocks and unlock your full potential
Rewire thought patterns and replace outdated beliefs/behaviors
Increase emotional capacity when dealing with stress
Develop a framework for bouncing back from life challenges
Take radical responsibility for your emotional well-being
Reclaim control from negative thinking and self-talk (i.e. victim mindset, perfectionism).
Whether you're experiencing a transition, dealing with loss, or simply looking to make real life changes, Neeta's transformative journey of self-discovery and renewal empowers you to rise up and break through to lasting, audacious resilience.
Recommended (but not required) reading That Sucked. Now What?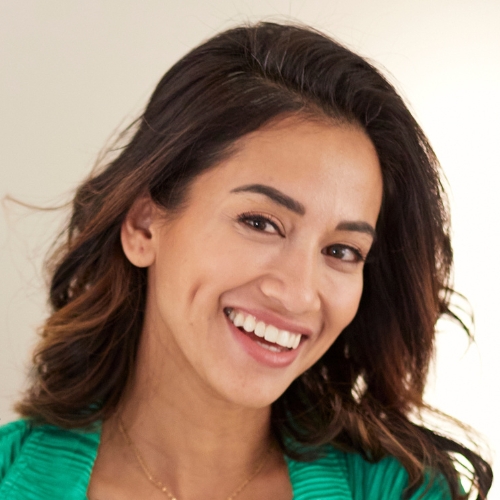 Dr. Neeta Bhushan is a cosmetic dentist turned world-renowned emotional health advocate. She's written multiple best-selling books, including her award-winning book That Sucked, Now What? endorsed by Jay Shetty, and is the founder of the Dharma Coaching Institute–a coaching organization training coaches to become the highest versions of themselves. …
I'm A Much Better Person
Dena Marie Hooper
The way Dr. Neeta presents her information–from a place of having been there, from her lived experience–and puts it all together in a mini-course to give us the tools to reclaim the power in feeling our emotions, and not being ashamed by them, is the greatest gift. I've felt SO liberated, I'm able to communicate better with friends & family and I'm a much better person today because of her. Thank you SO much.
Changed Every Part of My Life
Annette Padilla-Cruz
Her work, including her books and courses, has profoundly transformed my connection with my emotions. It has also given me new insights into my upbringing as a daughter in a traditional Latina family. Through her guidance, I've discovered a sense of inner peace and strength that empowered me to shed over 70 pounds and dramatically changed every part of my life. I am forever grateful. Do yourself a favor – give yourself the gift of her wisdom. You won't regret it.
Learning from Dr. Neeta is a Must
Melissa Ambrosini
Neeta's journey through life has granted her a well-rounded perspective on conquering grief, loss, and challenges. Her sensitivity to the human experience shines through as she encourages you to discover your strength and find magic in the mess. She is one you should be learning from.
My Life Changed Forever
Codie Sanchez
I met Neeta once and my life changed forever. The next best thing to her being in your orbit, is everything she creates
You Are Not Defined By Your Upbringing
Christine Chang
For anyone who's first-generation from immigrant backgrounds, Dr. Neeta reminds us that we aren't defined by our upbringing and can write our own stories to fly forward. She is the ultimate expert when it comes to transforming pain into your power.
Her Journey is Living Proof
Dr. Jen Fraboni
Neeta doesn't create frameworks that work. She has truly lived it. She's living proof of what it means to go through the darkness and fully transform & thrive on the other side.
$348 per person/per night + tax
All options include daily vegetarian meals from dinner on the night of check-in through lunch on the day of checkout. (Rates below are per person.)
King bed or two full beds
Flat screen TV
Refrigerator
Private bath
Hair dryer
Complimentary Wi-Fi
Daily delicious vegetarian meals
Complimentary tea/coffee & fresh fruit
Daily yoga & meditation classes
Access to fitness & steam rooms
That Sucked. Now What?
How to Embrace Life's Messy Moments to Fly Forward
April 26–28, 2024
Subject to change.
Friday 7:30–10:30 pm
Saturday 9:30 am–12:30 pm and 2:00–4:00 pm
Sunday 9:30–11:30 am Room checkout is 11:00 am; luggage may be held at Reception.
All times are Eastern Standard Time (EST) unless otherwise noted.
Arrival Day
4:00 pm Check-in begins; Rooms are ready by 4:00 pm, but if you arrive early we will hold your luggage at Reception.
6:00–7:00 pm Dinner
7:00–7:20 pm Guest Orientation Session (Venue: Dining Hall)
Actual schedules and venues may vary; please confirm with Front Desk upon check-in.
Apart from the activities in your program schedule, we offer the following optional complementary activities. (Please join only if your program schedule permits.)
9:45–10:45 am  Yoga |  Thu–Sun
11:00 am–12:00 pm  Mind & Meditation |  Thu–Sun
1:30–2:15 pm  Guided Hike | Assemble at Shankara Reception | Sat
2:30–3:45 pm  Ayurveda Cooking Class* | Tulsi Kitchen
Thu: Sweet Treats • Sat: Chef's Seasonal Recipe
4:15–5:15 pm Yoga |  Wed–Sat
5:30–6:00 pm  Guided Meditation |  Wed–Sat
7:30–8:15 pm  Meditative Chants/Kirtan |  Wed–Sat
Saturday kirtan is outdoor by the bonfire; weather permitting.
*Included with Wellness Escapes and R&R; Other participants: $35.00/per person
Clay Studio
11:00 am–7:00 pm Friday & Saturday
Hand Building $55 | 1 hour
Hours
Wednesday 2:00–8:00 pm
Thursday–Saturday 9:00 am–6:00 pm
Sunday 8:00 am–2:00 pm
We encourage you to also make reservations for consultations, therapies, and treatments at our award-winning Shankara Ayurveda Wellness at least two weeks prior to your arrival date to ensure availability. Please call 828.264.8382 for details. Additional cost.